This weekend's market moves saw Bitcoin as well as the majority of the top ten cryptocurrencies by market capitalisation dip in price by 10 percent or more, with record trading and some exchanges experiencing technical difficulties. 
In past years, as we've scaled, overloads in busy periods have been a particularly frustrating issue for our users. Fixing these has been one of our biggest priorities – and we're pleased to see these efforts paying off. 
The system performed exceptionally well throughout the weekend with zero overloads despite Sunday being one of our biggest-ever trading days, meaning every order placed during this time was processed. We also clocked an end to end order request to response latency of less than 12 ms for the majority of requests (quicker than the refresh rate on a typical gaming monitor).
This stands in contrast to the stability of many other exchanges during the same time period, and comes amid very high volumes – including the equivalent of over US$9 billion traded on 18 April alone. 
Though a blank chart isn't the most stimulating, it's pretty exciting for those of us who know this means there were zero overloads on 18 April or in the days prior despite extremely high trading volumes: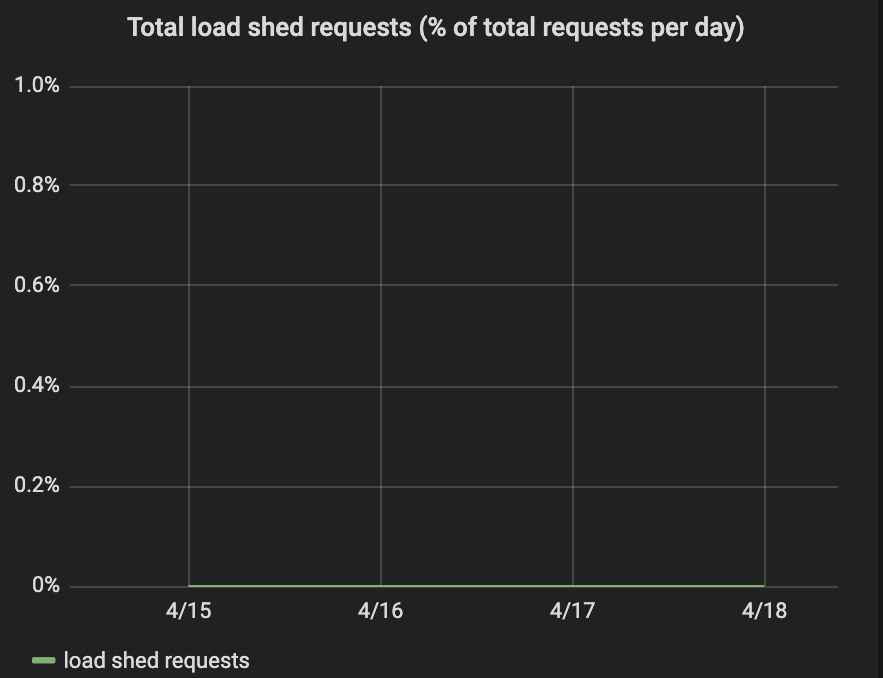 We've been working hard to scale the capacity of the platform significantly to handle orders over the past few months through ongoing, zero-downtime releases. It's also thanks to our fully verified user base – which results in a safer, fairer trading environment free from potential abuse from bad actors. And earlier this month, we completed a major upgrade – more than a year in the making – which is a game changer for trading engine capacity. We'll have more on this soon. 
Though we're proud that the platform handled the recent market volatility well, we're focused on continuing to upgrade and enhance our platform to handle what comes next. The crypto trading landscape is only growing, and as it does we need to continue enhancing our reliability and performance so we can stay ahead of our competitors. 
If you are a user that was affected by overloads on BitMEX in the past, our message to you is simple – we've addressed this, and encourage you to see the results for yourself. We look forward to continuing to serve you especially during times like these.
As ever, please contact Support should you need any assistance, such as help completing user verification for returning customers or for increase of rate limits.