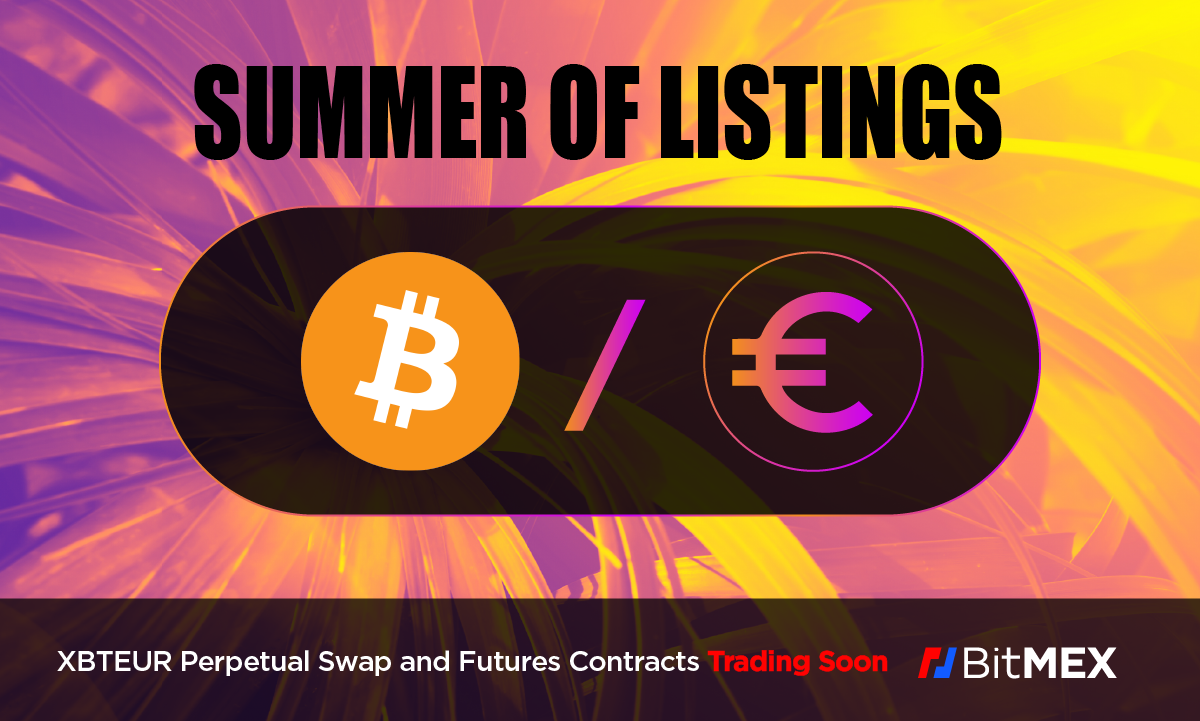 We're now well into our Summer of Listings with two new contracts (SOLUSDT and FILUSDT) already announced over the last two weeks. We're delighted to be bringing something special to BitMEX by listing two new products not currently available on any other major platform: XBTEUR Perpetual Swap and Futures Contracts.
From 16 June 2021, BitMEX users will be able to trade Bitcoin / Euro pairs with both Perpetual Swap and Futures contracts with up to 50x leverage.
The contracts will be visible on the platform from 04:00 UTC (XBTEUR Perpetual Swap) and 08:00 UTC (XBTEURU21 Futures) on 15 June as Unlisted, 24 hours before trading starts on 16 June. Both products are already available on Testnet, so users can test their trading strategies in a safe environment ahead of production release.
| | | | |
| --- | --- | --- | --- |
| Contract | Visible on Testnet | Visible on Platform as Unlisted | Listed on Platform for Trading |
| XBTEUR Perpetual Swap | Now | From 04:00 UTC on 15 June | At 04:00 UTC on 16 June |
| XBTEURU21 Futures | Now | From 08:00 UTC on 15 June | At 08:00 UTC on 16 June |
The XBTEUR Perp and Futures contracts will trade with a Lot Size, or minimum trading unit, of 100 contracts to better align with the XBTUSD contracts on BitMEX. This will also allow traders to profit from smaller moves in prices. For a detailed technical look at our recent Lot Size change, please see our blog post.
It's a great time to be on BitMEX, with excellent platform performance alongside top tier liquidity and security. Sign up for an account here. Users can also trade on the go with BitMEX Mobile, available in over 140 countries.
More Details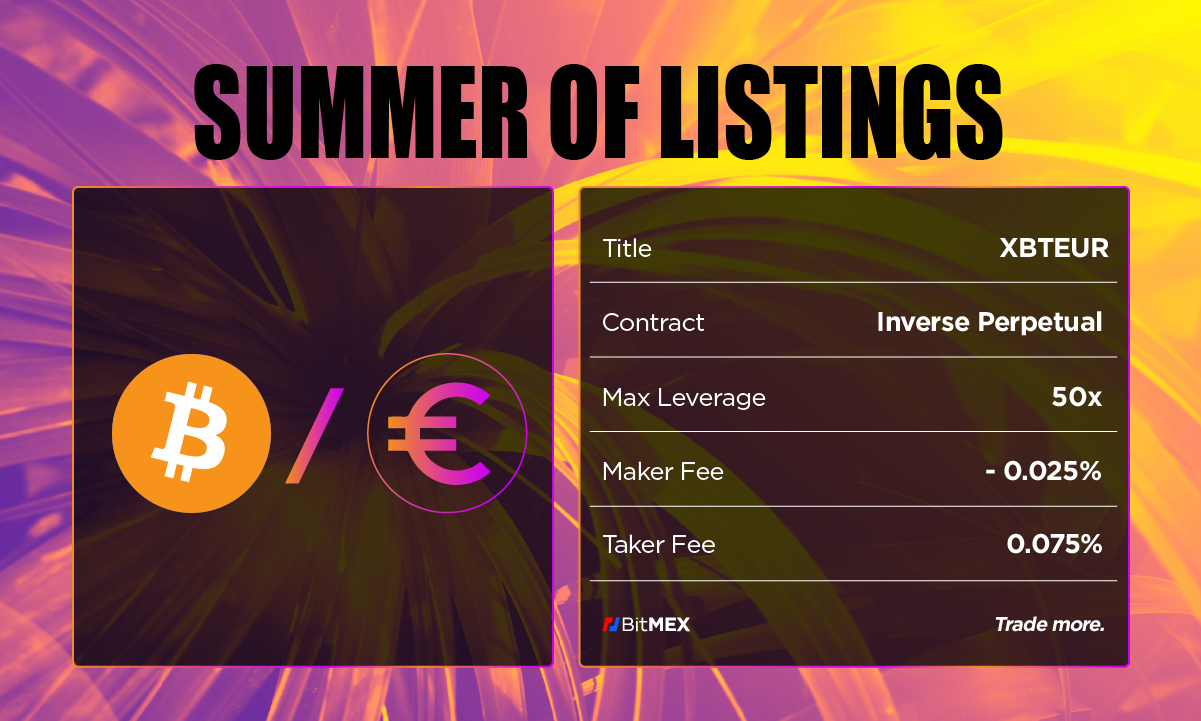 Key contract details – 
Perpetual Swap: XBTEUR

Futures: XBTEURU21

Contract Size Value: 1 EUR

Underlying:

.BXBTEUR

Max Leverage: 50x

Lot Size: 100

Maker Fee: -0.025%

Taker Fee: 0.075%

Base Initial Margin: 2.00% 

Base Maintenance Margin: 1.00% 
The XBTEUR Perpetual Swap and XBTEURU21 Futures contracts are now available in Testnet.
We are unveiling a total of 10 new products on BitMEX this summer.  To stay up to date on the latest BitMEX listings, visit our blog, follow us on Twitter, or join our Telegram group.
If you have any questions, please contact our Support team who will be happy to help.