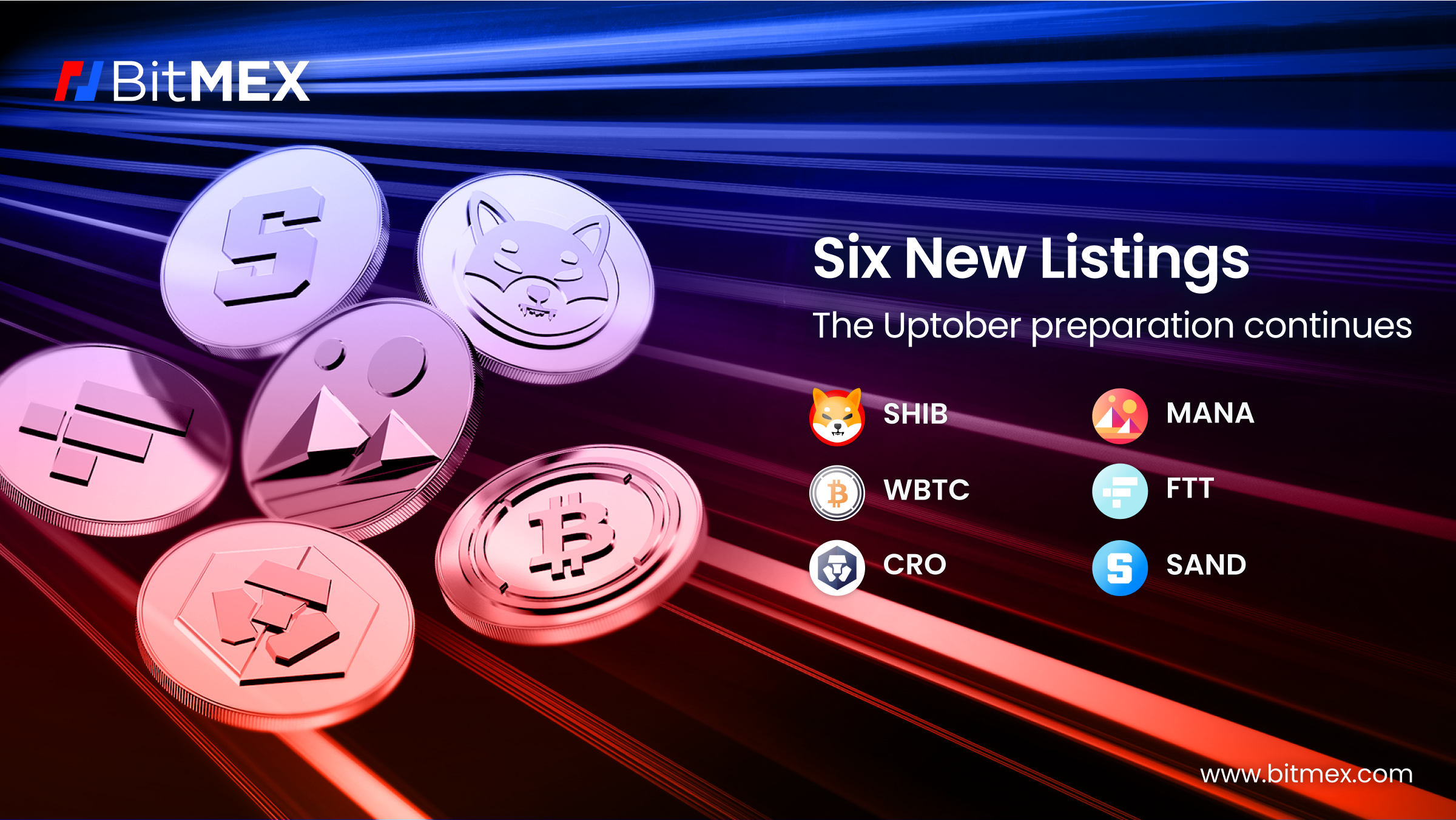 Mark your calendars. Later this week, SHIB, SAND, CRO, MANA, FTT, and WBTC will arrive at BitMEX.

It's an addition that means users will soon be able to deposit, withdraw, and convert six extra cryptocurrencies on BitMEX – namely SHIB, SAND, CRO, MANA, FTT, and WBTC. We will also be adding support for more coins and tokens  – such as OKB – in the coming weeks, so stay tuned.

For the 101 on our newest additions and what this means for our users, read on. 
If you haven't yet created a BitMEX account, you can do so here.
Support for SHIB, SAND, CRO, MANA, FTT, and WBTC Conversions, Deposits, and Withdrawals
Later this week, we will add support for six extra cryptocurrencies: SHIB, SAND, CRO, MANA, FTT, and WBTC. This means users will soon be able to: 
Convert 20+ cryptocurrencies into USDC (ERC-20) or USDT

– and vice versa – with no hidden fees. All crypto conversions on our platform happen instantly, so there's no need to worry about slippage. 

It's an addition that means users can quickly and easily convert a wider range of cryptocurrencies into Tether, Ether, and Bitcoin – freeing up time to focus on trading XBT-, ETH-, or USDT-margined crypto derivatives and/or access

spot pairs

. 

Deposit and withdraw SHIB, WBTC, MANA, SAND, FTT, and CRO

via their

BitMEX Wallet

– on top of XBT, ETH, UNI, SUSHI, AXS, LINK, MATIC, APE, TRX, SOL, USDT, DAI, AAVE, BUSD, FTM, and USDC…The list keeps growing. 

These additional deposit and withdrawal options will also give users the chance to HODL a wider range of cryptocurrencies. 

The minimum amount users will be able to withdraw/deposit is 800,000 SHIB, 0.0004 WBTC, 10 MANA, 10 SAND, 0.37 FTT, and 90 CRO. 
What is SHIB (Shiba Inu)?
The Shiba Inu token (SHIB) is one of the world's most popular meme coins, launched in August 2020 by a pseudonymous founder called Ryoshi – with an initial total supply of 1 quadrillion tokens. The meme coin takes its moniker from a Japanese dog breed of the same name. Shiba Inu (SHIB) is designed to be an Ethereum-compatible alternative to Dogecoin (DOGE).
What is SAND (Sandbox)?
SAND is the native cryptocurrency of Sandbox, a virtual metaverse built on the Ethereum blockchain where players can build, own, play, and monetise their virtual experiences. SAND is a utility token that can be used to play games and pay for in-game items. It's also a governance token, meaning users who hold SAND can vote on decisions affecting the future of Sandbox.
What is CRO (Cronos)?
CRO – a.k.a. Cronos – is the native token of Cronos Chain – a decentralised, open-source blockchain developed by Crypto.com. The Cronos Chain is an Ethereum-compatible blockchain, and is mainly focused on providing utility to Crypto.com's payment, trading, and financial services users. 
What is MANA (Decentraland)?
MANA is an ERC-20 token and the official currency of Decentraland, a decentralised 3D virtual reality platform where users can create virtual structures (e.g. art galleries, theme parks) and charge other players to visit them. Decentraland players can use MANA to purchase LAND (i.e. traversable virtual space within Decentraland), as well as pay for in-game items and services.
What is FTT (FTX Token)?
FTT is the native utility token of FTX, a crypto derivatives and spot exchange platform. Often described as the "backbone" of FTX, the FTT token can be used to reduce trading fees, as collateral for futures positions, etc. 

What is WBTC (Wrapped Bitcoin)?
WBTC – a.k.a. Wrapped Bitcoin – is an ERC-20 token that represents Bitcoin (i.e. one WBTC equals one XBT). Launched on the Ethereum mainnet in January 2019, WBTC was created with the goal of bringing more liquidity into the Ethereum network by dipping into Bitcoin. 

On Their Way: More Cryptocurrencies, Derivatives Listings, and Spot Trading Pairs
As part of our ongoing focus to enhance the versatility of our platform, we will be dropping more cryptocurrencies, a new type of crypto derivative, and spot trading pairs – including ETH/BTC – on BitMEX. Watch this space for the latest updates. 
Download the BitMEX Mobile app to trade your favourite crypto derivatives contracts and spot trading pairs on the go, and connect with us on Discord, Telegram, and Twitter to be the first to know about our new listings and giveaways.