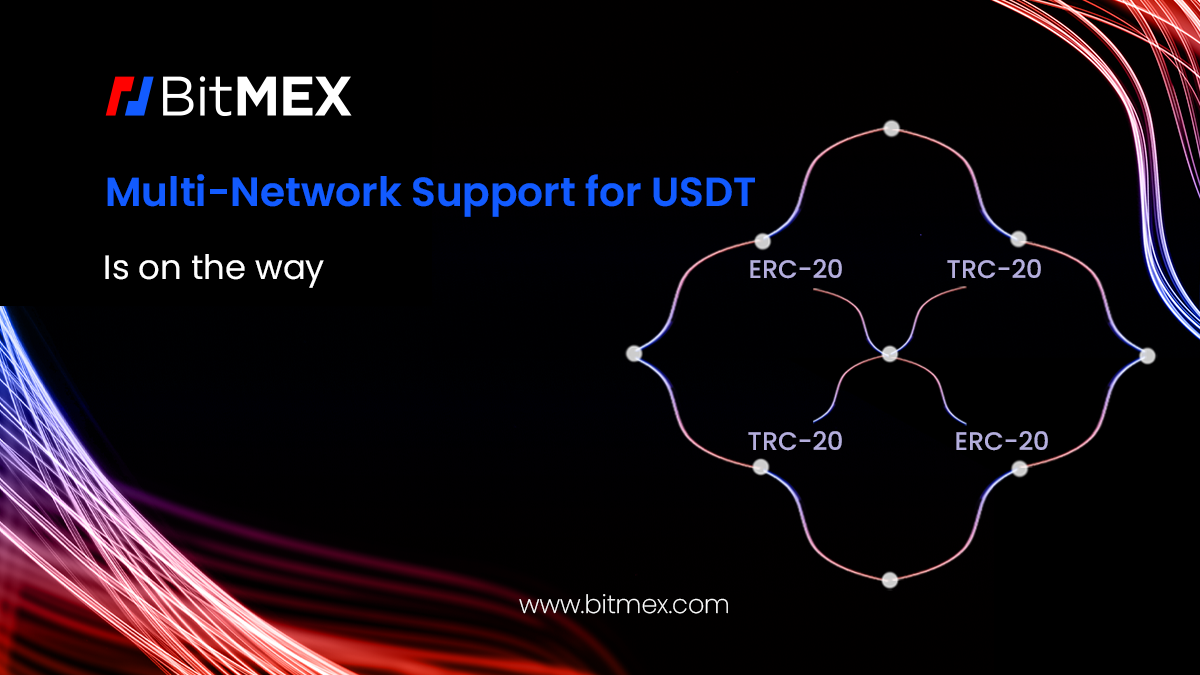 Since Q4 2021, BitMEX users have had the option of depositing and withdrawing Tether on the Ethereum network (USDT ERC-20) only. However, that all changes next week, when we launch multi-network support for USDT.

As an initial step, we're adding support for USDT on the TRON network (a.k.a. USDT-TRON or USDT TRC-20), in addition to the Ethereum network. This will allow users to send and receive USDT across their preferred network, and potentially enjoy lower fees and speedier transactions – depending on the network chosen. What's more, support for other networks – such as Solana – will arrive in the coming weeks, so stay tuned.

For a closer look at multi-network USDT support, and what this means for our users, read on.

If you haven't yet created a BitMEX account, you can do so here.

Multi-Network Support for USDT Withdrawals and Deposits
When multi-network USDT support goes live on BitMEX, users will be able to deposit and withdraw USDT via their preferred network (Ethereum or TRON). For example, if a user deposits 1,000 USDT ERC-20 and 300 USDT TRC-20, the deposit will reflect a single asset – meaning the user's Wallet will display a balance of 1,300 Tether.

Upon topping up their USDT balance, users will be able to trade any USDT-margined crypto derivatives contract (like this ETHPOW listing), convert and Earn Tether, as well as spot trade cryptocurrencies that are paired against USDT – regardless of which type of Tether they have in their balance. This is because all Tether tokens are fungible and can be used interchangeably on our platform.

What's more, users will also be able to withdraw USDT from BitMEX in either its ERC-20 or TRC-20 form, no matter which network is used to deposit Tether. For example, if a user deposited USDT ERC-20 on BitMEX, and later wants to withdraw USDT, they'll be able to withdraw their Tether tokens via the TRON network.

Note: Ethereum USDT addresses all start with "0x", whereas USDT-TRON addresses always start with "T". Before you deposit or withdraw USDT, it's important to double-check the address you're sending USDT to – as you'll lose your funds if you send USDT to the incorrect address or network. 
Multi-Network USDT: How Does it Work?
Multi-chain cryptocurrencies, like Tether, exist on several blockchain networks rather than a single one. The most commonly used multi-chain stablecoin is USDT, which is one of the first cryptocurrencies in the world to peg its market value to a fiat currency.

As USDT exists on multiple blockchains, Tether tokens are treated equally and interchangeably on BitMEX. For example, one Tether token on the Ethereum network is exactly equal to one Tether token on the TRON blockchain. 
Currently, USDT is available on the Ethereum, Algorand, Solana, EOS, Liquid, TRON, Omni, and Kusama networks, as well as Bitcoin Cash's standard ledger protocol.
USDT-TRON vs USDT ERC-20: What's the Difference?
The main differences between USDT-TRON and USDT ERC-20 are broken down below:
| | | |
| --- | --- | --- |
|   | USDT-TRON | USDT ERC-20 |
| Network | TRON | Ethereum |
| Transaction fees | Generally very low  | Generally high  |
| Transaction speed | ~2,000 transactions per second  | ~25 transactions per second   |
What is USDT-TRON?
USDT-TRON is a USD-pegged stablecoin issued on the TRON network. TRC-20 based USDT enables interoperability with TRON-based protocols and Decentralised Applications (DApps), while allowing users to transact and exchange fiat-pegged currencies across the TRON Network. Users who choose to send or receive USDT-TRON generally pay low transaction fees and enjoy near-instant transaction times.
What is USDT ERC-20?
USDT ERC-20 is a cryptocurrency issued by Tether on the Ethereum network. USDT ERC-20 complies with the ERC-20 standard, one of the oldest and most trusted standards for creating tokens. The upside of using USDT ERC-20 is that it can be directly exchanged for any other ERC-20 token, such as Chainlink (LINK) and Uniswap (UNI).
Coming Soon: More Supported USDT Networks
In the coming weeks and months, our platform will be extending the networks available for USDT deposits and withdrawals. Next up, we're adding support for USDT on the Solana network, which is due to arrive in early September. More on this to come.

Download the BitMEX Mobile app to trade your favourite crypto derivatives contracts and spot trading pairs on the go, and connect with us on Discord, Telegram, and Twitter to be the first to know about our new listings and giveaways. 
In the meantime, if you have any questions please contact Support.