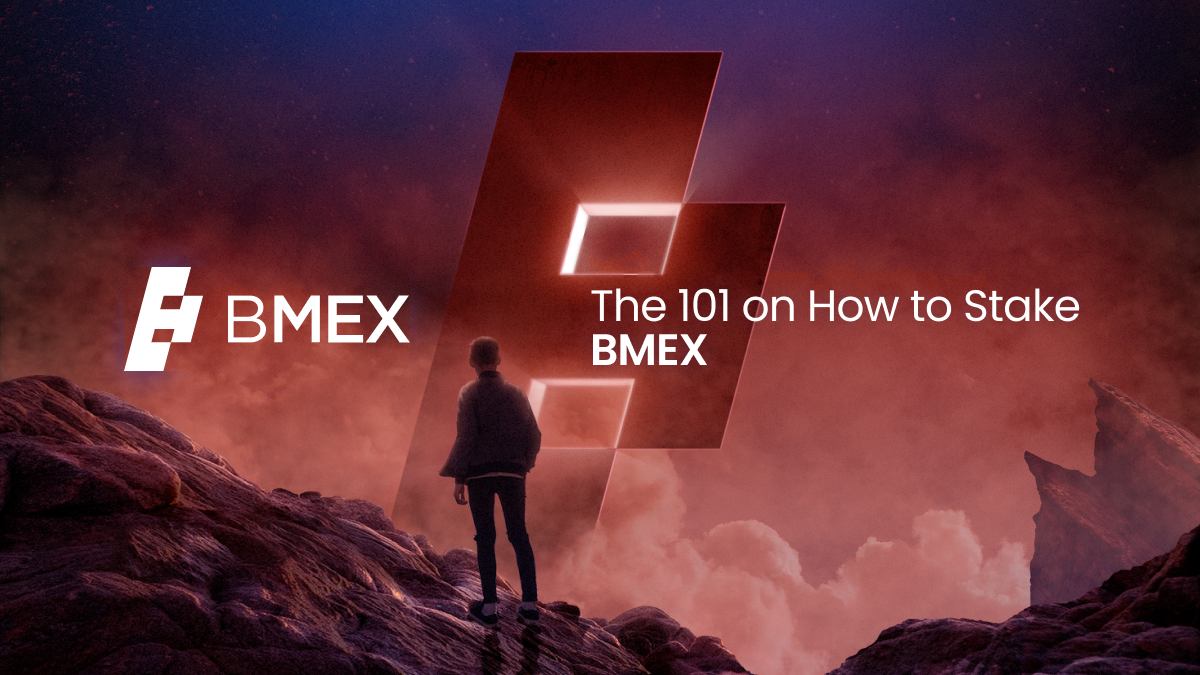 Why leave your BMEX idle, when you can be earning more rewards?

Following the first BMEX airdrop, many of our users have started staking BMEX to unlock fee discounts and other exclusive benefits on the BitMEX platform.
If you do not have enough BMEX Tokens yet, there's still time – check out our upcoming airdrops to earn more BMEX.

Want to learn more before you start staking? Read this guide for the 101 on how to stake BMEX via your BitMEX Wallet.

Why Stake BMEX?
BMEX staking allows you to get the most out of your BMEX Tokens. Start staking BMEX today to enjoy the following rewards:
Trading fee discounts of up to 15% (see the graphic in the next section for more details)

Exclusive privileges and experiences (e.g. early product access, BitMEX swag, and tickets to sports events)

VIP services for users who hold more than 500,000 BMEX
The more BMEX you stake, the more benefits you'll get. And that's not all: we have a number of offers in the pipeline – stay tuned for more BMEX benefits coming soon.
Taker fee discounts
By staking BMEX, you'll immediately get to enjoy taker fee discounts of up to 15%. The more BMEX you stake, the higher your taker fee discount: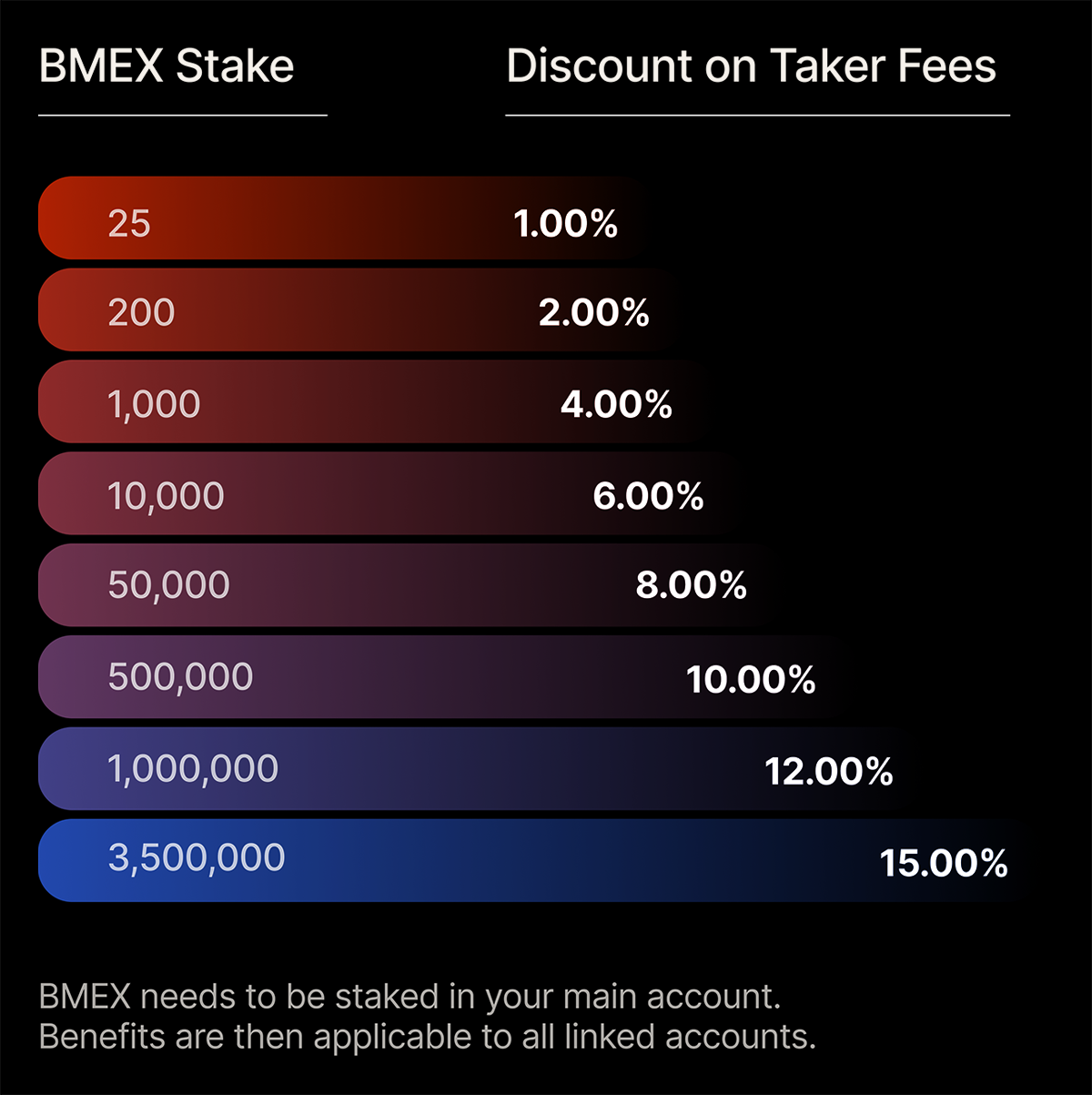 Note: The discounts above apply in addition to any ADV-based fees and discounts. To learn more, visit our Fees page or head over to our Token Microsite.

5 Steps to Staking BMEX

Here's a step-by-step walkthrough on how to stake BMEX:
Log in

to your BitMEX account.





Head over to your

BitMEX Wallet.


Click the 'Stake' button next to your BMEX balance.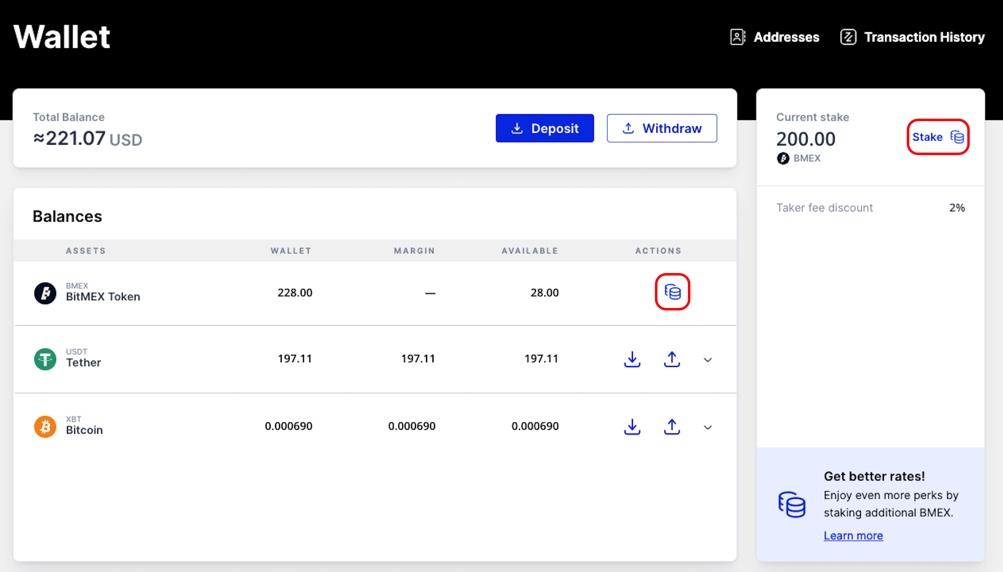 4. Adjust your staking amount (min. 25 BMEX). The more you stake, the higher the additional discount on your taker fees when trading on BitMEX.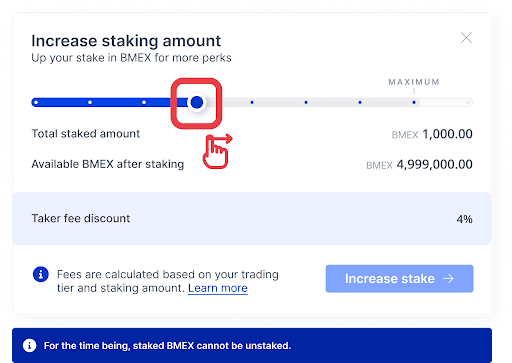 5. Click the 'Increase stake' button to confirm your staking amount.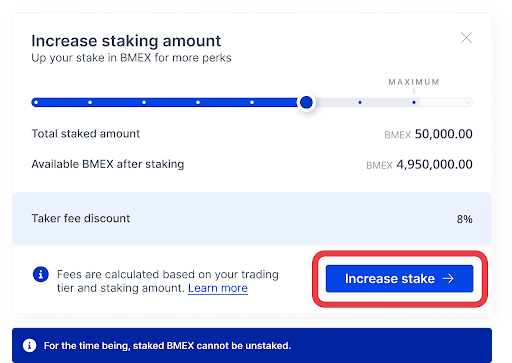 By confirming your staking amount, your taker fee discount will be updated immediately.
Start Staking BMEX

To start staking BMEX, log in and visit your BitMEX Wallet page. For the latest BMEX Token updates, be sure to connect with us on Discord, Telegram, and Twitter.
If you have any questions in the meantime, please contact Support.