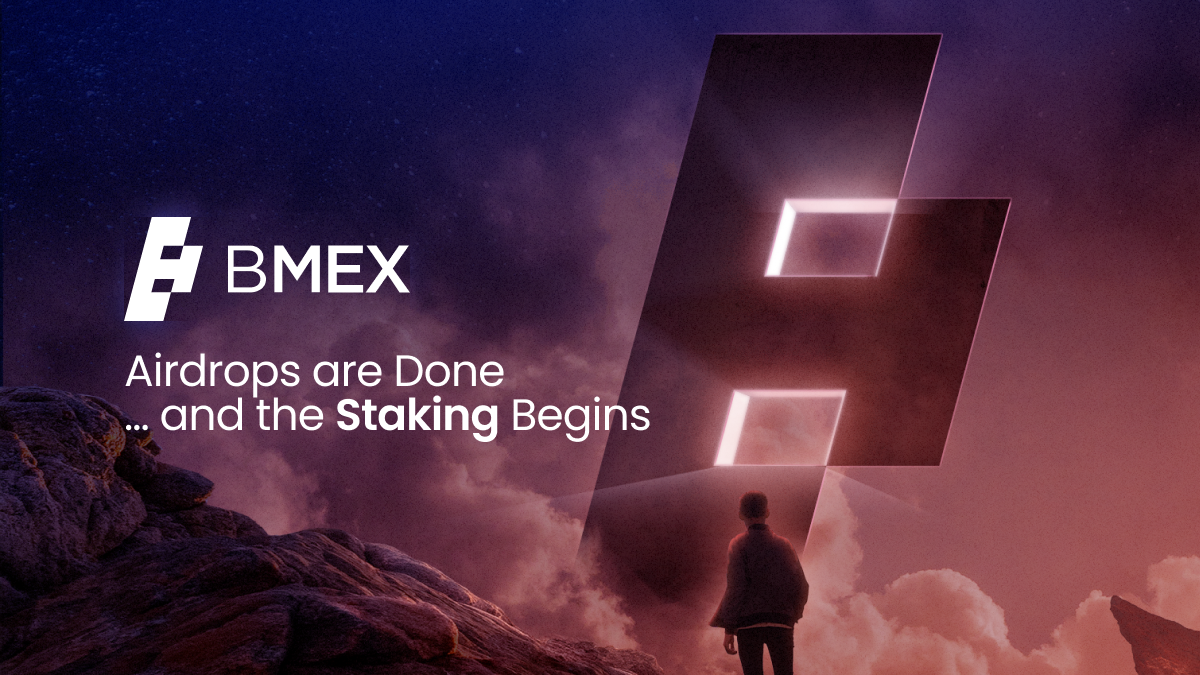 Today's the day: more than 1.5 million BMEX Tokens have been airdropped to new and existing BitMEX users. Congratulations to the first-ever BMEX holders.
All users who are eligible to receive the airdrop will be able to see their BMEX balance by visiting the BitMEX wallet page.

Want to earn even more BMEX? Start staking BMEX from 10:00 UTC onwards, so you can accrue as much BMEX as possible before our token becomes tradable in early Q2 2022. 
Visit our newly launched Token microsite today, or read on to learn more. 

How to Earn BMEX

New and existing users can earn BMEX by meeting the eligible criteria of our Token offers and staking BMEX. This is your chance to earn as much BMEX as possible before the launch of BitMEX Spot in early Q2.
How to Stake BMEX
To stake BMEX, simply follow these steps:

1. Log in to your BitMEX account
2. Visit the Wallet page.
3. Click 'Stake'.
4. Adjust your staking amount. The more you stake, the higher the additional discount on your taker fees*. To see the full fee schedule, click here.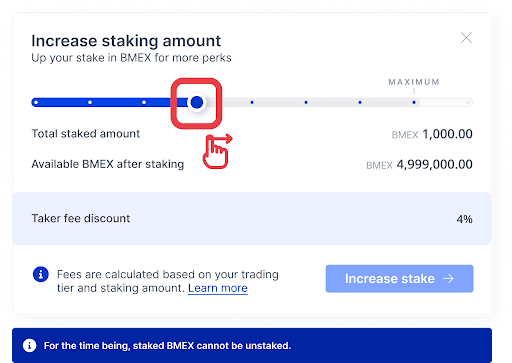 5. Click on the 'Increase stake' button to confirm your staking amount.

*By staking BMEX, you can enjoy trading fee discounts of up to 15%.

Note: Currently, we do not offer the option to unstake BMEX. This option will, however, be available following the launch of BitMEX Spot in early Q2.
Benefits for BMEX Holders and Stakers
By holding and staking BMEX, our users can enjoy the following benefits: 
Trading fee discounts of up to 15%

Exclusive privileges and experiences, such as early product access, BitMEX swag, and VIP tickets to sports events 

VIP services for users who hold 500,000+ BMEX 
In the coming weeks and months, BMEX holders can expect:

Exclusive product access and preferential terms for upcoming services 

An increased rate of return on

BitMEX EARN

deposits

Free access to

BitMEX Academy

courses and private community channels

Fee discounts on BitMEX Spot (launching in Q2)
For detailed information on the benefits of holding BMEX, please visit our Token microsite.
Learn More About BMEX
Visit our Token microsite today to download our Litepaper and learn more about the BMEX Token. For the latest BMEX Token updates, connect with us on Telegram and Twitter.