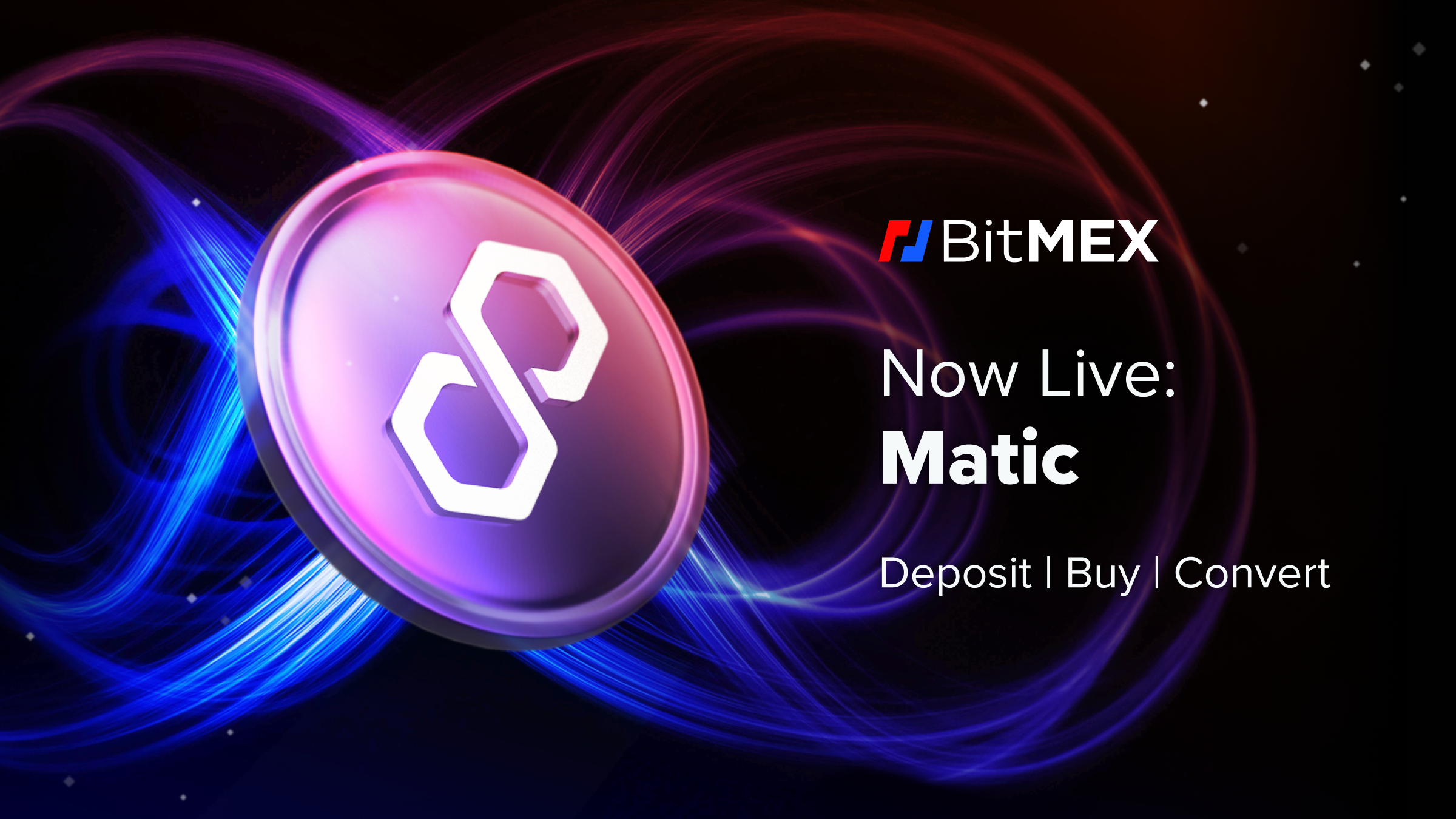 MATIC (ERC-20) has arrived at the BitMEX platform. 
The launch of MATIC support means that users can now buy, convert, deposit, and withdraw Polygon's native token on BitMEX.

In addition to MATIC, we will be supporting a growing range of tokens in the lead up to BitMEX Spot – so stay tuned.

Here's what you'll be able to do the next time you log in to BitMEX:
Buy MATIC
You can now buy MATIC in minutes, on top of Bitcoin, Tether (USDT ERC-20), Ether, and ApeCoin (APE)… The list keeps growing.

To buy crypto on BitMEX, simply select from 36 fiat currency options, enter the amount you want to deposit, and then choose the crypto you want to purchase. 
Next, choose your preferred payment provider, and follow the instructions set by the selected fiat gateway partner.

The fiat currencies we currently support are: AED, ARS, AUD, BRL, CAD, CHF, CZK, DKK, EUR, GBP, GHS, HKD, IDR, INR, JPY, KES, MXN, MYR, NGN, NOK, NZD, PHP, PLN, QAR, SAR, SEK, SGD, THB, TRY, TWD, TZS, UAH, UGX, USD, VND, and ZAR.

Convert MATIC

You can now convert Tether into MATIC – and vice versa – with no hidden fees. You won't have to worry about slippage, as all crypto converter transactions on BitMEX occur instantly, and at the conversion price shown.
Convert Crypto and Earn BMEX
From now until 30 April 2022 at 23:59 UTC, BitMEX users will get 2.5 BMEX for every 1,000 USDT – or XBT/ETH/APE/MATIC equivalent – converted. This offer is capped at 250 BMEX per user, per month. 
Deposit and Withdraw MATIC
To start depositing or withdrawing MATIC, simply open your Wallet, and click the 'Deposit' or 'Withdraw' button. Then, scan your MATIC wallet QR code to transfer MATIC into BitMEX from your other wallet(s).

What is MATIC?

Launched in late 2017, MATIC is an ERC-20 token that powers the entire Polygon network, a blockchain scalability platform for connecting and building blockchain networks, compatible with Ethereum.

MATIC is one of the top 20 cryptocurrencies by market cap, and is used to drive development across the Polygon network. The token can be used to pay gas fees, as well as staking and governance. According to CoinMarketCap, MATIC currently has a circulating supply of 7,808,492,08 tokens and a maximum supply of 10,000,000,000 tokens.

Coming Soon to BitMEX: More Coins, Tokens, and Features
We've been working hard behind the scenes to enhance the accessibility of our platform. Over the coming weeks, BitMEX will be supporting more cryptocurrencies in the lead up to the launch of BitMEX Spot.

Our new mobile app is live, meaning users can now buy, convert, deposit, withdraw, and earn interest on crypto while on the go.
To be the first to know about the latest BitMEX product updates and launches, connect with us on Discord, Telegram, and Twitter. 
If you have any questions in the meantime, please contact our Support team.