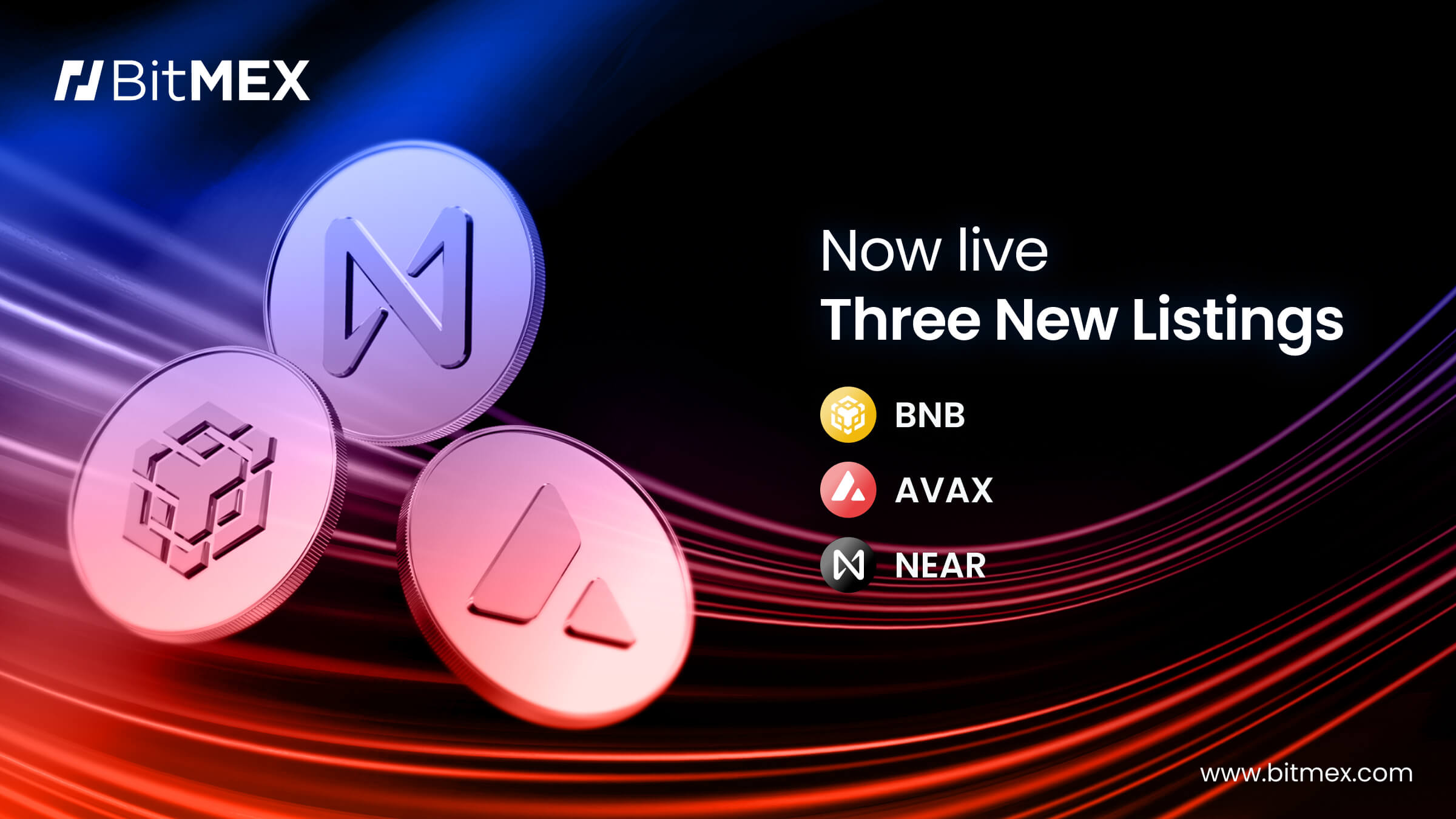 We recently extended the crypto conversion options available on BitMEX – giving users the ability to convert USD Coin (ERC-20) into all of the coins and tokens we support – and vice versa.

Fast forward to today, and we've added support for three additional cryptocurrencies – BNB, AVAX, and NEAR, with more planned in the coming weeks. It's an addition that also means we have extended the number of networks supported by BitMEX, to include the Binance Smart Chain (BSC), Avalanche (AVAX), and NEAR Protocol (NEAR) chains.

To learn more about these new tokens and the additional support they now provide to crypto conversions at BitMEX, read on.
If you haven't yet created a BitMEX account, you can do so here. 
Support for BNB, AVAX, and NEAR Conversions, Withdrawals, and Deposits
Support for three new cryptocurrencies – BNB, AVAX, and NEAR – has arrived at BitMEX. This means that BitMEX users will now be able to: 
Convert USDC and USDT into 25+ cryptocurrencies

– and vice versa – with no hidden fees. All

crypto conversions

on our platform happen instantly, so there's no need to worry about slippage. 

This new addition means users can quickly and easily convert a wider range of cryptocurrencies into Tether, Ether, or Bitcoin, freeing up time to focus on trading XBT-, ETH-, or USDT-margined crypto derivatives and access spot trading pairs. 

Deposit and withdraw, BNB, AVAX and NEAR

via their

BitMEX Wallet

(on top of SHIB, WBTC, MANA, SAND, FTT, CRO, XBT, ETH, UNI, SUSHI, AXS, LINK, MATIC, APE, TRX, SOL, USDT, DAI, AAVE, BUSD, FTM, and USDC.)

These additional deposit and withdrawal options give users the chance to HODL a wider range of coins and tokens.

The minimum amount users can withdraw/deposit is

0.04 BNB, 0.07 AVAX, and 0.3 NEAR.
What is BNB?
BNB is the exchange utility token of the Binance crypto exchange. Originally it was launched on the Ethereum blockchain, however later migrated to the Binance Smart Chain (the BSC Chain).
What is AVAX?
AVAX is the native token of the Avalanche network. It is a base-layer network on which software developers can build decentralised applications (dapps), smart contracts, and custom blockchains.
What is NEAR?
NEAR is the native coin for the Near Protocol, a smart contract blockchain, created to rival Ethereum. It is considered cheaper, faster, and scalable, partly due to a consensus protocol called Doomslug and a sharding called Nightshade. 

Coming Soon: More Crypto Conversion Options and Derivatives Listings
In the coming weeks, more cryptocurrencies will arrive on our platform. A new type of crypto derivative is also on their way…so stay tuned. 
Download the BitMEX Mobile app to trade your favourite crypto derivatives contracts and spot trading pairs on the go, and connect with us on Discord, Telegram, and Twitter to be the first to know about our new listings and giveaways. 
In the meantime, if you have any questions please contact Support.