Our roster of partners is growing fast, and this is one our users will definitely want to take advantage of. 
Tardis.dev, a provider of the most comprehensive and granular cryptocurrency market data products in the industry, has officially joined the BitMEX Partners Programme.
Accurate, complete, historical market data are a trader's best friend and are one of the most powerful resources in their toolkit. Collecting and parsing through exchange data is a time consuming and resource intensive process, not to mention the implementation costs of data collection, storage, and distribution services. 
With Tardis.dev, traders can leave the data management to the pros and focus on data analysis instead. Tardis provides users access to high frequency real-time and historical data including the most granular order book tick updates, tick-by-tick trades for derivatives and top spot cryptocurrency exchanges, fast and convenient data access both via API and downloadable CSV files as well as non standard data types like historical funding, open interest, indices, liquidations, and more.
And, it's our pleasure to unveil two exclusive privileges Tardis.dev is offering to celebrate.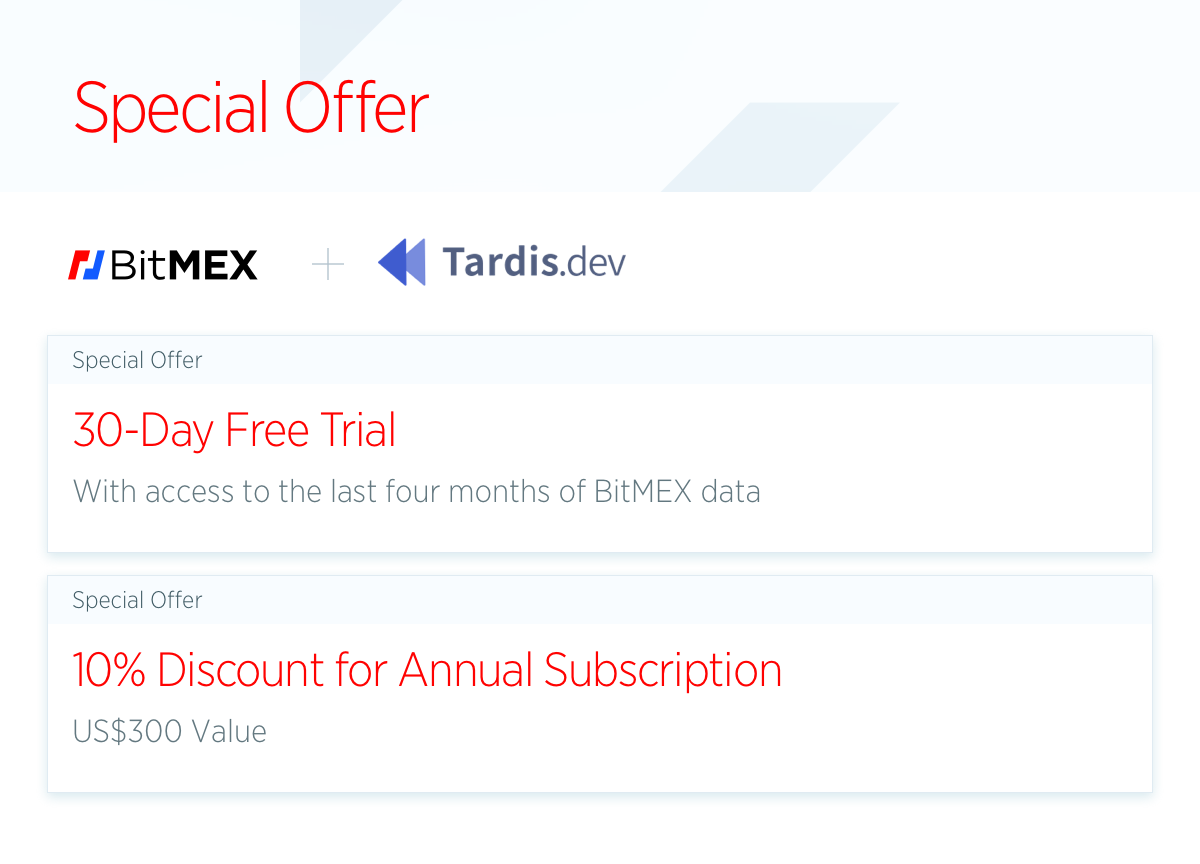 Users will be able to access a 30-day free trial with access to the last four months of BitMEX data or a 10% discount for an annual subscription that provides access to all BitMEX data, dating back over more than two years (a US$300 value).
Tardis.dev is an excellent fit for the Partners Programme as their data can be leveraged for trading execution, backtesting, optimisation of trading strategies, designing quantitative models, and overall alpha generation. 
Ben Radclyffe, Commercial Director at 100x Group, who operate the BitMEX platform, said:  "Having granular, accurate, and complete market data is an essential part of any trader's toolkit, but keeping up with changes needed to collect, clean, and maintain your own data is becoming increasingly expensive and difficult. By building a long term partnership with the team at Tardis.dev, we're bringing commercial quality market data services to our users, freeing them to focus on alpha generation and risk management."
Thaddeus, owner of Tardis.dev, said: "Joining the BitMEX Partners Programme is a natural extension of our strategy to bring the highest quality, most detailed market data to as many traders as possible. We have a particularly deep data partnership with BitMEX, and we're excited to announce special privileges for users who want to take their trading to the next level with our BitMEX datasets."
Click here to receive the exclusive privileges from Tardis.dev: https://tardis.dev/bitmex-partnership
To sign up and verify as a new user on BitMEX, visit: https://www.bitmex.com/register.