Today we are excited to announce the addition of Stacked into the growing BitMEX Partner Programme. Stacked is a smart automated crypto investing platform and portfolio management tool that allows users to instantly access vetted trading strategies and investment portfolios.

Stacked tech helps to simplify the automated crypto trading process with a clean user interface and UX that allows everyone to invest in crypto indices, access trading bots, and automate portfolio management, and therefore represents a great addition to the programme. 
Traders can access the comprehensive Bot Marketplace that allows users to subscribe to sophisticated trading algorithms and strategies. Once set up, there is no need to actively manage your trading account, as the bots take care of the entire process from end-to-end. The strength of Stacked lies in their ability to simplify crypto investment strategies into a neatly designed dashboard that all can understand.

Alan Eschweiler, Head of Operations at Stacked, said "We're excited to partner with BitMEX to offer our users a great avenue for automating leveraged trading products through Stacked. Liquidity and execution speeds are incredibly important for a positive experience, and BitMEX consistently provides the best of both."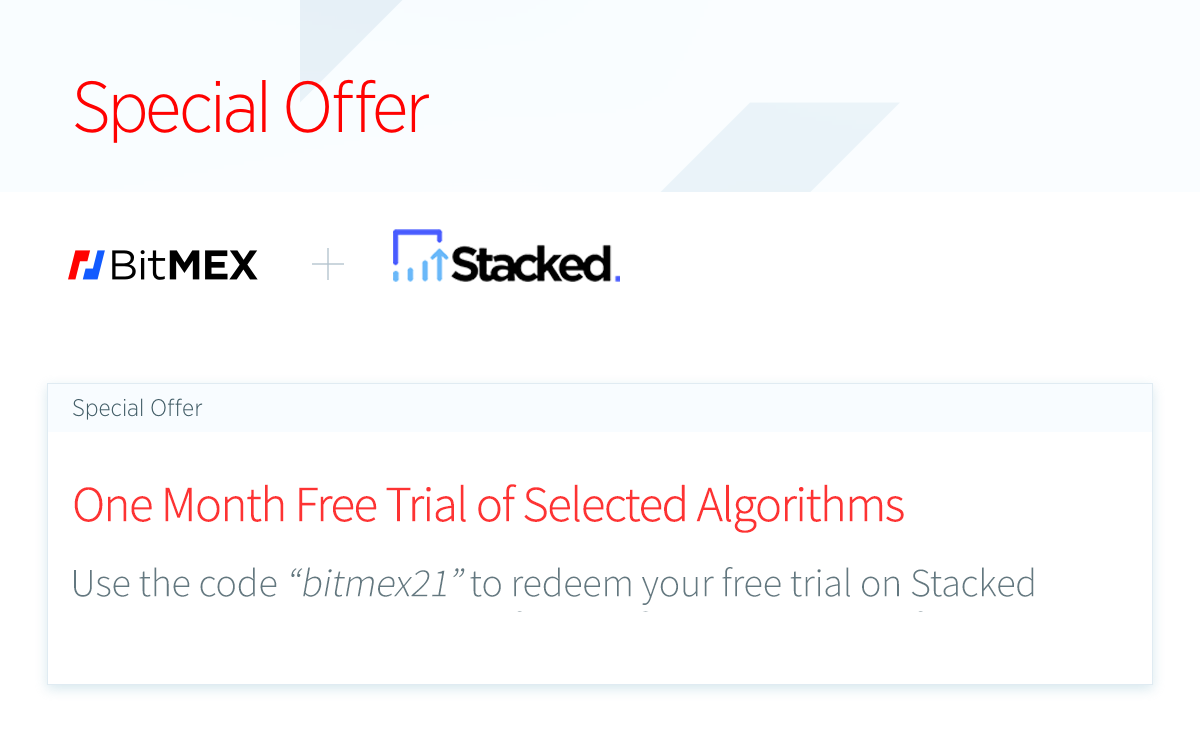 To kick off our partnership, Stacked will be offering BitMEX users a one-month free trial of selected algorithms on the Bot Marketplace from some of the industry's most popular traders and funds. Use the code "bitmex21″ to redeem your one-month bot trial on Stacked.

Click here to receive the exclusive privileges from Stacked: https://stackedinvest.com/
To sign up and verify as a new user on BitMEX, visit: https://www.bitmex.com/register.
Should you have any questions, please contact Support.