Today we are excited to welcome Coinigy into the BitMEX Partners Programme. A veteran of the crypto industry, Coinigy has thrived through several market cycles and remained a true leader in their category. Since 2014, they have operated the ultimate cryptocurrency portfolio management suite which has come to be trusted by hundreds of thousands of users worldwide.

The Coinigy web and mobile apps let users to tap into the pulse of the global crypto economy by providing an easy way to manage your exchanges and wallets automatically across all your devices. With a full suite of features including real-time charts, trade data, news feeds, 75 technical indicators, as well as trigger SMS and e-mail alerts powered by the world's best low-latency data feeds, Coinigy allows users from all levels of expertise to get the most out of their trading experience using one interface.

With this partnership now official, we're giving BitMEX users the opportunity to connect their account to Coinigy and benefit from its full suite of features available on the platform.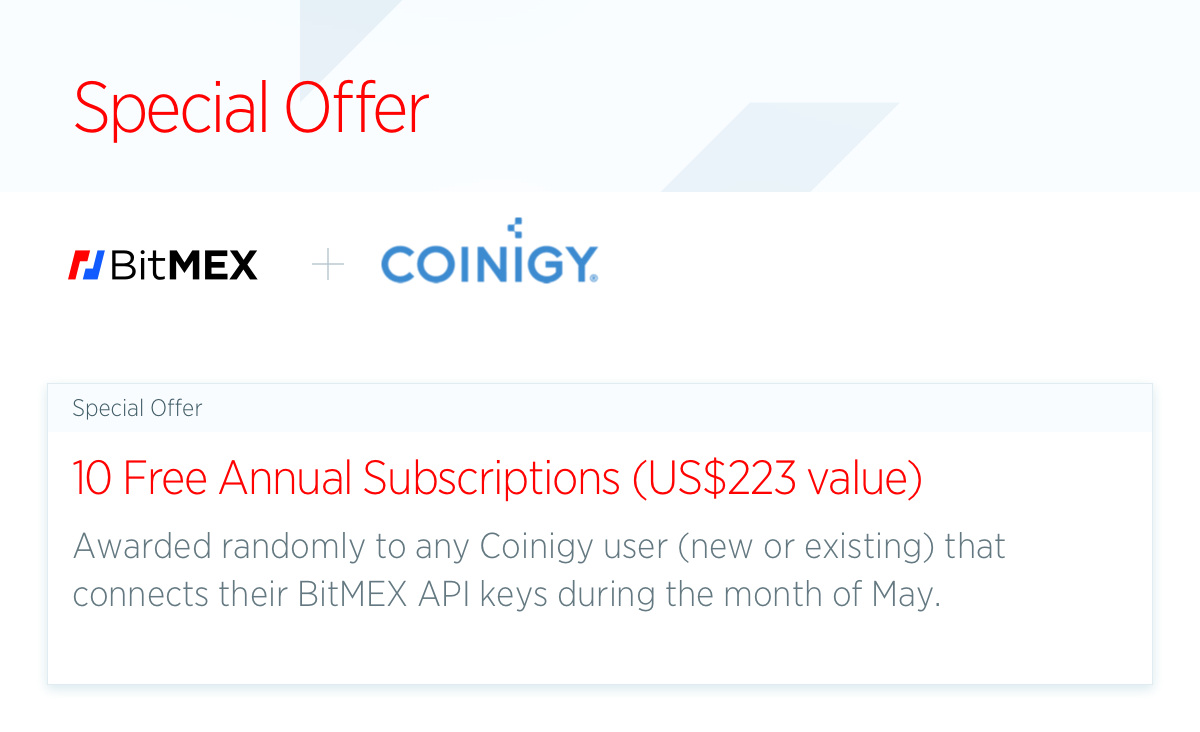 To kick off our partnership, Coinigy will be giving away 10 free annual subscriptions (US$223 value) to both new and existing Coinigy users that have their BitMEX API keys connected during the month of May. Winners will be selected randomly and announced by Coinigy on 1 June.

William Kehl, Co-Founder of Coinigy, said: "As an early crypto company we've been consistently impressed with BitMEX's execution and resilience through the years. We are beyond excited to release additional BitMEX trading features in the coming months. This new partnership will provide a solid foundation and ensure a first-rate experience for our users."
To sign up for a Coinigy account, visit: https://www.coinigy.com
To sign up and verify as a new user on BitMEX, visit: https://www.bitmex.com/register.