Never underestimate the power of a great partnership. 
We're proud to announce that 3Commas, a leading automated trading platform, has joined the BitMEX Partners Programme.
As part of the partnership celebration, the BitMEX and 3Commas teams are excited to unveil exclusive privileges for users.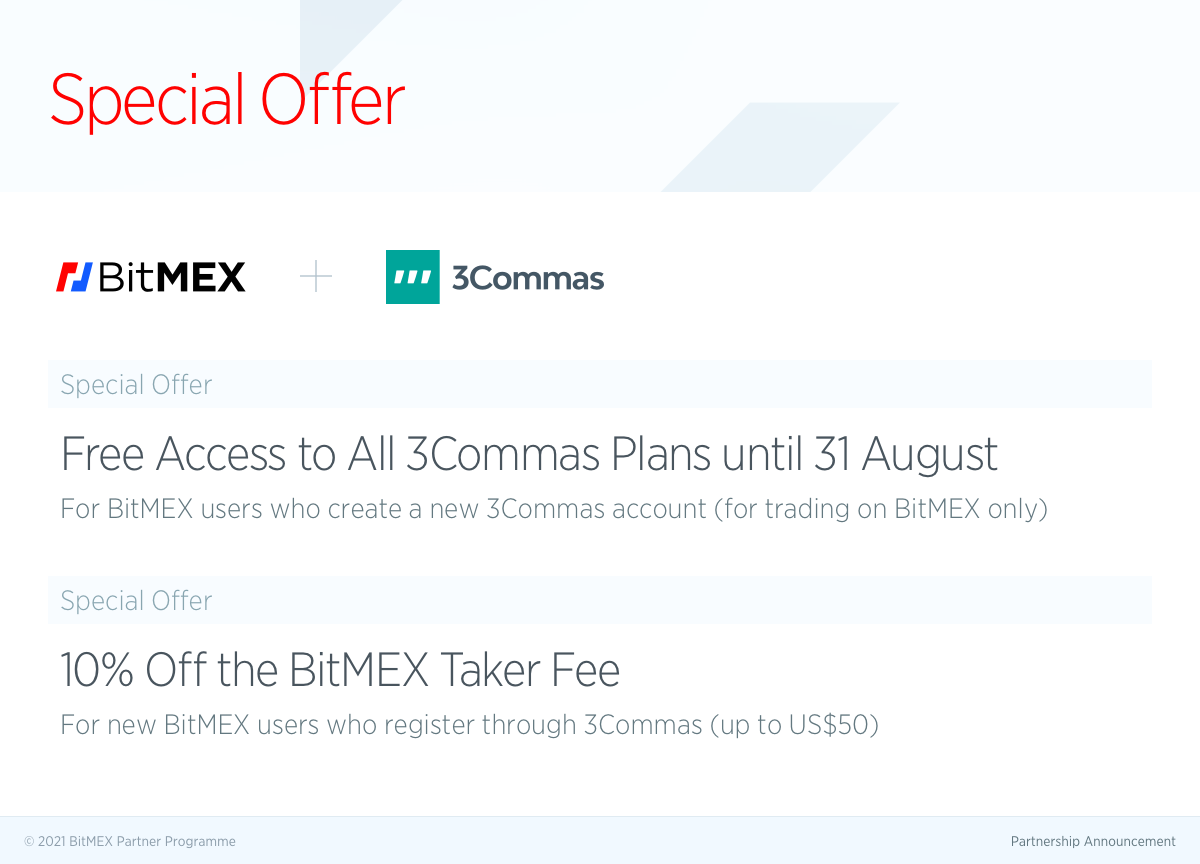 Effective today:

Current BitMEX users who create a new 3Commas account will receive free access to all 3Commas plans until 31 August (for trading on BitMEX only) 
New BitMEX users who register on the BitMEX platform through 3Commas in the next 30 days will enjoy 10% off the BitMEX taker fee (up to US$50)
The partnership comes after the recent launch of our official Partners Programme, which connects users with trusted trading tools while rewarding partners based on the activity they refer to the BitMEX platform. 
3Commas, as one of the most established automated trading platforms, is a natural partner for BitMEX given the demand for automated trading solutions among our user base and the wider community. 
3Commas' automated trading bots can implement a variety of strategies, including some based on long/short algorithms or on custom signals provided by TradingView. They also offer SmartTrade, a product which makes it easy to implement sophisticated manual trading strategies on multiple platforms including BitMEX. 
Ben Radclyffe, Commercial Director at 100x Group, who operate the BitMEX platform, said: "It's fantastic to launch the Partners Programme with the 3Commas team on board right from the start. The combination of our two platforms has always been incredibly popular among our trading community and this partnership will help introduce us both to an even broader user base. I can't wait to see how experienced 3Commas users can take advantage of the liquidity we have to offer at BitMEX".
Yuriy Sorokin, CEO at 3Commas, said: "We never stop looking for ways to unlock value for new and existing users, whether that's through our innovative trading solutions or the partnerships we make with industry leaders like BitMEX. As a new member of the BitMEX Partners Programme we're delighted to invite even more BitMEX traders to use 3Commas as their preferred automated trading partner".
To register a new account or connect your current BitMEX account through 3Commas to enjoy our exclusive privileges, visit https://3commas.io/bitmex.
For a 'how-to' on API keys, visit this link. When logged in, manage your API keys via this link: https://www.bitmex.com/app/apiKeys
As always, if you have any further questions, please contact our Support team who will be happy to help.