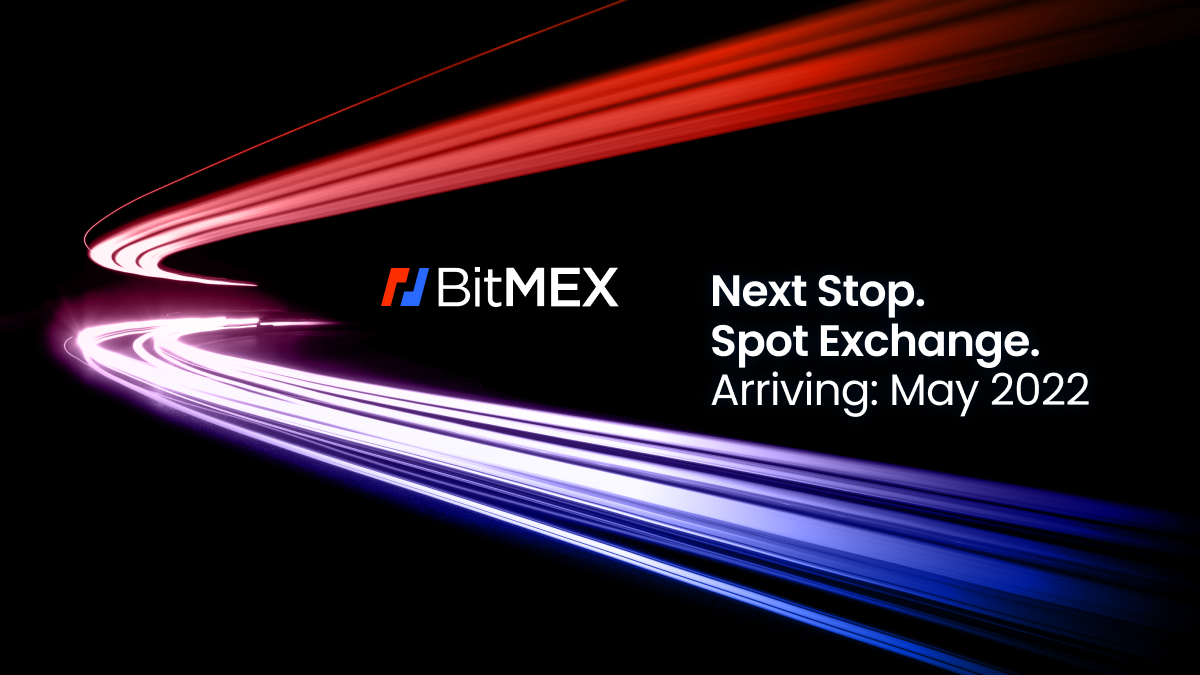 In just a few weeks, BitMEX Spot will arrive, allowing users to instantly buy, convert, deposit, and withdraw multiple cryptocurrencies. What's more it's now on Testnet, ready for those seeking a preview of our new offering.
The arrival of BitMEX Spot comes coupled with a brand new user interface and trading experience. From the first day of BitMEX Spot, users seeking to trade crypto-to-crypto via a fully fledged orderbook will soon be able to do so – with seven cryptocurrencies; XBT, ETH, LINK, UNI, MATIC, AXS and APE, all paired against USDT.
But this is just the start for spot trading at BitMEX. Users will find additional coin and token listings in the next quarter, as we work to grow our spot market.

To celebrate the start of BitMEX Spot, for the first two months of spot trading, users will be automatically entered in one of the biggest crypto giveaways ever. Our spot trading sweepstakes will afford traders the chance to win a share of a grand prize pool valued at over $1,000,000 USD in crypto. More on the prize pool and mechanics to enter will be shared in the coming days, so keep an eye out.
For those who've missed out on our latest announcements, you can read more on the recently listed coins below, all of which are available to buy, convert, deposit, and withdraw on BitMEX.
These cryptocurrencies include popular portfolio staples like XBT (BTC) and ETH, rising stars like APE and AXS, and DeFi performers like UNI and SUSHI.

For the launch of our spot exchange, our intention was to go live with a selection of some of the most sought after and widely traded assets globally. Additionally, we strongly believe that these seven coins represent some of the most exciting developments across the broader crypto ecosystem. More trading pair listings will follow in the coming months, with a focus on some of the hottest layer one protocols.

Take a sneak peek at BitMEX Spot on Testnet today, or read on to learn more.
APE
Here is what you need to know if you're looking to spot trade with APE. ApeCoin is an ERC-20 governance and utility token for culture, commerce, and gaming. The APE NFT token is owned and operated by ApeCoin DAO, a decentralised organisation where each token holder gets to vote on governance and the use of the ecosystem fund. Yuga Labs, the creators of the Bored Ape Yacht Club, will adopt APE as its primary token across all new projects.

Read more about what you can already do with your APE tokens on our platform here.
AXS
AXS is an Ethereum token that powers Axie Infinity, a blockchain-based game where players can battle, connect and build a digital kingdom with their pets. AXS holders can claim rewards for staking their tokens, playing the game, and participating in key governance votes.
Read more about what you can already do with your AXS on our platform here.
ETH
Ether is the world's second largest cryptocurrency. Fueling the user-powered Ethereum network, it gives holders access to numerous applications related to DeFi products, using and storing NFTs, playing video games, social media, and much more. This makes it one of the most popular and traded tokens – perfect for the spot market.
Read more about what you can already do with your ETH on our platform here.
LINK
Chainlink (LINK) is an ERC-20 token used in the Chainlink platform to incentivise network operators and collateralise the network's smart contract agreements. The Chainlink platform is a decentralised oracle network that securely connects blockchains with off-chain data. Enterprises that use Chainlink can access any of the major blockchain networks, including Ethereum, Solana, and Terra.
Read more about what you can already do with your LINK tokens on our platform here.
MATIC
Launched in late 2017, MATIC is an ERC-20 token that powers the entire Polygon network, a blockchain scalability platform for connecting and building blockchain networks, compatible with Ethereum. It can be used to pay gas fees, as well as staking and governance.
Read more about what you can already do with your MATIC on our platform here.
UNI

The UNI token is the governance token of Uniswap, the largest DEX operating in the Ethereum blockchain. It was one of the first DeFi applications to gain significant traction on Ethereum after its launch in November 2018. The UNI token enables community ownership over the protocol, allowing stakeholders to vote on key protocol changes and development initiatives.

Read more about what you can already do with your UNI tokens on our platform here.

XBT
Bitcoin (XBT) is where it all began, the first successful cryptocurrency and token with the largest market cap and trade volume.
How to Trade Crypto with BitMEX Spot
Once BitMEX Spot is fully live, users will be able to access the spot trading functionality through one of four ways:
Coin Conversion RFQ (request for quote)

: Users can continue instantly swapping one asset for another. Perfect for traders who are new to trading crypto and seeking a quick and easy way to do so.

On the spot exchange:

Users will be able to place limit and market orders on our spot exchange. The CLOB will be supported with liquidity for all trading pairs by professional market makers and traders.

API trading

: More sophisticated and institutional traders will be able to take advantage of our fully featured REST API and a powerful streaming WebSocket API. All market and user data will be available along with updates in real-time. Every function used by BitMEX Spot is exposed via the API, allowing developers full control to build any kind of application on top of BitMEX.

Mobile Application

: Our recently relaunched BitMEX mobile app will soon allow users to easily trade on-the-go with a beautiful redesigned experience.
Trading Fee Structure for BitMEX Spot
We're working to ensure that the fee structure for BitMEX Spot is one of the most competitive in the space. Giving our traders the best fees possible. You can find them here and broken down below.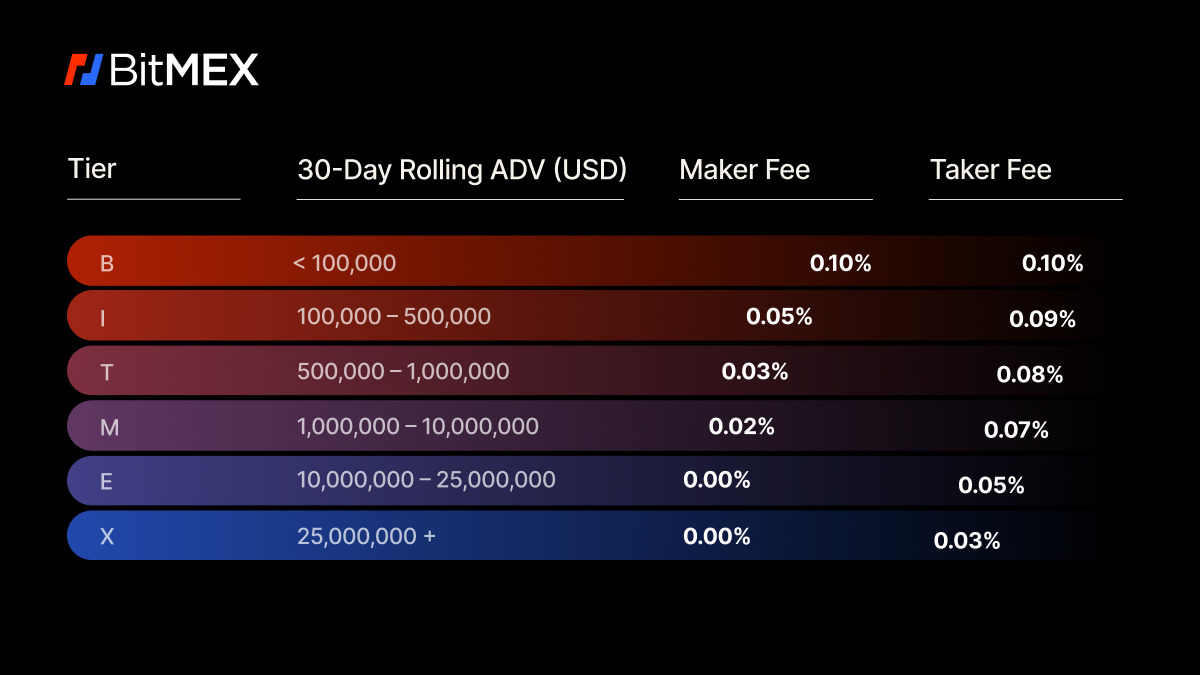 Join the Party: Win 500 USDT + 10 BMEX Tokens in the Lead Up to BitMEX Spot

Before the launch of BitMEX Spot, we're giving 10 BitMEX users the chance to win 500USDT and 10 BMEX. You can find all the details on how to enter on either our Twitter, Discord, and Telegram channels.

We also welcome you to start exploring BitMEX Spot on Testnet prior to its mainnet launch. Please feel free to provide us with your feedback via Trollbox or our Discord #spot thread.
To be the first to know about the latest BitMEX product updates and launches, connect with us on the channels above.
If you have any questions in the meantime, please contact Support.