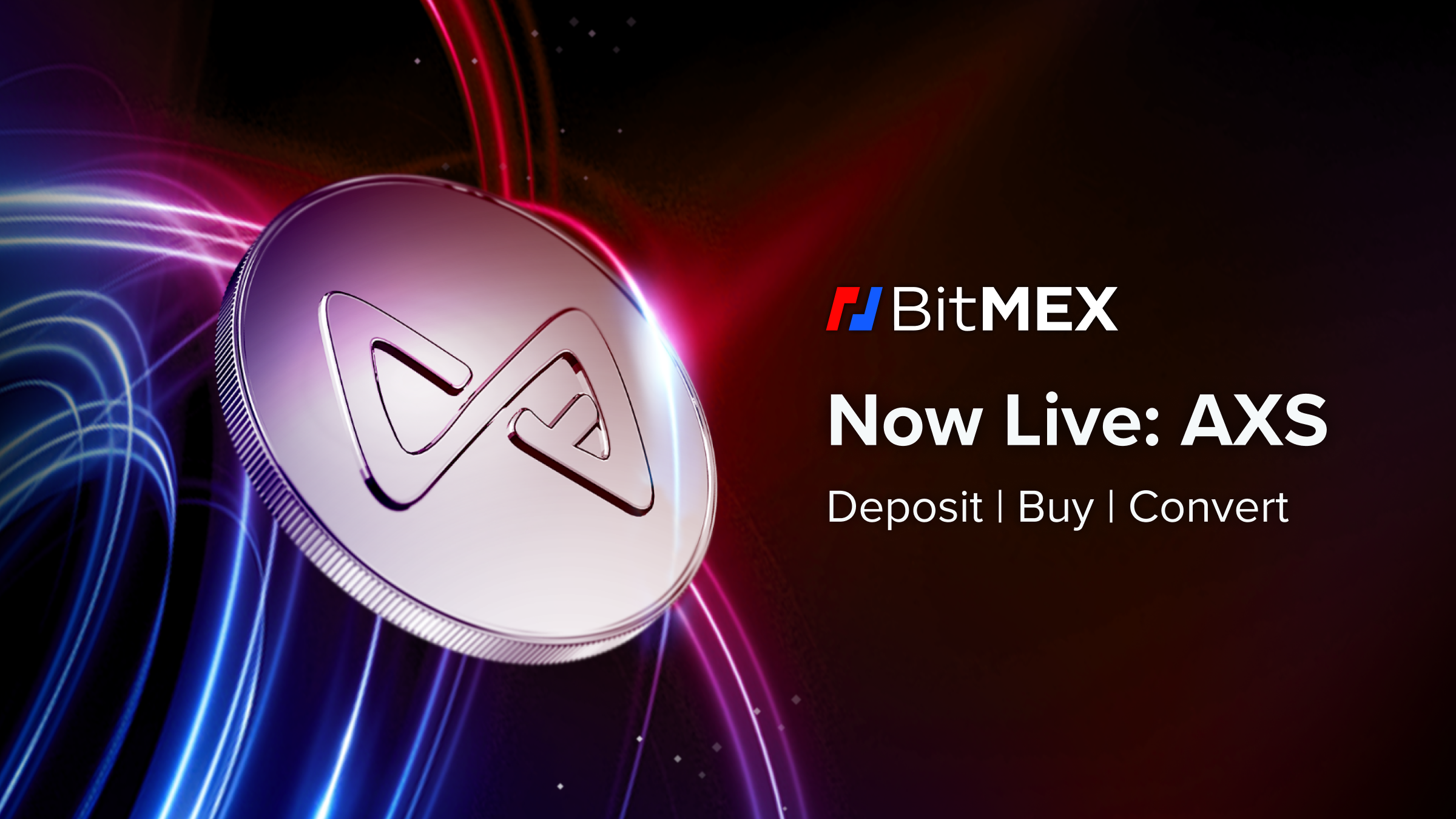 Our platform is growing with the launch of Axie Infinity token support. 
From today, BitMEX users will be able to deposit, withdraw, buy, and convert AXS. We will also be supporting a growing range of coins and tokens over the coming weeks, so stay tuned.
In early Q2, when BitMEX Spot launches, the Axie Infinity token will be among the supported tokens – along with LINK, ApeCoin, Bitcoin, Ethereum, Tether, and more.

Here's a deeper look at what you'll be able to do the next time you log in to BitMEX:
Buy the AXS Token
You can now buy AXS in minutes, on top of LINK, ApeCoin, Bitcoin, Ether, MATIC, and Tether (USDT ERC-20). To buy the AXS token on BitMEX, simply select from 30+ fiat currency options, enter the amount you want to deposit, and then choose the crypto you want to purchase. 

Next, choose your preferred payment provider, and follow the instructions set by the selected fiat gateway partner.

The fiat currencies we currently support are: AED, ARS, AUD, BRL, CAD, CHF, CZK, DKK, EUR, GBP, GHS, HKD, IDR, INR, JPY, KES, MXN, MYR, NGN, NOK, NZD, PHP, PLN, QAR, SAR, SEK, SGD, THB, TRY, TWD, TZS, UAH, UGX, USD, VND, and ZAR.
Convert the AXS Token
You can now convert AXS to Tether (USDT) – and vice versa – without paying any hidden fees. You won't have to worry about slippage when buying your AXS crypto, as all crypto converter transactions on BitMEX occur instantly, and at the conversion price shown.

Convert Crypto and Earn BMEX
From now until 30 April 2022 at 23:59 UTC, BitMEX users will get 2.5 BMEX for every 1,000 USDT – or XBT/ETH/APE/MATIC/LINK/AXS equivalent – converted. This offer is capped at 250 BMEX per user, per month.

Deposit and Withdraw AXS

To start depositing or withdrawing AXS, simply head over to your Wallet, and click the 'Deposit' or 'Withdraw' button. Then, scan your AXS wallet QR code to transfer AXS tokens into BitMEX from your other wallet(s).
What is the AXS Token?
AXS is an Ethereum token that powers Axie Infinity, a blockchain-based game where players can battle, connect and build a digital kingdom with their pets. AXS holders can claim rewards for staking their tokens, playing the game, and participating in key governance votes.
Axie Infinity is a crypto-meets-Pokémon game in which players raise, battle, and trade cute NFT pets called Axies. It features two native cryptocurrencies: Axie Infinity Shards (AXS), which can be bought and sold on crypto exchanges, and Smooth Love Potion (SLP), which is awarded to players for spending time in the game.

To be the first to know about the latest BitMEX product updates and launches, connect with us on Discord, Telegram, and Twitter. 
If you have any questions in the meantime, please contact our Support team.