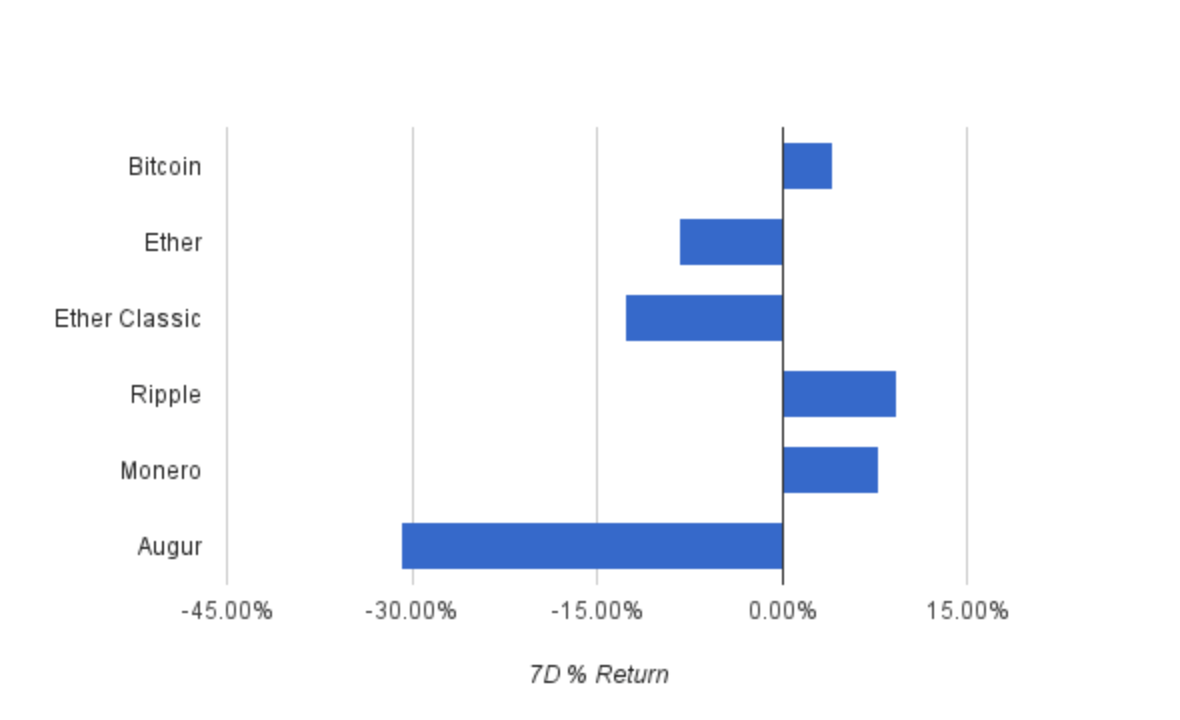 It's a testament to the increasing maturity of the Bitcoin market that traders get excited for only a 4% upward movement. Bitcoin's breakout above $600 has reawakened trader interest. Over the past few months, many crypto traders focused solely on altcoins.
The chart above lists the weekly % return of Bitcoin and a few of the most popular altcoins in USD terms. Usually as Bitcoin rises, altcoins will get dumped aggressively. This time around the results are mixed.
The worst performer, Augur (REP), is down over 30%. This can mostly be attributed to mean reversion. REP still trades at multiples higher than it's ICO price. For initial investors, REP is still a home run. It is to be expected that some of the air seeps out of that bubble as traders take profit. If Augur can successfully facilitate the creation of bets on anything in a decentralised fashion, I expect a resumption of the rally.
Ether (ETH) and Ether Classic (ETC) were the other dogs of the basket. ETH has experienced multiple DDOS attacks, and now it appears another hard fork is needed. Many traders are fleeing to the safety of Bitcoin in preparation of what could be another volatile event. I feel traders are losing interest in ETC. They are cashing in their free money and moving on. But with such a low nominal price, the price could quickly spike higher if a small amount of hashing power is added.
Monero (XMR) managed outsized gains when compared with Bitcoin. XMR appears to have bottomed and is now retracing its fall from grace. Over the last two weeks, XMR fell over 28%. With Zcash launching in under a month, will Monero be able to hold its own against another anonymous coin competitor?
Mean reversion is a powerful thing. Altcoin returns all over the map. An equally weighted basket where you buy the dogs and sell the stars, could prove profitable over a one to two week time period. This basket can be constructed entirely with BitMEX products, and using only Bitcoin as margin.
Example Basket:
Spread 50 Bitcoin of risk equally amongst the dogs, and buy each name. Spread 50 Bitcoin of risk equally amongst the stars, and sell each name. If the dogs rise and the stars fall, the basket will show a positive return.
Buy, The Dogs
Augur, REP7D
Ether, ETHXBT
Ether Classic, ETC7D
Sell, The Stars
Ripple, XRP7D
Monero, XMR7D