The bear raid was on in full force yesterday. Bitcoin fell over 5% from $230 to $220 over a few hours. Shorts were licking their chops and the number of Bitcoin swaps outstanding jumped over 20%. Rates went skyward, reaching over 0.10% per day at one point yesterday.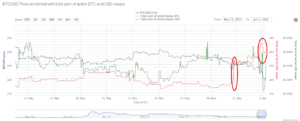 The chart above shows the jump in XBT swaps outstanding on Bitfinex. Bears borrow XBT and then sell it on the spot book. Any with XBT can lend at a rate to the bears. The $212-$225 kill zone for margin longs has been well documented. Bearish traders are hoping to trip a wave of margin calls, causing the price to plummet towards $200.
The market was here before a month prior. The price stalled in the $220-$222 range, and then made a run at $210. The bears will attempt another raid, but the longer the price stays above $220 the more skittish shorts will become. Faced with an unlimited upside shorts race to cover at the first sign of a rebound.
The best way to play the current limbo in price is to go long weekly volatility. BVOL7D expires each Friday based on the past 7 days price volatility on Bitfinex. The price will yo-yo $220 -> $210 -> $225, or will melt straight to the sub-$200 core. Regardless of which way it goes, being long volatility will be a profitable trade.