A message from Alex Höptner, CEO of BitMEX

I've long believed that BitMEX would need to shift its commercial strategy as the market evolved. 
Last week, to give even more value to customers, we restructured our fees, lowering the BitMEX Taker Fee from 7.5bps (0.075%) to 5bps (0.05%) on all products. We also adjusted the Maker Rebate from 2.5bps (0.025%) to 1bps (0.01%) across all the contracts on our platform. 
Customers always come first at BitMEX. This move puts our fee structure ahead of others in the derivatives market and gives BitMEX users, regardless of their size, the advantage they need to trade when it counts. 
We're confident this will have a positive impact for all, from everyday traders to corporates and institutions, and we'll be watching carefully to see how these changes track. 
Ultimately, lowering our fees reflects our belief that everyone deserves a fair and affordable opportunity to trade on a great platform.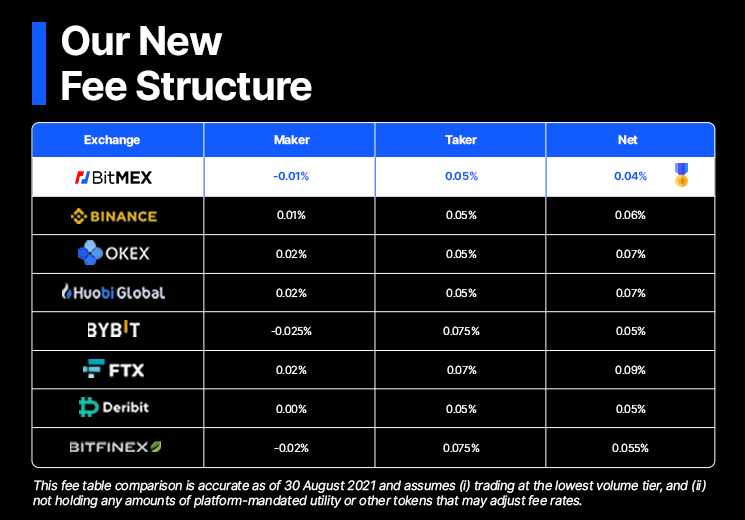 In many ways, it seems like the crypto world is starting to put this year's restive spring and summer behind it. Crypto bulls are (for now) again on the march. Regulatory developments across the industry are being absorbed by an increasingly more mature market. The industry is taking action on sustainability as crypto marches toward mainstream adoption.  
Crypto is changing, and we're changing with it. So whether you're already on this journey with us, have just rejoined, or are keen to try BitMEX for the first time, welcome and happy trading.