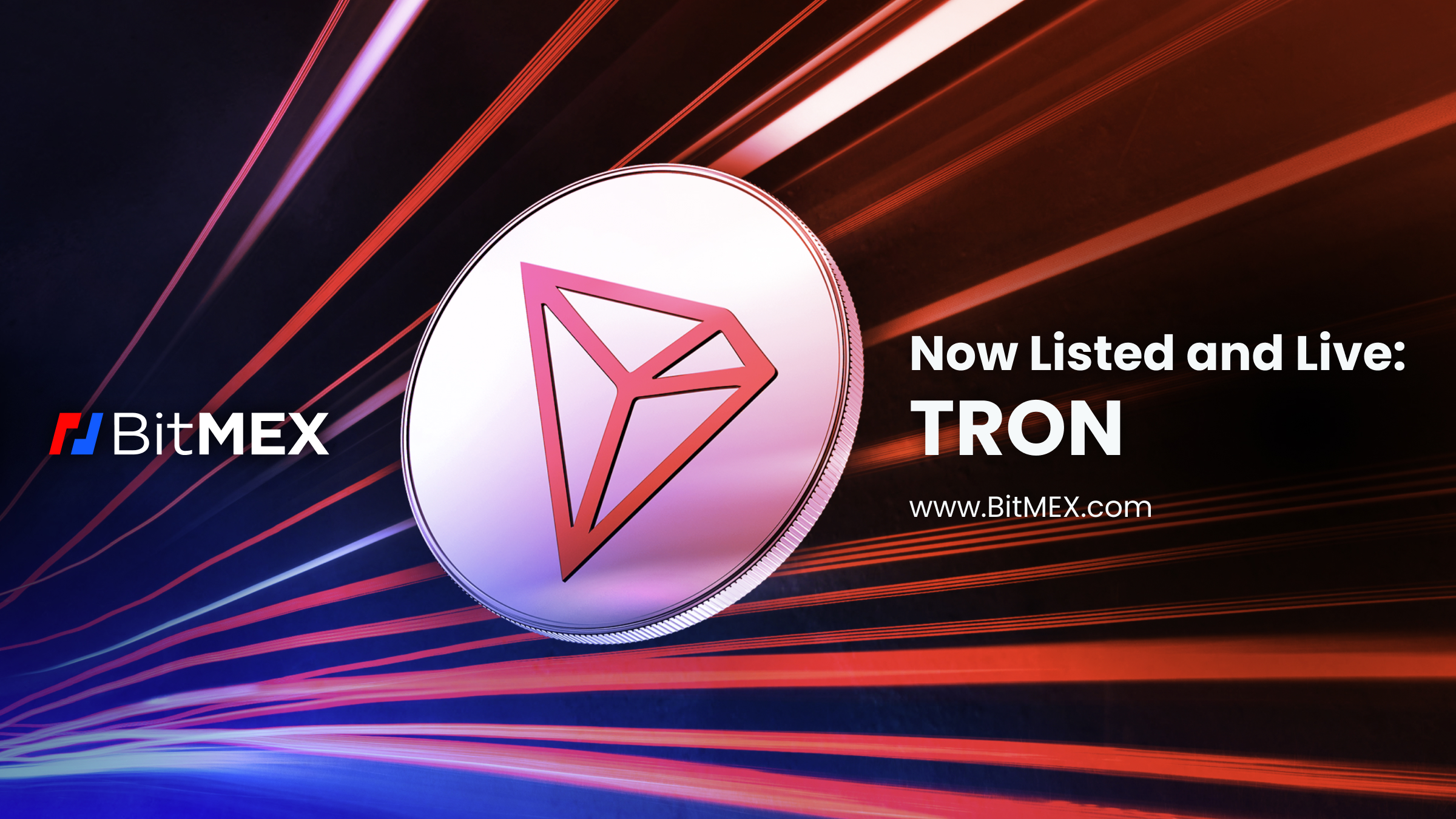 Today's the day. The TRON coin has arrived at the BitMEX platform.
The launch of TRC-20 support means that users can now buy, convert, deposit, withdraw, and trade TRON too.

Here's a deeper look at what you'll be able to do the next time you log in to BitMEX Mobile or Web:

If you haven't yet created a BitMEX account, you can do so here.
Trade TRON (TRX)
The TRX/USDT spot trading pair is now live and ready to trade on BitMEX Spot, in addition to XBT/USDT, ETH/USDT, APE/USDT, UNI/USDT, MATIC/USDT, LINK/USDT, and AXS/USDT.

To trade TRON simply select the TRX trading pair from the 'Spot Pairs' section of our spot exchange interface. You'll then be able to place limit or market orders on the selected spot pair:
Limit order:

This order type lets users prepare spot trades in advance. Placing a limit order allows traders to set their own price to buy or sell crypto. If the market reaches the limit price, the trader's order will be executed.

Example:

If the current market price for 1 TRX is 0.06 USDT, and you want to buy 100 TRX when the price drops to 0.05 USDT, you can place a limit order.

Instructions:

Select 'LIMIT', enter 0.05 in the 'Price' field, and enter 100 in the 'Amount' field. Click the 'BUY TRX' button to place the limit order.
Market order:

A market order is an order that is executed immediately at current market prices. Traders use this order type when they want to complete their order as quickly as possible. Traders who create market orders will not need to enter in a price.

Example:

If 1 TRX costs 0.065 USDT, and you wish to buy 100 TRX immediately, you can place a market order.

Instructions:

Select 'MARKET', enter 100 in the 'Amount' field, review the approximated USDT amount presented in the 'Order Value' field, and then click 'Buy TRX' to place your market order.
For a walkthrough of how to trade spot pairs on BitMEX Mobile, read our blog here. 

Buy TRON (TRX)
You can now buy TRON in minutes, in addition to XBT, USDT ERC-20, USDT TRC-20, ETH, APE, MATIC, LINK, etc… The list keeps growing.

To buy TRON or any other crypto on BitMEX, simply select from 36 fiat currency options, enter the amount you want to buy, and then choose the coin or token you want to purchase.

Next, choose your preferred payment provider – BANXA or Mercuryo – and follow the instructions set by the selected fiat gateway partner.

Note: The fiat currencies currently supported include: AED, ARS, AUD, BRL, CAD, CHF, CZK, DKK, EUR, GBP, GHS, HKD, IDR, INR, JPY, KES, MXN, MYR, NGN, NOK, NZD, PHP, PLN, QAR, SAR, SEK, SGD, THB, TRY, TWD, TZS, UAH, UGX, USD, VND, and ZAR.

For a walkthrough of how to buy crypto via BitMEX Mobile, read our blog here.

Convert
TRON (TRX)
You can now convert USDT into TRX – and vice versa – with no hidden fees. You won't have to worry about slippage, as all crypto converter transactions on our platform happen instantly, and at the conversion price shown.

To convert crypto on BitMEX, simply select the crypto you want to convert, the crypto you want in return, and enter the amount you want to convert or receive. Check the conversion rate quoted on the screen, and if you're happy with it, click 'Confirm'. Once the conversion has been successfully executed, your converted crypto will appear in your wallet and be available for use immediately.

You can learn more about how to convert crypto via BitMEX Mobile here.

Deposit and Withdraw TRON (TRX)
To start depositing or withdrawing TRON, simply go to your Wallet, click the 'Deposit' or 'Withdraw' button and select TRON. 
Note: The minimum amount you can withdraw/deposit is 1 TRON coin.
For a how-to guide on how to deposit and withdraw crypto via BitMEX Mobile, click here.
Coming Soon: More Coins, Tokens, and USDT Networks Supported
In the coming weeks, more coins and tokens – including SOL – will arrive at BitMEX. We're also adding support for USDT on the Solana network, which is due to arrive in two weeks' time. More on this to follow.

Download the BitMEX Mobile app to trade your favourite crypto derivatives contracts and spot trading pairs on the go, and connect with us on Discord, Telegram, and Twitter to be the first to know about our new listings and giveaways. 
In the meantime, if you have any questions please contact Support.