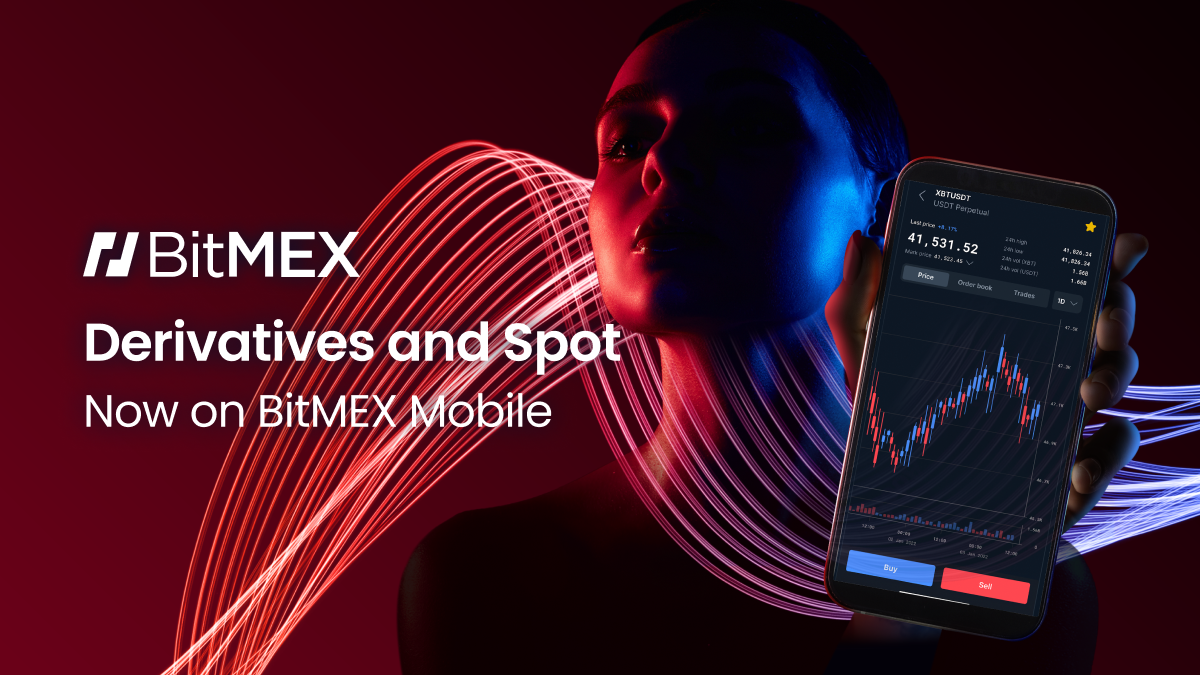 The full version of our app – BitMEX Mobile* – is now ready for download, bringing with it all-new features – spot and crypto derivatives trading.

It's an addition that makes trading on BitMEX a whole lot easier and more accessible. What's more, the app offers all the tools you need to execute trades, track open positions, and monitor price movements on the fly.

Download and make a trade on BitMEX Mobile and get 10 BMEX Tokens today, or for the 101 on our new trading feature, read on.

*Note: BitMEX Mobile is currently listed as 'BitMEX: Buy Bitcoin & Crypto' on Google Play and the App Store.
The Lowdown on Our All-New Trading Feature
Monitor Market Movements on the Fly

With the BitMEX Mobile app, users can keep a tab on their favourite cryptocurrencies and contracts while on the go by accessing the 'Markets' feature.

It's a handy feature that lets you monitor market movements quickly, and locate a specific crypto derivatives contract or spot pair in seconds by selecting it via the 'Markets' page, or tapping '☰' / the magnifying glass icon. 
Our app also allows users to create a custom watchlist quickly and easily. To save a derivatives contract or spot pair to your 'Favourites' list, simply click on the star icon on the top-right of a specific contract or spot pair's page. The contract will immediately be added to your 'Favourites' list, which you can access via the 'Markets' section of the app. 
Keep on Top of Your Trades and Open Positions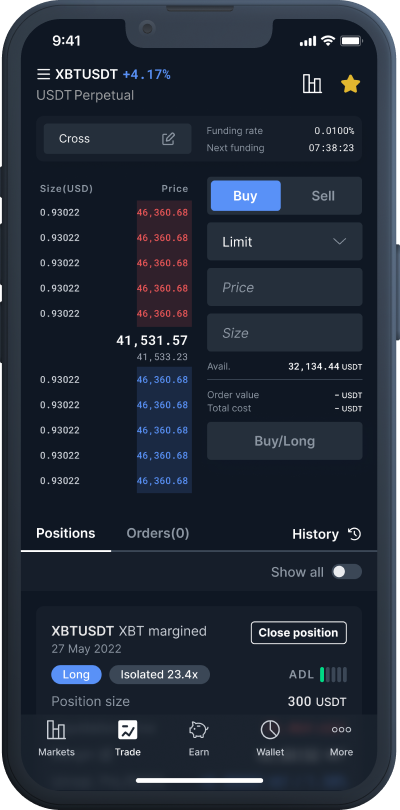 Market fluctuations can change your outlook, so it's important to keep a close eye on your positions and open orders. BitMEX Mobile gives you the freedom and flexibility to manage your open positions whenever, wherever – even when you're away from your computer. 
For example, you can view key details about your open orders by accessing the 'Trade' section of the app, selecting a contract or spot pair, and tapping 'Orders'. And if you think it's time to cancel an order, simply tap the 'Cancel' button – or tap 'Cancel all' under the 'Orders' tab to cancel all of your orders.

To monitor your open positions, tap 'Positions' – which you can find at the bottom of each contract and spot pair page. If you're looking at the current status of a specific futures/perpetual contract, for example, you'll see your unrealised PnL/ROE%, realised PnL, auto-deleveraging (ADL), and margin mode (isolated/cross margin). To cancel an open position, tap 'Close position'.

What's more, BitMEX Mobile has intuitive chart display options baked into the app – so you can track real-time price movements with a few taps. To access the candlestick chart section, simply select a contract or spot pair, and tap the chart icon on the top right-hand side of the page. You can also view a specific listing's order book data – both in list form and as an order book depth chart – by tapping 'Orderbook'.

Note: All changes made to your orders and positions via BitMEX Mobile will be immediately reflected on your BitMEX.com account.
Execute Trades and Take Action Quickly Via Your Phone
Crypto Derivatives Trading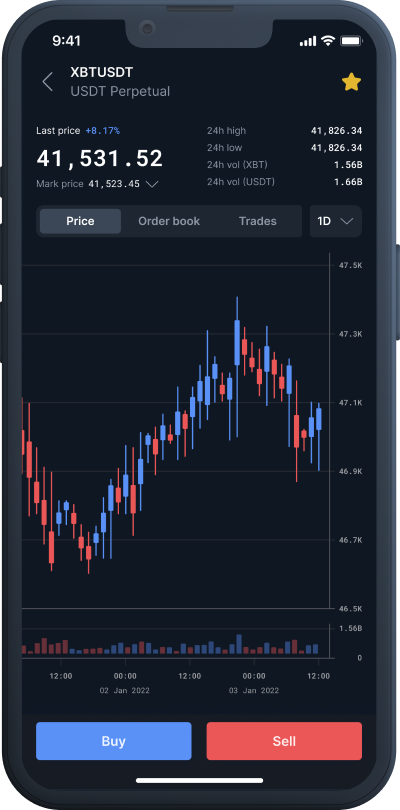 With BitMEX Mobile, you can long or short cryptocurrencies quickly from your phone – and choose up to 100x leverage. This way, you won't have to be at your computer to take advantage of drastic price movements.
Creating a long/short order via BitMEX Mobile is easy and straightforward. First, select a derivatives contract. Then, select your desired margin mode:

In

isolated margin

mode, margin assigned to a position is restricted to a certain amount. If the margin falls below the maintenance margin level, the position is liquidated. However, you can add and remove margin at will under this method. To adjust your leverage, drag the slider on the 'Adjust margin mode' page to indicate your desired leverage.

In

cross margin

mode, margin is shared between open positions with the same settlement cryptocurrency. When needed, a position will draw more margin from the total account balance of the corresponding cryptocurrency to avoid liquidation.
Then, fill in the 'Price' and (contract) 'Size' fields to input your market/limit long or short order. Review your order details, and then tap the 'Buy/Long' or 'Sell/Short' button to execute it.
What Do 'Long Positions' and 'Short Positions' Mean in Crypto Derivatives Trading?
Put simply, in a long position, the trader hopes that the price of a cryptocurrency will increase from a given point. Conversely, in a short position, the trader expects the price to decrease from a given point (i.e. the trader "goes short" on crypto). 

Read more about Derivative trading.
Spot Trading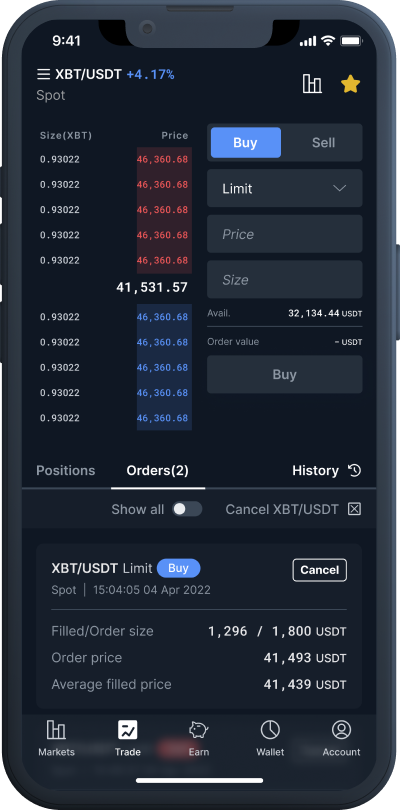 Spot trading on BitMEX has never been easier. With the BitMEX Mobile app, users have the option to create limit and market orders:
Limit order:

This order type lets users prepare spot trades in advance. Placing a limit order allows traders to set their own price to buy or sell crypto. If the market reaches the limit price, the trader's order will be executed.





Example:

If the current market price for 1 Bitcoin is 30,050 USDT, and you want to buy 10 Bitcoin when the price drops to 30,000 USDT, you can place a limit order.





Instructions:

Select 'LIMIT' in the drop-down menu on the top-right of the XBT/USDT page, enter 30,000 in the 'Price' field, and enter 10 in the 'Amount' field. Tap the 'Buy' button to place the limit order.


Market order: A market order is an order that is executed immediately at current market prices. Traders use this order type when they want to complete their order as quickly as possible. Traders who create market orders will not need to enter in a price.

Example: If 1 Bitcoin costs 30,050 USDT, and you wish to buy 1 Bitcoin immediately, you can place a market order.



Instructions:

Select 'MARKET' in the drop-down menu on the top-right of the XBT/USDT page, enter 1 in the 'Amount' field, review the approximated USDT amount presented next to 'Order Value', and then tap 'Buy' to place your market order.
For a step-by-step guide to trading crypto on the desktop version of BitMEX Spot, click here.
Unmissable Offers Await BitMEX Mobile Users
From 6 July 2022 at 04:00 UTC to 31 July 2022 at 23:59 UTC, the first 10,000 users who download BitMEX Mobile will earn 10 BMEX if they do the following via the app within 30 days of their first login:
For further details on our Mobile App offer, please visit our Token Promotions page.
What is the Meaning of Crypto Derivatives Trading?
Crypto derivatives are financial contracts set between two or more parties that track the price of cryptocurrencies (e.g. Bitcoin); in other words, they derive their value from an underlying asset without requiring the trader to own said asset. BitMEX offers two types of crypto derivatives contracts:
Futures contracts: This type of crypto derivative product represents an agreement to buy or sell a commodity, currency, or other instrument at a predetermined price at a specified time in the future. Note: it is subject to early settlement.

Perpetual contracts: This type of contract is similar to traditional futures contracts, but has a few distinctive features:

There's no expiry or settlement (but it is subject to early settlement).

They mimic a margin-based spot market, and trade close to the underlying reference index price.

The

funding mechanism

is used to tether contracts to their underlying spot price. In contrast, futures contracts may trade at significantly different prices due to "basis" – which represents the difference between the spot price of an asset and its futures price.
When trading futures and perpetual swap contracts on BitMEX, users are not required to post 100% of their collateral as margin – meaning they can trade with up to 100x leverage on some of our contracts. In other words, users can trade notional amounts that are multiples of their collateral. To learn more, read our blog on crypto margin trading here.

What is Spot Trading?
In the crypto space, spot trading refers to the buying and selling of tokens and coins at the current market rate (or the 'spot price') – with the intention of taking delivery of the underlying asset immediately. Spot trading is different to derivatives trading, as you need to own the underlying asset to place a buy or sell order.
On the Way: More BitMEX Mobile Features
As we launch new products and features, you'll see these echo across to our app's future updates. Here's what you can expect in the coming weeks and months:

Biometric login support

And more
Download BitMEX Mobile today, or sign up for a BitMEX account here.
To be the first to know about our app, as well as our contracts, new listings, product launches, and giveaways, you can connect with us on Discord, Telegram, and Twitter. We encourage you to also check our blog regularly. 

In the meantime, if you have any questions please contact Support.