Abstract: Following our earlier research pieces on Tether, financial information from Q1 2018 has been released by the financial regulators in Puerto Rico, providing more evidence of the impact of Tether. In addition to this, a source close to Tether has confirmed to us that the speculation in our initial report is correct.

After our earlier speculation that Noble Bank in Puetro Rico was Tether's primary reserve bank, a few months later in May 2018 Bloomberg released an article further substantiating our claims. As Bloomberg put it:
According to three people with knowledge of the matter, Noble Bank International, based in San Juan, Puerto Rico, took over banking duties for Bitfinex last year.
In addition to the above, BitMEX Research has also now spoken to people close to Tether, who have also confirmed the reliability of most of the claims in our February 2018 report. Our initial discovery was based on the disclosure of data from the financial regulator in Puerto Rico, who have recently provided the latest update, for the quarter ended March 2018. In our view, the data continues to support our initial speculation.
New Financial Data for Q1 2018
Bank deposits in the International Financial Entities (IFE) category, which includes Noble Bank, were $3.5 billion, up 6.9% in the quarter. Total assets in the category were $4.1 billion, up 7% in the quarter. This moderate growth coincides with a the moderate increase in the volume of crypto-coin trading, which has likely resulted from the continued growth of the Tether balance and crypto-coin ecosystem, moderated by crashing crypto-coin prices in the quarter. In the quarter, the value of Tether in issue increased by 62.7% to $2.3 billion.
We have updated the chart below from the version in our earlier piece, which compares the Tether balance with the deposits in the banking category in Puerto Rico which contains Noble Bank.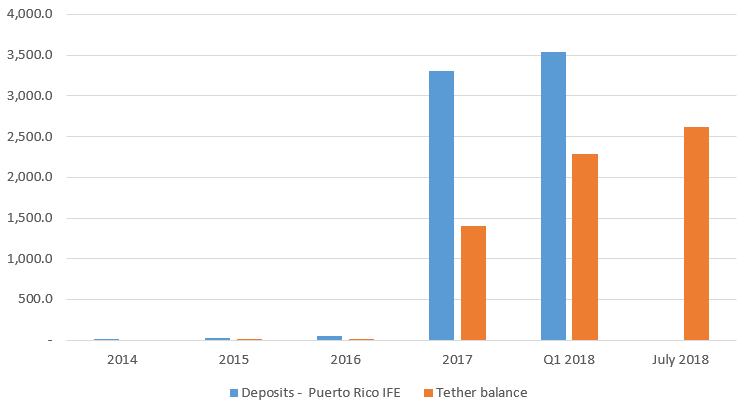 Puerto Rico's IFE aggregate deposits versus the Tether balance in millions of USD. (Source: IFE Accounts, BitMEX Research, Coinmarketcap)
Cash as a percentage of total assets (an indication of full-reserve banking) also increased in the quarter, from 85.8% to 91.0%. This also indicates crypto-coin or Tether-related activity, as we explained in the previous piece.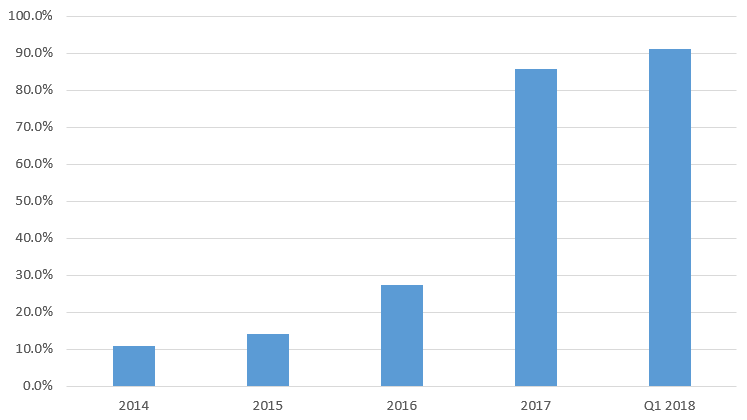 Puerto Rico's IFE aggregate cash balance as a percentage of total assets. (Source: IFE Accounts, BitMEX Research)
In the quarter the regulator appears to have changed the name of the Tether balance, to "Deposits, money market investments and other interest-bearing balances" from "Cash in banks". We do not view this as suspicious.