This report presents the daily trading premium to NAV and Bitcoin equivalent volume for any exchange listed investment securities that track Bitcoin. The report will analyse GBTC (the OTC Markets listing of the Bitcoin Investment Trust), and XBT ( an ETN listed on the Nasdaq OMX Nordic).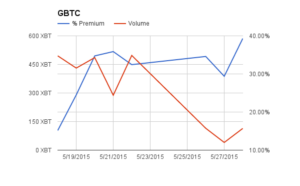 GBTC volume rebounded to 114 XBT, which isn't that impressive given the previous week's trading volume. The premium shot up to 40%.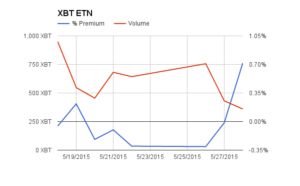 XBT recored it's lowest volume since listing of 360 XBT. The premium shot up to 0.70%. Both GBTC and XBT experienced a rise in premium, but on low volume. It remains to be seen if this is a predictor of a immanent breakout to the upside for spot Bitcoin.