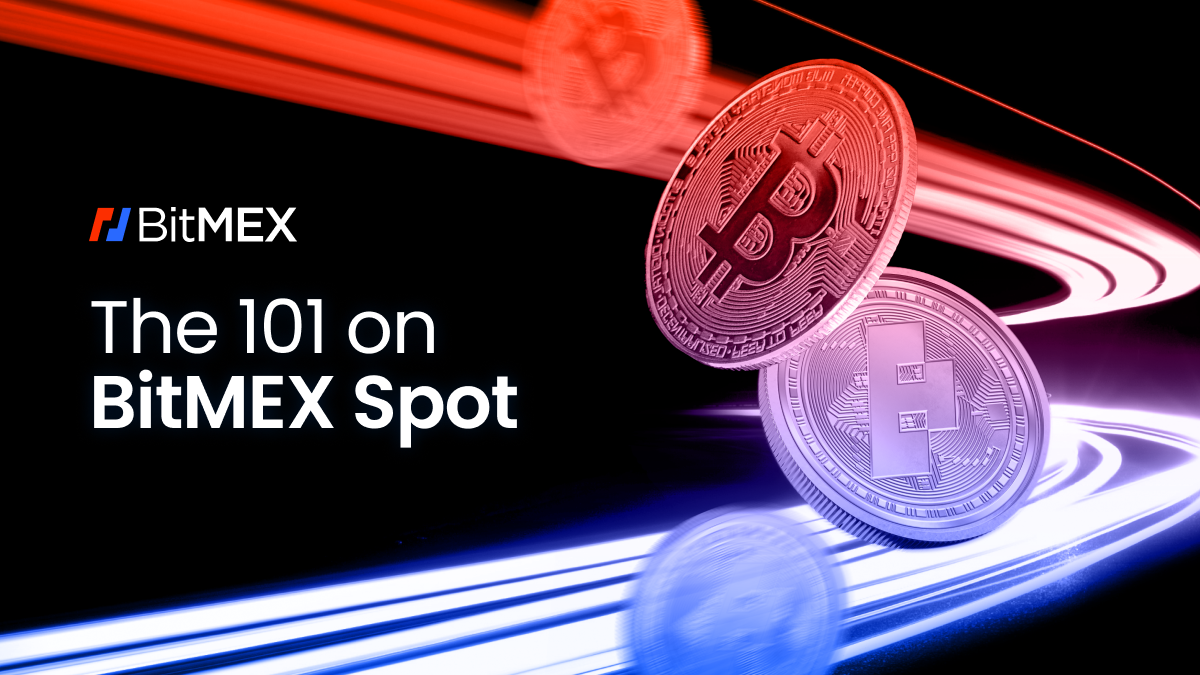 The launch of our spot exchange is just around the corner, along with the opportunity to win a share in a prize pool worth over $1,000,000 USD. 
Last week, we invited our users to explore BitMEX Spot on Testnet and share their feedback. It is through their valued and ongoing feedback, as well as assessing the needs of traders, that we will continue to finesse the mainnet version of our spot exchange. 
Since we announced our decision to introduce spot trading to BitMEX, we've received a tremendous amount of interest from BitMEX users and our wider community, with many eager to learn more about BitMEX Spot. 
So here it is. Read on for answers to the most frequently asked questions about our spot exchange, as well as a breakdown on spot trading.  

What is Spot Trading?
In the crypto space, spot trading refers to the buying and selling of tokens and coins at the current market rate (or the 'spot price') – with the intention of taking delivery of the underlying asset immediately. Spot trading is different to derivatives trading, as you need to own the underlying asset to place a buy or sell order. 

What is a Crypto Spot Exchange?
A spot exchange is a marketplace where you can buy and sell cryptocurrencies like Bitcoin and Ether. They work a lot like other trading platforms, where you can create different order types to buy, sell, and speculate on the price movement of assets. Crypto spot exchanges, just like ours, will operate 24/7, meaning you can trade crypto at any time, any day of the week.

There are two types of spot exchanges:
Centralised exchanges (CEXs)

, like BitMEX Spot, act as an intermediary between traders and directly participate in markets by clearing trades. CEXs typically keep digital order books, which are lists of open buy and sell orders that consist of volumes and prices. 

Decentralised exchanges (DEXs) facilitate peer-to-peer crypto transactions without an intermediary. This means no centralised entity takes custody of a trader's funds. 

Which Order Types Will be Supported on BitMEX Spot?
Our spot exchange will offer two different order types:
Market order:

A market order is a crypto-to-crypto trade that is executed immediately at current market prices. Traders use this order type when they want to complete their order as quickly as possible.

Limit order: This order type lets users prepare spot trades in advance. Placing a limit order allows traders to set their own price to buy or sell crypto. If the market reaches the limit price, the trader's order will be executed.

How Can I Access BitMEX Spot?
When BitMEX Spot launches, you'll be able to buy, sell, and trade crypto by logging into your account via your desktop or mobile browser.

If you're not a BitMEX user, you'll need to sign up and complete user verification to start trading on BitMEX Spot.
Welcome Offer for New Users: Sign Up to Earn BMEX Tokens
From now until May 16, 2022, newly registered users will be eligible to receive up to 45 BMEX. Here's how to earn BMEX via our welcome offer:

Register and complete KYC to earn 5 BMEX

Buy $250+ USD worth of crypto to earn 10 BMEX
Seeking an extra 10 BMEX? Keep the purchased crypto in your BitMEX Wallet until 25 May, 2022.
Spot Trading Functionalities



Once BitMEX Spot is fully live, you'll be able to access the spot trading functionality in four ways:

Coin Conversion RFQ (request for quote):

Users can continue instantly swapping one asset for another. Perfect for traders who are new to trading crypto and seeking a quick and easy way to do so. 

On the spot exchange:

Users will be able to place limit and market orders on our spot exchange. The CLOB will be supported with liquidity for all trading pairs by professional market makers and traders. 

API trading:

Institutional traders will be able to take advantage of our fully featured REST API and a powerful streaming WebSocket API. All market and user data will be available, along with updates in real-time. Every function used by BitMEX Spot is exposed via the API, meaning developers have full control to build any kind of application on top of BitMEX.

Mobile App:

Our

new crypto app

will soon allow users to easily trade on-the-go with a simple, smooth, and intuitive interface.
Which Trading Pairs Will be Available on the BitMEX Spot Exchange?
BitMEX Spot will initially support seven trading pairs: XBT/USDT, ETH/USDT, APE/USDT, UNI/USDT, MATIC/USDT, LINK/USDT, and AXS/USDT. More cryptocurrencies – including BMEX – are on their way, and will arrive at our platform in the coming months.

Note: Before trading on BitMEX Spot, you can buy Tether (USDT ERC-20) via one of our fiat gateway partners to access the trading pairs. 
What's the BitMEX Spot Fee Structure?
We're working to ensure that the trading fee structure for BitMEX Spot is one of the most competitive in its space. You can find our fee tiers here and broken down below: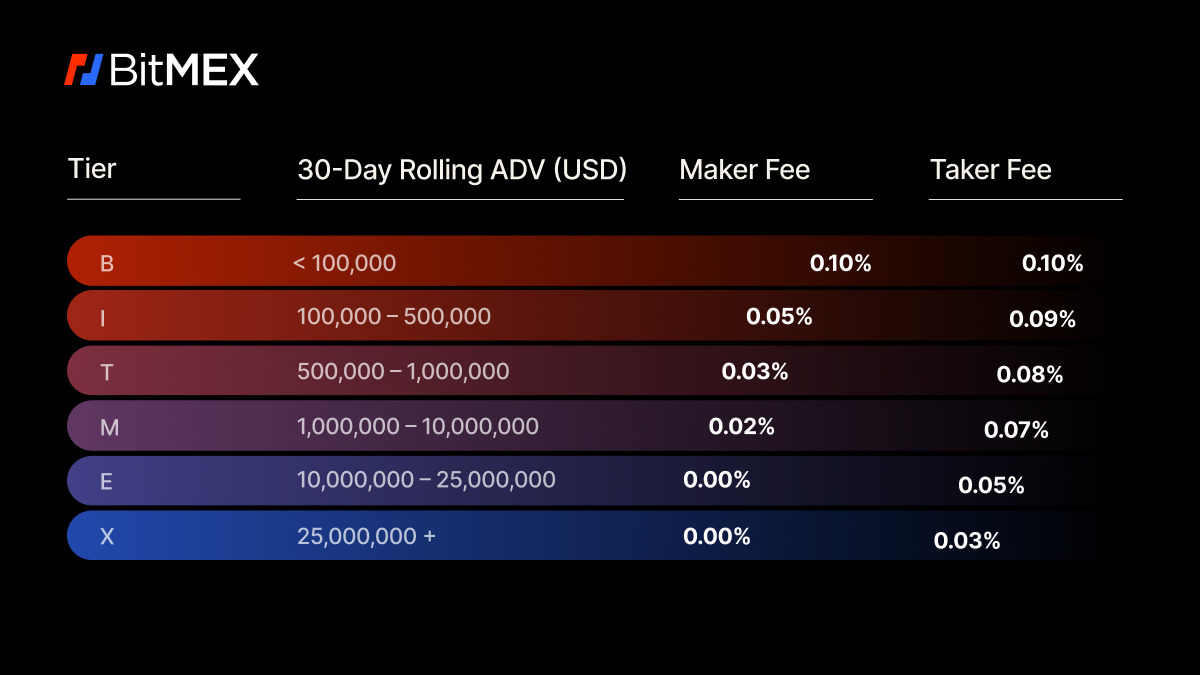 Can I Use the Same Wallet For Both Spot and Derivatives Trading?
Yes, your BitMEX Wallet can be used for both spot and derivatives trading. Once you've placed an order on our spot exchange, your account balance will immediately be reduced until the order is executed or cancelled.
Calling All Traders: Get Ready to Share a Prize Pool of $1,000,000+ USD in Crypto



To celebrate the launch of BitMEX Spot, traders stand the chance to win a share of a grand prize pool that's valued at over $1,000,000 USD.

Here's a sneak peek at some of our top prizes:

One winner will win $500,000 USD in Bitcoin and a customised AC Milan jersey

Seven winners will receive 25,000

BMEX

tokens

Five winners will receive 10,000 BMEX tokens

Five winners will receive 5,000 BMEX tokens

One winner will receive $3000 USD in Bitcoin
To be the first to know about our product launches and giveaways, connect with us on Discord, Telegram, and Twitter.

If you have any questions in the meantime, please contact Support.