Mercuryo, a digital asset payment gateway, is now integrated with BitMEX, enabling users an even faster and more secure way to make their fiat-to-crypto purchases. It's an integration that means 21 more Fiat currencies can now be used to buy Bitcoin and Tether (ERC-20) on BitMEX. 
The new supported currencies are: AED, ARS, BRL, CHF, GHS, IDR, INR, KES, MXN, MYR, NGN, PHP, QAR, SAR, THB, TWD, TZS, UAH, UGX, VND, and ZAR.

You can buy crypto in minutes here, or for more, read on about Mercuryo's integration with BitMEX.  

The Benefits of Buying Crypto on BitMEX via Mercuryo

We're always looking to enhance the accessibility of our platform at BitMEX. The addition of Mercuryo is one of those enhancements. 
30+ Currencies Supported and 21 are New
With Mercuryo now onboard, and our other payment provider Banxa adding more currencies, you can buy crypto on BitMEX with 21 more Fiat currency options.
This means we now support: AED, ARS, AUD, BRL, CAD, CHF, CZK, DKK, EUR, GBP, GHS, HKD, IDR, INR, JPY, KES, MXN, MYR, NGN, NOK, NZD, PHP, PLN, QAR, SAR, SEK, SGD, THB, TRY, TWD, TZS, UAH, UGX, USD, VND, and ZAR.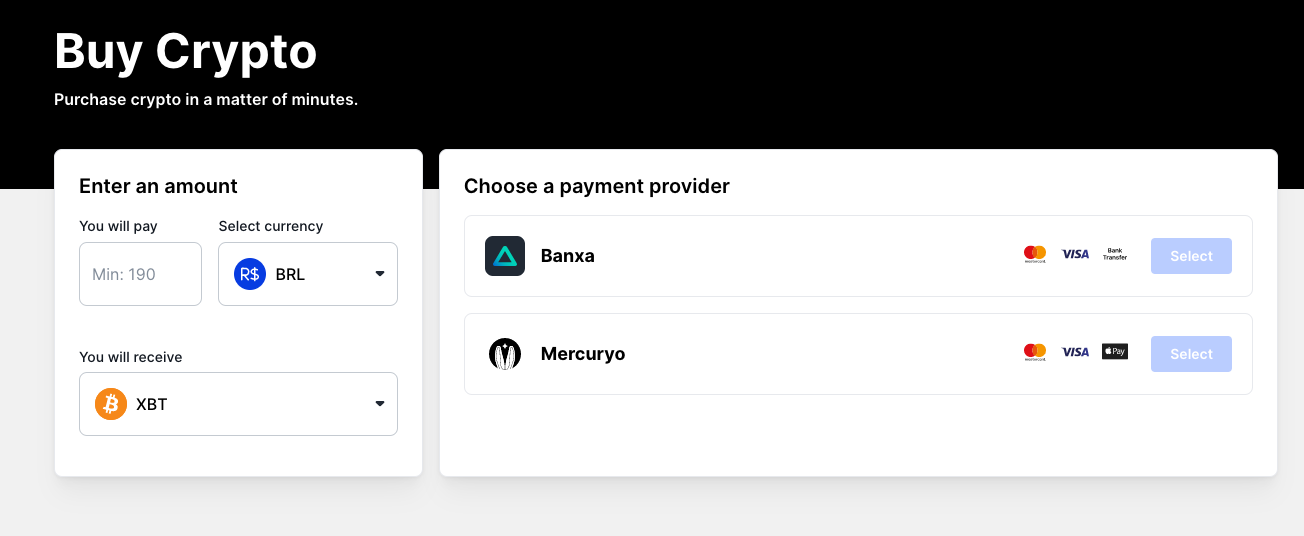 Buy Crypto Easily and Quickly
Mercuryo has a smooth and simple interface that makes buying crypto fast and easy. After purchasing crypto via Mercuryo, your Bitcoin or Tether will be credited directly to your Wallet.
By buying crypto via Mercuryo, you'll get to choose from a range of payment options:
Visa & Mastercard credit/debit cards

Apple Pay

Google Pay

More Crypto Options Are Coming Soon
In the coming weeks and months, you will be able to access a wider range of crypto purchase and conversion options. Later in March, you will be able to buy and convert crypto into Ethereum – so stay tuned.
Buy Bitcoin and Tether on BitMEX today
To buy crypto on BitMEX, click here. For the latest BitMEX news and product updates, connect with us on Discord, Telegram, and Twitter.