With bitcoin approaching all-time highs followed by the "Thanksgiving slump" sell-off, it's been an extremely active week for crypto trading, so we wanted to share a short update on the underlying reasons why our platform performed well over this period.
Over the past 12 months, an incredible amount of work has been delivered in the evolution of the BitMEX trading platform. Through incremental zero-downtime releases to the core trading engine two to three times each week, significant performance improvements have been delivered alongside a shift towards a next-generation modular, scalable architecture. 
We will be posting further technical engineering updates detailing the platform evolution, the progress that's been made in this space over the past year, and some of the exciting changes to be introduced in the next few months.
In addition to major platform performance improvements, we have made a considered effort to improve the quality of the flow on the platform. In September, we introduced the Quote Value Ratio Trading Rule which successfully removed a large proportion of very inefficient flow from the platform without impacting trading volumes. This freed capacity for users whilst also further improving the quality of the liquidity in the book.
As a result of these efforts, occurrences of load shedding on the platform have dropped by a factor of 100 over the past year, significantly enhancing the trading experience for users. In the last week alone, which has been a very active period for the market, we've had multiple days where the platform handled tens of millions of requests with zero occurrences of load shedding. 
On 5 November, restrictions were placed on unverified accounts as part of our accelerated User Verification Programme. One of the positive side effects of restricting unverified accounts was an improvement in the quality of the flow on the platform. Since then, we have observed an increase in the total number of order requests submitted to the platform along with a tenfold decrease in the occurrences of load shedding.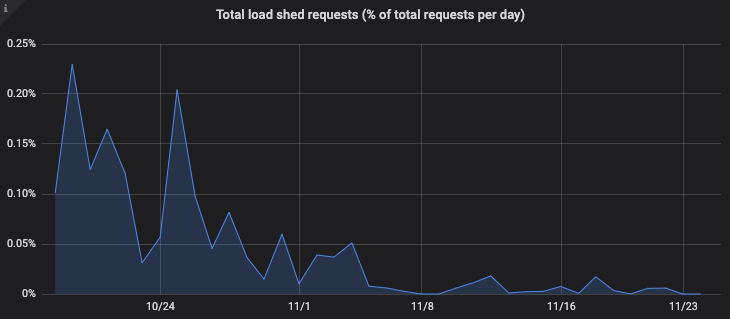 Thank you to our clients for their support as we continuously improve the trading experience on the platform. If you have any questions, please contact Support.