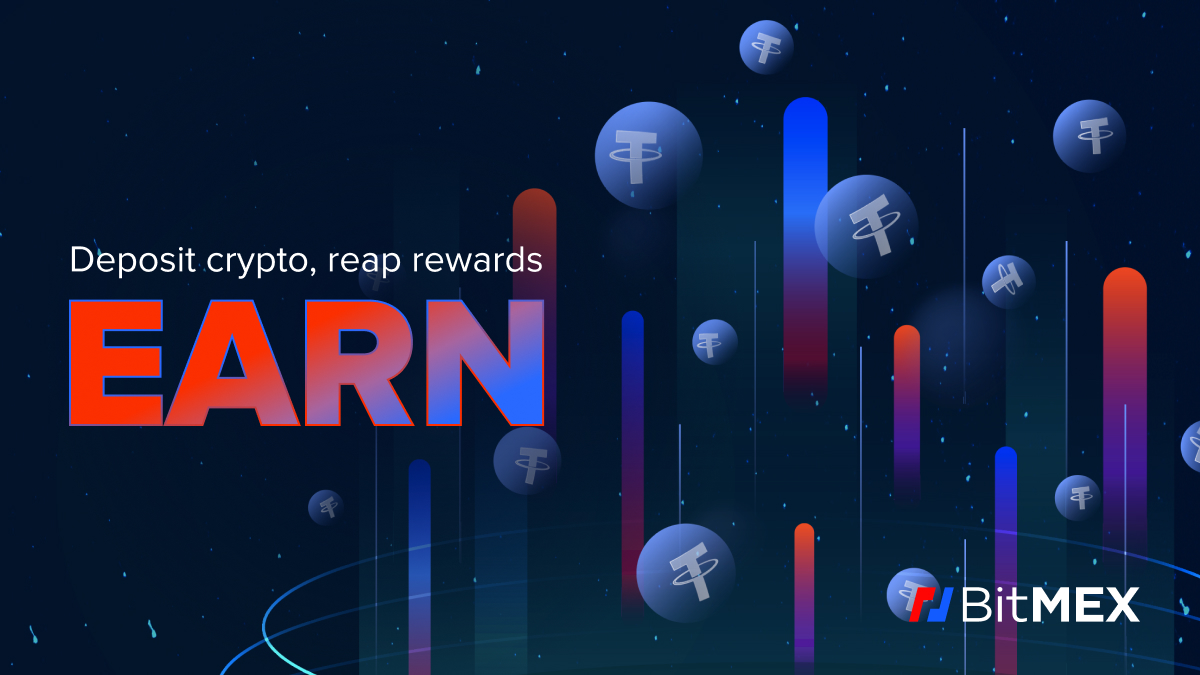 It's never been easier to grow your crypto. From today onwards, BitMEX users will be able to earn up to a 100% annual percentage rate (APR) on Tether (USDT ERC-20) with BitMEX EARN.
EARN is an interest-bearing product, fully backed by the BitMEX insurance fund, that rewards users who subscribe funds for a set time period.

Click here to start earning interest on USDT, or read on to learn more.
Deposit Your USDT, HODL, and Earn
If you're looking for an easy, safe, and flexible way to earn interest on Tether, BitMEX EARN is for you. Our newly launched EARN product gives users the opportunity to receive up to 100% APR on USDT – a deal you won't find anywhere else.
The launch of BitMEX EARN marks a major milestone in BitMEX's evolution, and represents one of many more exciting product launches to come. It follows the introduction of USDT for margin and settlement on perpetual swaps earlier this month.
If you subscribe to BitMEX EARN before 7 December, you could choose:
EARN Early Bird – up to 100% APR:

By subscribing to this special offer, you'll earn up to 100% APR on USDT. This product matures after 14 days and is capped at USDT 1,000 per user. 

EARN Product – up to 14% APR:

Our first EARN product, which matures after 30 days, lets all users earn up to 14% APR on USDT, a deal without rival in the market. This product is capped at USDT 100,000 per user. 

Click

here

for more details!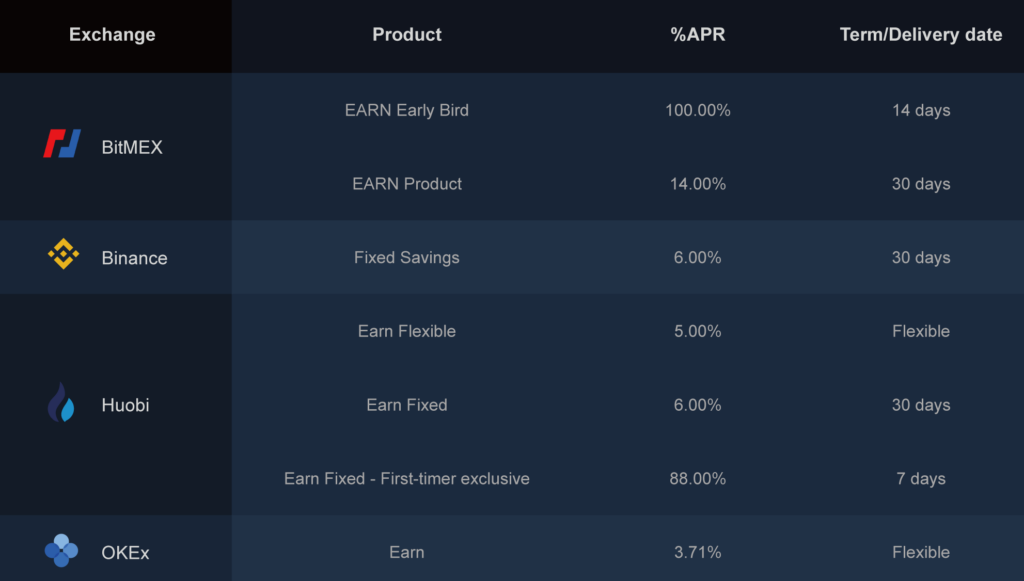 This comparison table is accurate as of 30 November 2021 at 4:00 UTC and assumes the highest APR.
How to Earn Tether With BitMEX EARN
To subscribe to BitMEX EARN, make sure you have Tether (USDT ERC-20) in your BitMEX wallet. If you don't have any USDT on hand or would like to deposit more USDT, transfer from another wallet or simply buy USDT on BitMEX here. With this ultra-convenient service, powered by Banxa, you'll be able to quickly and safely convert fiat currency into Tether or Bitcoin.
If you purchase USDT via Banxa on BitMEX and deposit it into EARN between 1 and 7 December, you'll get a full rebate of Banxa fees paid on the subscribed USDT.*

*This rebate will be credited to your BitMEX wallet after the BitMEX EARN subscription period closes on 7 December.
Step 1: Go to www.bitmex.com/earn
On the BitMEX EARN page, you'll be able to choose from our range of product listings, as well as see each listing's indicative APR and maturity date. Find the BitMEX EARN product that best fits your preferences.
Step 2: Once you've chosen your EARN product, click 'Earn now'
After clicking the 'Earn now' button, you'll see a pop-up box containing all of the relevant product listing information. The pop-up will show your available balance.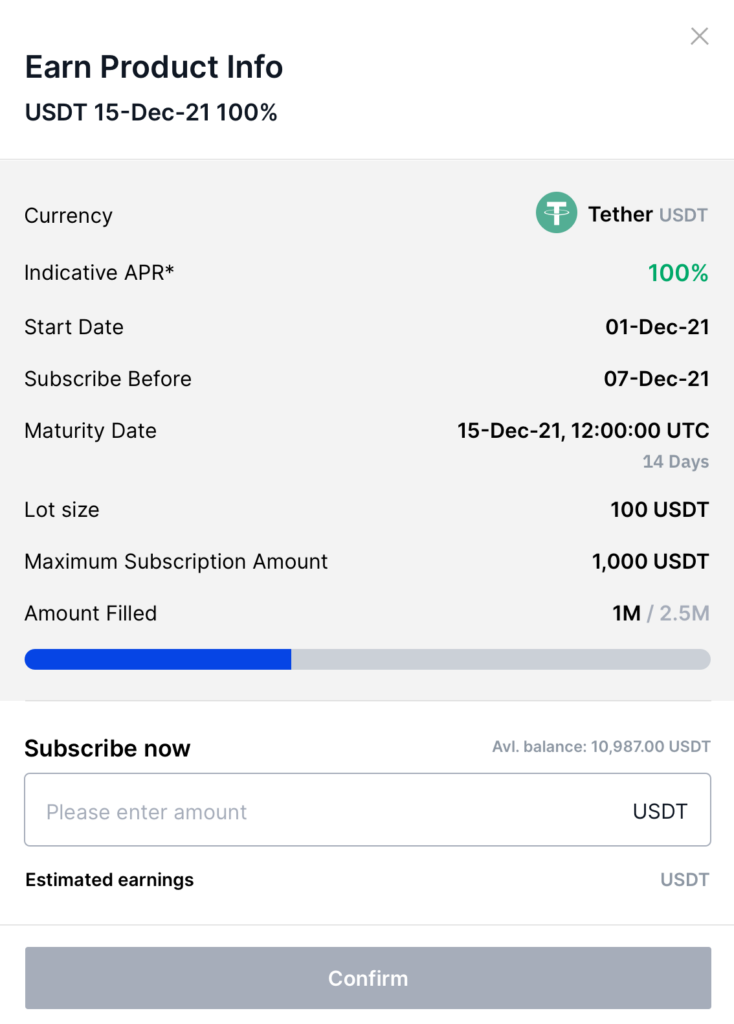 Note: Please make sure that your intended subscription amount in USDT is not currently being used for margin on the BitMEX platform. Once subscription is confirmed, your BitMEX EARN balance will not contribute to your margin balance.
Step 3: Enter your desired deposit amount
In the 'Subscribe now' field, enter the amount you want to deposit into your BitMEX EARN account, check your estimated earnings, and then click the 'Confirm' button.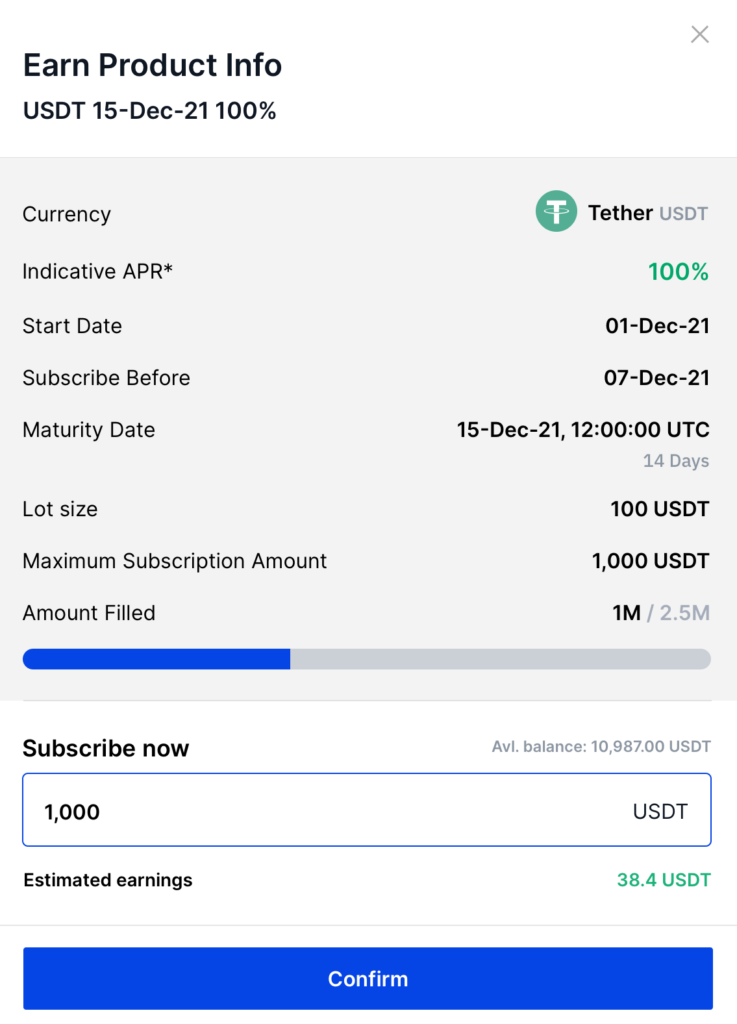 Step 4: Click the 'Confirm' button and start earning!
After clicking the 'Confirm' button, you'll see a pop-up confirming your subscription to BitMEX EARN. Now, all that's left to do is for you to HODL and earn.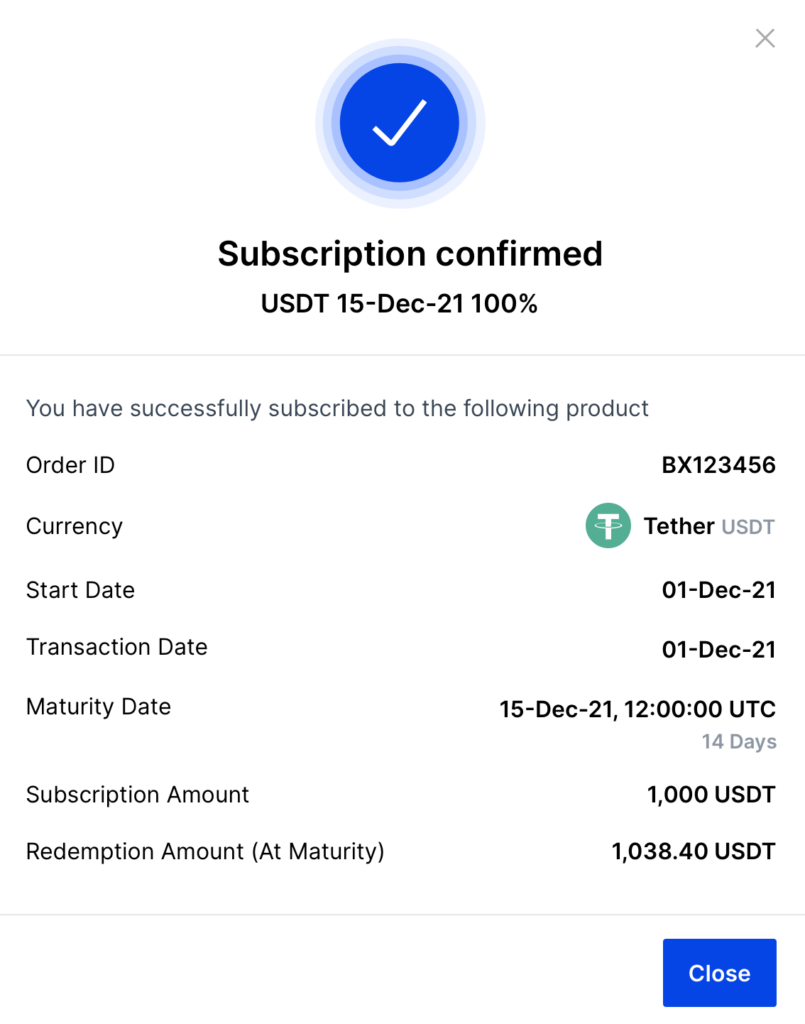 The Finer Details
Here are a few important details to keep in mind. For further information, please refer to the FAQ section of our BitMEX EARN page.
A detailed breakdown of our early bird and flagship product options
| | | |
| --- | --- | --- |
| | Early Bird | EARN Product |
| | Product 1 | Product 2 |
| Amount | 2,500,000.00 | 17,500,000.00 |
| Estimated APR | 100% | 14% |
| Start | 1 Dec 2021 | 1 Dec 2021 |
| Subscribe before | 7 Dec 2021 | 7 Dec 2021 |
| Maturity | 15 Dec 2021 | 31 Dec 2021 |
| Max. deposit per user | USDT 1,000 | USDT 100,000 |
| Minimum deposit | USDT 100 | USDT 100 |
How is the estimated APR calculated?
Your estimated interest rate is calculated by taking the difference between your redemption amount and input amount, and annualised by using the time difference between the maturity and start date. Please note that the APR indicated is only an estimate, and the redemption amount you will receive at maturity is determined and fixed at trade confirmation.
What happens after the BitMEX EARN maturity date?
The redemption amount will be transferred to your BitMEX wallet shortly after the maturity date and time. You don't have to do anything at all – simply sit back and earn!
Is BitMEX EARN safe?
Yes, BitMEX EARN is the only product of its type in the market in that it's 100% backed by the BitMEX Insurance Fund – one of the largest funds in the industry.
Subscribe to BitMEX EARN today
We've launched BitMEX EARN with the goal of making it easy and straightforward to start earning interest on Tether. In addition to delivering an advanced derivatives platform with up to 100x leverage, our team at BitMEX are working on a range of new, easy ways for traders to invest in and get exposure to crypto trading – so stay tuned to our blog for the latest updates!

To get started, go to BitMEX EARN and follow the instructions on the page, or contact our Support team if you have any questions.