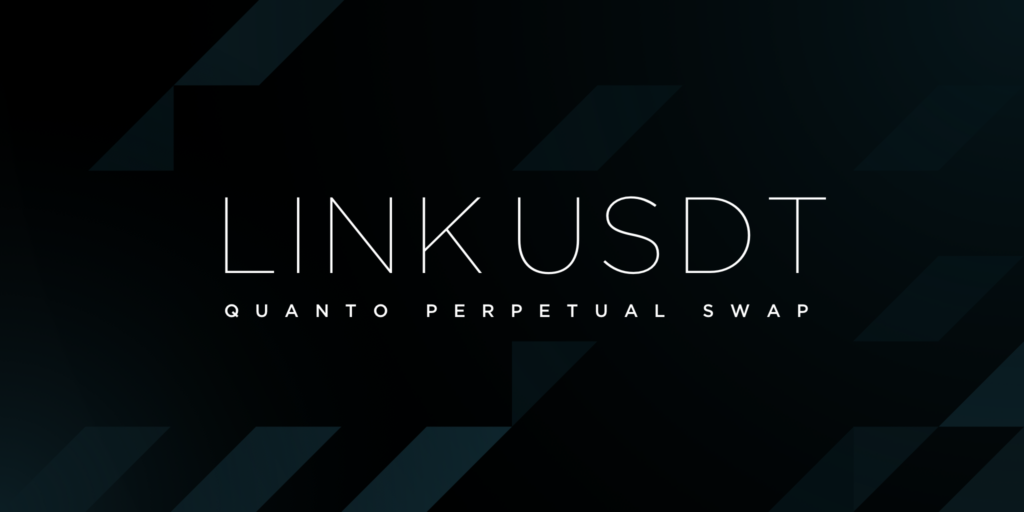 In response to the popularity of the LINKUSDTZ20 since its launch on 11 September 2020, we are now launching a LINKUSDT quanto perpetual swap contract with up to 50x leverage on 16 October 2020 at 04:00 UTC. In addition, the maximum leverage of the current LINKUSDT quanto futures contract will also be increased from 33x to 50x. 
Like other quanto contracts, the LINKUSDT product will have a fixed Bitcoin multiplier regardless of the Tether/Chainlink price. This allows traders to long or short the LINK/USDT exchange rate without ever touching either LINK or USDT. Traders post margin in XBT, and earn or lose XBT as the LINK/USDT rate changes. This quanto risk premium may be one of the factors which results in the LINKUSDT swap trading at a premium / discount to the LINKUSDT spot price – see our blog post explaining the same concept for ETHUSD from 2018. 
The LINKUSDT perpetual contract is now available in Testnet, along with the full contract specs.   
Key contract details:
Symbol: LINKUSDT

Bitcoin Multiplier: 0.0001 XBT (10,000 Satoshis)

XBT Contract Value: LINKUSDT Price * Bitcoin Multiplier (10,000 Sat/$1)

Underlying:

.BLINKT

Max Leverage: 50x

Maker Fee: -0.025%

Taker Fee: 0.075%

Base Initial Margin: 2.00% 

Base Maintenance Margin: 1.00% 
The contract will be visible on the platform from 15 October 2020 at 04:00 UTC as Unlisted, 24 hours before the start of trading. 
For any questions regarding this announcement, please contact Support.