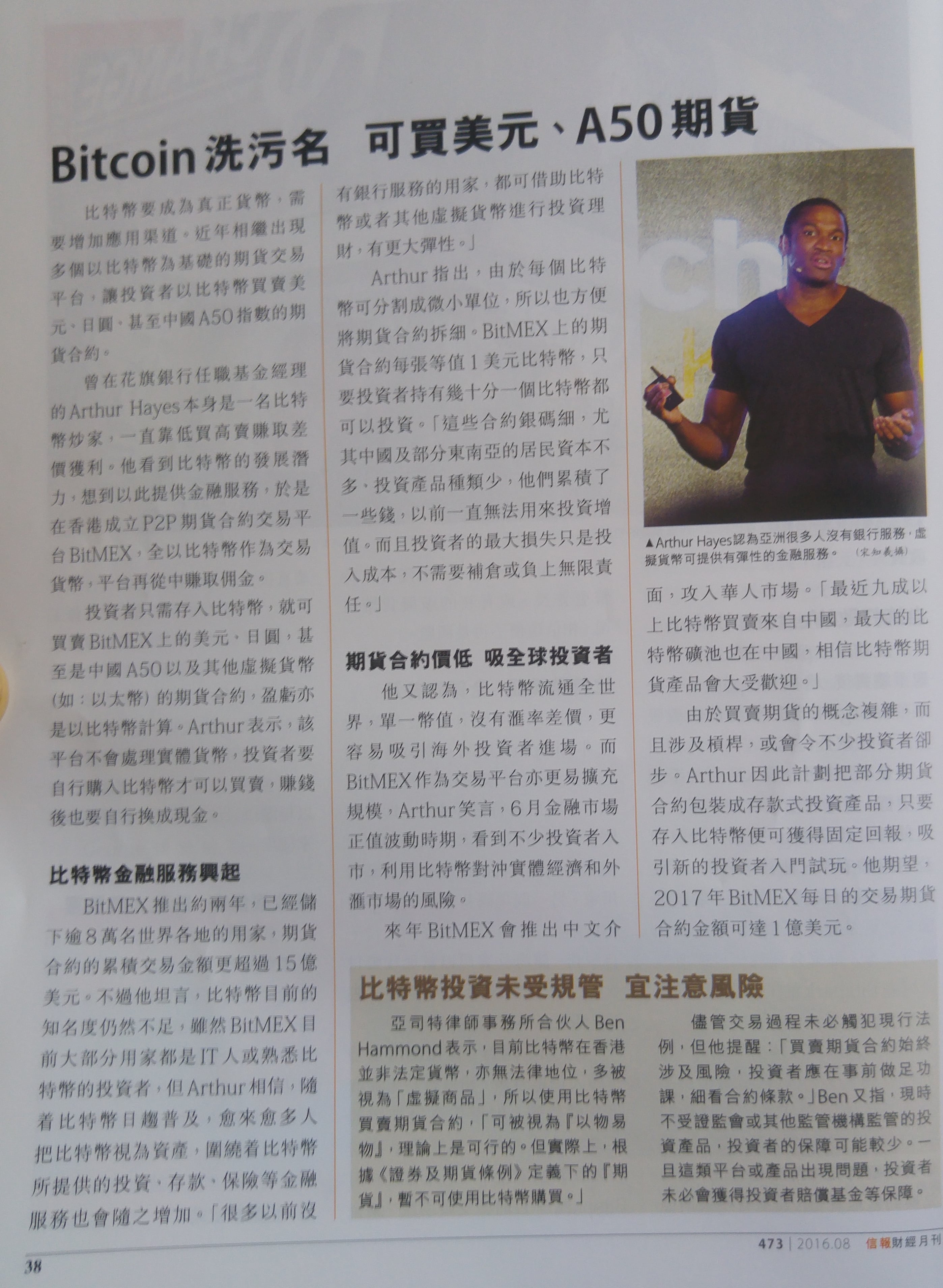 The following is a translation of a recent Hong Kong Economic Journal article about BitMEX.
For Bitcoin to be a real currency, it requires more applications. In recent years, more and more Bitcoin based futures trading platforms have emerged for investors to trade Bitcoin against USD, JPY and even the A50 index.
Arthur Hayes, who worked at Citibank as a fund manager, is also a Bitcoin trader. He was conducting Bitcoin arbitrage trading strategies, and made money doing it. He saw Bitcoin's potential, and therefore started a P2P futures platform called, BitMEX, in Hong Kong. All trades are denominated in Bitcoin, and the platform earns revenue from trading fees.
Investors only need to deposit Bitcoin to trade USD, JPY, A50 and other cryptocurrencies such as Ethereum on BitMEX. PNL is also in Bitcoin. No fiat currencies are used for trading. Investors must buy Bitcoin through other exchanges first, before trading on BitMEX.
Rise of Bitcoin Financial Services
BitMEX has gained over 80,000 users all over the world in just 2 years, and reached 1.5 billion USD of turnover. However, Arthur pointed out that Bitcoin is still not commonly known, most BitMEX users are tech savvy people or people in the IT field. With the rise of Bitcoin, more and more people treat Bitcoin as an asset. Financial services such as investment, deposit taking, and insurance will gradually be introduced. "A lot of people who are un-banked can use Bitcoin or other digital currencies to invest with more flexibility" Arthur pointed out.
Since Bitcoin is divisible, the contract size can be quite small. The contract on Bitcoin / USD is worth 1 USD of Bitcoin. Investors with a fraction of a Bitcoin can easily trade on the platform. "Our contract size is small, and doesn't have unlimited downside. Users in South East Asia and China who have accumulated a small amount of capital can't invest in the mainstream markets because the number of products they can trade are limited due to the high buy-in cost." Arthur mentioned.
Small Buy-in Price Attracts Global Investors
He also indicated that Bitcoin is globally traded. This could attract overseas investors to trade. BitMEX can easily expand with this business model. With June's volatility in the financial markets, Arthur also saw plenty of investors rushing into the Bitcoin market to protect their wealth.
BitMEX will provide a Chinese interface in the coming year and gain access to the Chinese market. "Over 90% of trades now are happening in China, the largest Bitcoin mining farms are also in China, we believe Bitcoin products will be very successful there!"
Futures are somewhat complicated for the average joe, with the risk of losing all of invested capital by using leverage, some users are on the fence about investing. Arthur plans to wrap contracts into fixed-return Bitcoin products to attracts new investors. He expects BitMEX will reach 1 billion USD turnover in 2017 .