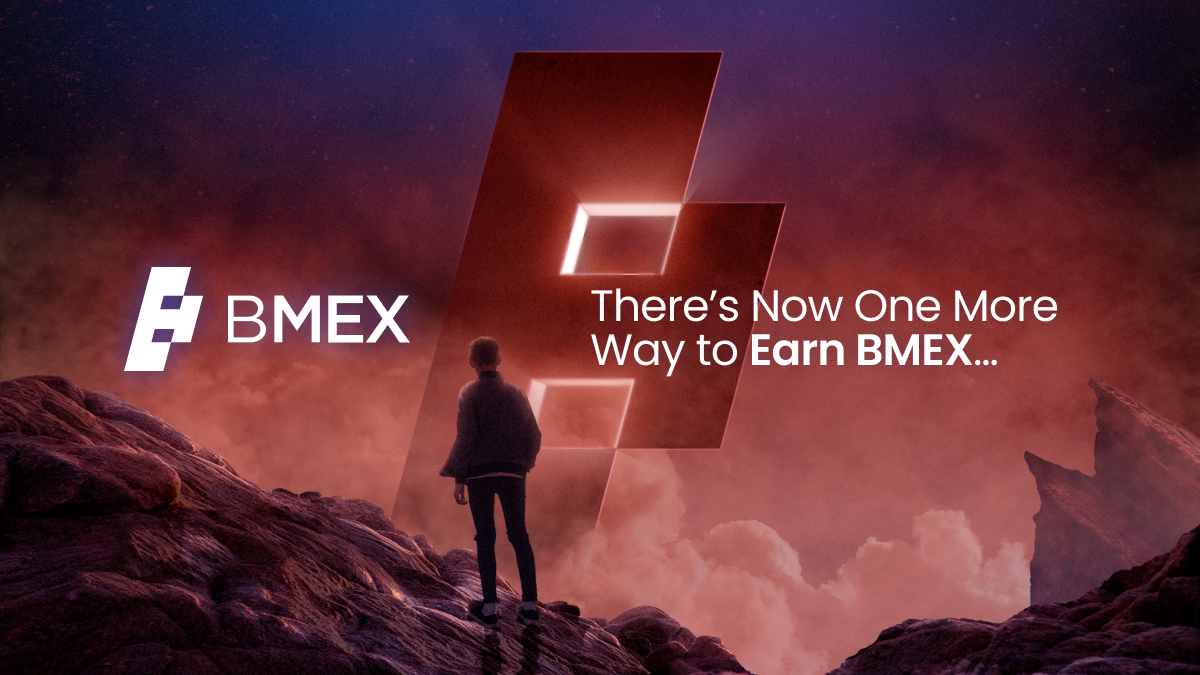 Last week, we airdropped 1.8 million BMEX to our new and existing users – but the race to accrue as many BMEX Tokens as possible is still on. Today, we've unlocked our Crypto Converter offer, giving every user the chance to earn up to 250 BMEX.

Check out our Token promotions page to see if you qualify for our BMEX offers, or read on to learn more.

How to Earn BMEX Tokens
You can earn BMEX by meeting the eligibility criteria of our Token offers and staking BMEX. This is your chance to earn as many BMEX Tokens as possible before the launch of BitMEX Spot in Q2.
Crypto Converter Offer
Our new Crypto Converter offer gives you the chance to earn up to 250 BMEX.

By using our Crypto Converter, BitMEX users will earn 2.5 BMEX for every 1,000 Tether (USDT ERC-20) – or Bitcoin equivalent – converted. The maximum amount of tokens that each user can earn from participating in this offer is 250 BMEX. Click here to use our Crypto Converter.

Note: the Crypto Converter offer is applicable from 9 February 2022 at 04:00 UTC to 31 March 2022 at 04:00 UTC. Those who qualify for this offer will be airdropped BMEX on two occasions – by 15 March 2022 for BMEX earned up to the end of February, and by 12 April 2022 for BMEX earned during March. For the full terms and conditions, please visit our FAQ page.
Ongoing Offers
BMEX airdrops happen every fortnight. Here's how to qualify for our upcoming airdrops:
Sign up and subscribe to EARN: From 5 January 2022 at 04:00 UTC until 31 March 2022 at 04:00 UTC, the first 10,000 new users who complete KYC and subscribe to EARN will receive up to 40 BMEX tokens. Subscribe 500+ USDT to receive 5 BMEX, 1,000+ USDT for 15 BMEX, and 2,000+ USDT for 40 BMEX as a reward.
Refer 3 friends to subscribe to EARN: Existing users who refer 3 new users to register on BitMEX, complete KYC, and subscribe a minimum of 500 USDT to EARN will be eligible to receive 15 BMEX. This offer is applicable from 5 January 2022 at 04:00 UTC to 31 March 2022 at 04:00 UTC only, and capped at 150 BMEX per referrer.
Trade on BitMEX: Existing users will be airdropped BMEX according to their trading volume (the equivalent of up to 25% of their monthly trading fees). The more you trade, the more BMEX you'll be eligible for – airdrops are capped at 50,000 BMEX per user, per month. This offer is applicable from 21 December 2022 at 10:00 UTC to 31 March 2022 at 04:00 UTC.
How to Stake BMEX
Staking BMEX is easy. Simply follow the steps below:

1. Log in to your BitMEX account
2. Visit your BitMEX Wallet.
3. Click 'Stake'.
4. Adjust your staking amount. The more you stake, the higher the additional discount on your taker fees*. To see the full fee schedule, click here.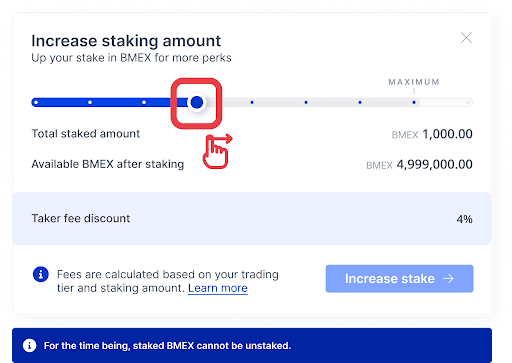 5. Click on the 'Increase stake' button to confirm your staking amount.

*By staking BMEX, you can enjoy trading fee discounts of up to 15%.

Note: the minimum staking amount is 25 BMEX.

Start Earning BMEX Today

Over the coming weeks and months, we will be unlocking new BMEX offers to reward new and existing BitMEX users. Stay tuned to our blog and Token promotions page for the latest updates, or check out our Token microsite to find out what's in store for BMEX holders.