Another week, another partner to add to our robust and burgeoning BitMEX ecosystem. 
Today we are excited to welcome Wunderbit Trading to our Partner Programme. Regulated and licensed in Estonia, the Wunderbit platform not only allows its users to buy and sell cryptocurrencies in a simple, safe, and secure way, but they also provide tools for deploying various trading strategies. 
With Wunderbit's feature-packed platform, BitMEX users will have access to the following functionalities:

Trading Terminal: Smart Trade terminal with strategy automation. 


Copy-trading: Helps automate any TradingView scripts into a fully functioning crypto trading bot in seconds, thanks to their easy to use automated trading software. 


Futures Spread Trading Terminal: Allows the selection of assets users would like to use for creating a spread. 


Crypto Signal Marketplace: With their advanced automated trading software, copy-traders can select the best crypto trading signals and automatically follow them. 


DCA Bots:

DCA is an investment method in which a certain portion of an asset is bought after the determined price deviation. This strategy allows traders to lower the impact of market volatility and improve their overall position entry price.
With Wunderbit, users can follow some of the best crypto traders with proven track records, trade through the advanced trading terminal, or create a fully automated trading bot using TradingView for an enhanced trading experience. 
Kirill Osaulenko, Co-Founder and Head of Trading at Wunderbit Trading, said "We're excited to officially establish our partnership with BitMEX – the world's most advanced crypto-products trading platform and supported by best-in-class API. Compared to other exchanges, BitMEX provides fast and reliable infrastructure."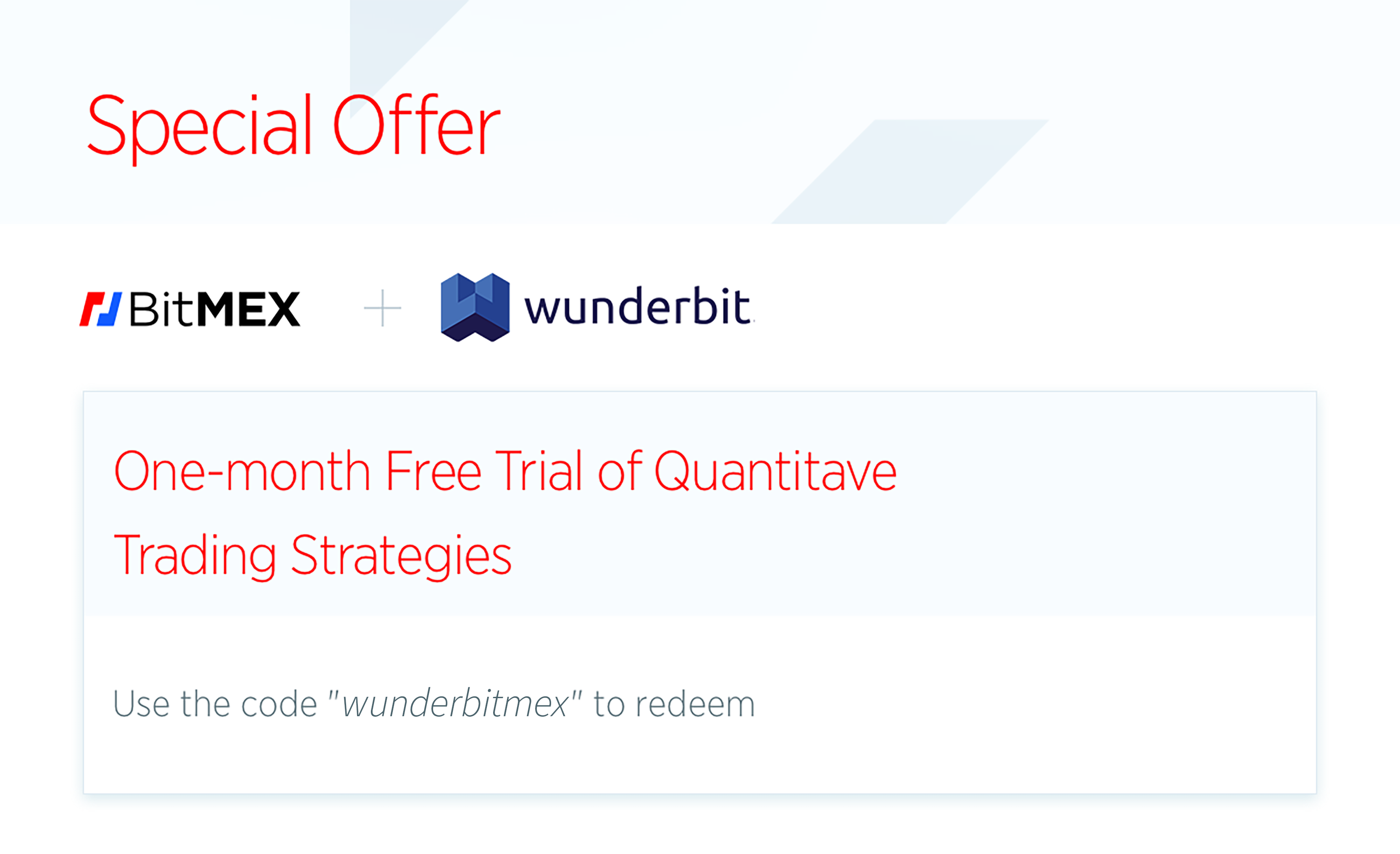 To kick off our partnership, Wunderbit will be offering BitMEX users a one-month free trial of quantitative trading strategies on their platform. Use the code "wunderbitmex" for free 30 day access to a Wunderbit Pro subscription.

Click here to redeem your free trial with Wunderbit https://trading.wunderbit.co
To sign up and verify as a new user on BitMEX, visit: https://www.bitmex.com/register.
Should you have any questions, please contact Support.