Abstract: We are proud to announce the launch of ForkMonitor.info, a new website sponsored by BitMEX Research. The website is connected to several different nodes, both Bitcoin and Bitcoin Cash implementations. It displays various pieces of information regarding the chains followed. This website can be useful for monitoring the situation during network upgrades (softforks or hardforks), as well as being potentially useful in helping to detect unintentional consensus bugs. Thanks to Sjors Provoost for helping develop the site.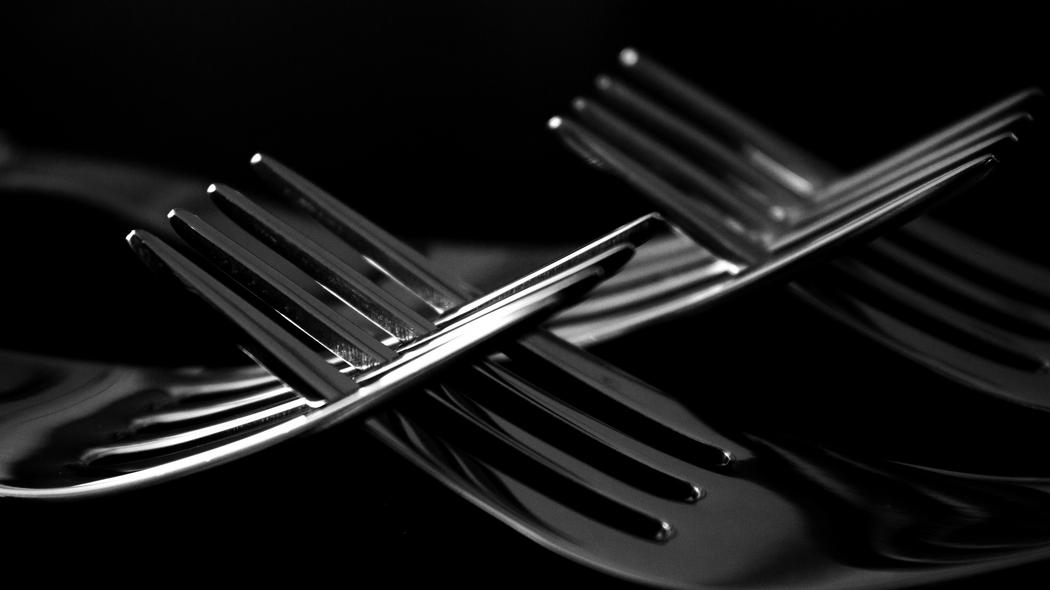 New Website: ForkMonitor.info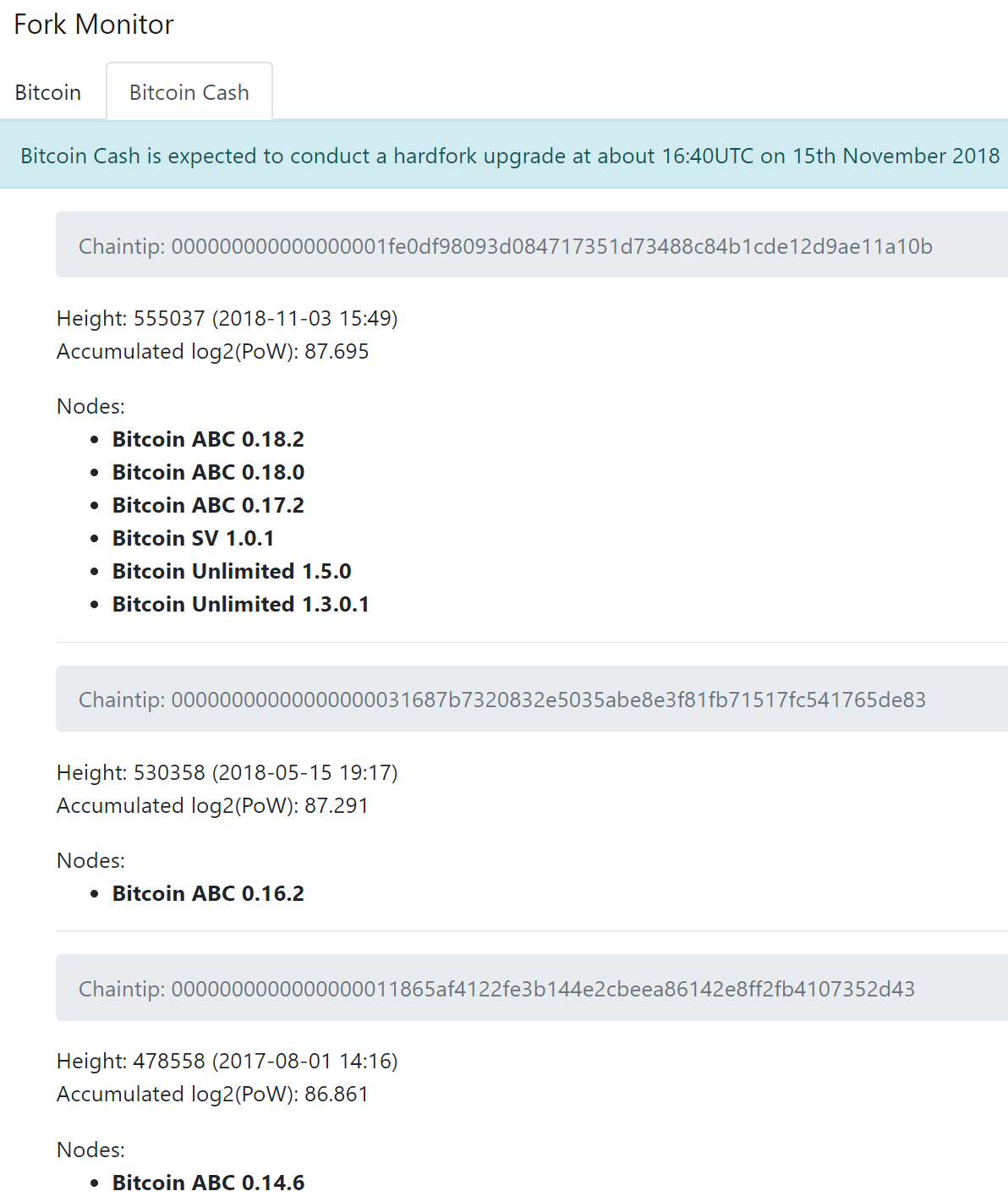 (Website screenshot as at 3rd Nov 2018)
Overview
The website is currently connected to the following 13 nodes:
| | |
| --- | --- |
| Bitcoin Nodes | Bitcoin Cash nodes |
| Bitcoin Core 0.17.0.1 | Bitcoin ABC 0.18.2 |
| Bitcoin Core 0.17.0 | Bitcoin ABC 0.18.0 |
| Bitcoin Core 0.16.3 | Bitcoin ABC 0.17.2 |
| Bitcoin Core 0.16.0 | Bitcoin ABC 0.16.2 |
| Bitcoin Core 0.10.3 | Bitcoin ABC 0.14.6 |
| | Bitcoin SV 1.0.1 |
| | BUCash 1.5.0 |
| | BUCash 1.3.0.1 |
(Nodes run by forkmonitor.info as at 4 November 2018)
The website is primarily geared towards Bitcoin Cash, running 8 Bitcoin Cash nodes compared to 5 Bitcoin nodes. The reason for this is the upcoming Bitcoin Cash hardfork, where several different nodes appear designed to follow different chains.
The forkmonitor.info website may also be useful in monitoring the situation during this upgrade. After the Bitcoin Cash hardfork is complete, the website's intention is to move some of the focus over to Bitcoin. The plan is to run more versions of Bitcoin Core (especially older versions), as well as independent implementations such as Bcoin, BTCD and Libbitcoin. This may be helpful in spotting any consensus bugs, such as the inflation bug CVE-2018-17144, which was discovered in September 2018. The website's code will be made open source, which may hopefully encourage other organisations to spin up multiple nodes and monitor the chains in a similar way.
The Bitcoin Cash hardfork

At around 16:40 UTC on 15th November 2018, Bitcoin Cash is expected to hardfork. There is potential for three competing chains:
a hardfork implemented by Bitcoin ABC
a second hardfork implemented by Bitcoin SV
potentially the original rules chain
A list of some of the main clients and their respective positions on the hardforks is provided below:
Client name
Comments
Bitcoin ABC
Versions of Bitcoin ABC after and including 0.18.0 are expected to activate a hardfork at around 16:40 UTC on 15 November 2018, according to the median past time. Versions of Bitcoin ABC prior to this, are not expected to follow this new chain.

In our view, Bitcoin ABC is the most popular implementation and the economic majority of Bitcoin Cash users are likely to support the hardfork and follow the new chain. It is unclear to us what will happen to older versions of Bitcoin ABC; however, the likely outcome is that no additional blocks are produced on the original chain.

Bitcoin SV
Bitcoin SV (or Bitcoin Satoshi's Vision) is a client promoted by Craig Steven Wright, who is popularly known as the "Fake Satoshi". In 2016, Mr Wright produced what he claimed was proof that he was Satoshi, however it quickly emerged that this was a digital signature copied from Bitcoin's Blockchain, presented in a manner designed to be confusing.

Bitcoin SV is also expected to activate a hardfork at the same time as Bitcoin ABC, however, this hardfork is supposedly incompatible with Bitcoin ABC.

In our view, Bitcoin SV is likely to have limited support from users, investors and traders. However, some of the large Bitcoin Cash mining pools, apparently support Bitcoin SV or are otherwise affiliated with Mr Wright:

Coingeek: 25% share (A pool owned by Calvin Ayre, allegedly a financial backer and  supporter of Wright)
BMG Pool: 12.5% (Another pool believed to be linked to Wright, with BMG being a division of Wright's company nChain Group)
SV Pool: 7% market share (A pool set up to support Bitcoin SV)
(Source: cash.coin.dance)

In addition to the above, the listed Canadian mining company Squire Mining (SQR CN), with a CAD$65 million market capitalisation, is likely to be supporting Bitcoin SV.

According to Squire's investor presentation, Stefan Matthews is a director while Bloomberg data shows that he owns 9.3% of the company's shares. Furthermore, a June 2016 book on Wright entitled "The Satoshi Affair" implies that Matthews is a long standing and close friend of Wright. Matthews was the CEO of "nChain", another company deeply involved in the shenanigans of the "Fake Satoshi". Squire's investor presentation states that Mr Matthews:

is currently the chairman, of the nChain Group, known for global leadership in blockchain and Bitcoin research. BMG, a division of the nChain Group

Therefore we believe it is likely that despite the lack of community support for Bitcoin SV's hardfork, the chain could have considerable hashrate, even if it's only for a limited period. Although, despite all the noise and promotion generated by nChain, Coingeek and Wright, we do not know for sure if the mining pools related to these entities are actually running Bitcoin SV. Even if Bitcoin SV does have significant or even majority hashrate, if the Bitcoin Cash economy ignores it, the chain should have little financial impact. We view this as the most likely outcome.

Bitcoin Unlimited
There is a third client group called Bitcoin Unlimited. This group's 

BUCash 1.5.0 client is designed to follow the hardfork of Bitcoin ABC. Earlier versions may behave differently.
While it appears that the economic majority will support Bitcoin ABC's hardfork, there is significant uncertainty over how each client will behave and which chains they will follow. Therefore, BitMEX Research has sponsored this new website which has launched before the hardfork is due to occur. This will hopefully provide useful information to some stakeholders, as the events get underway next week.