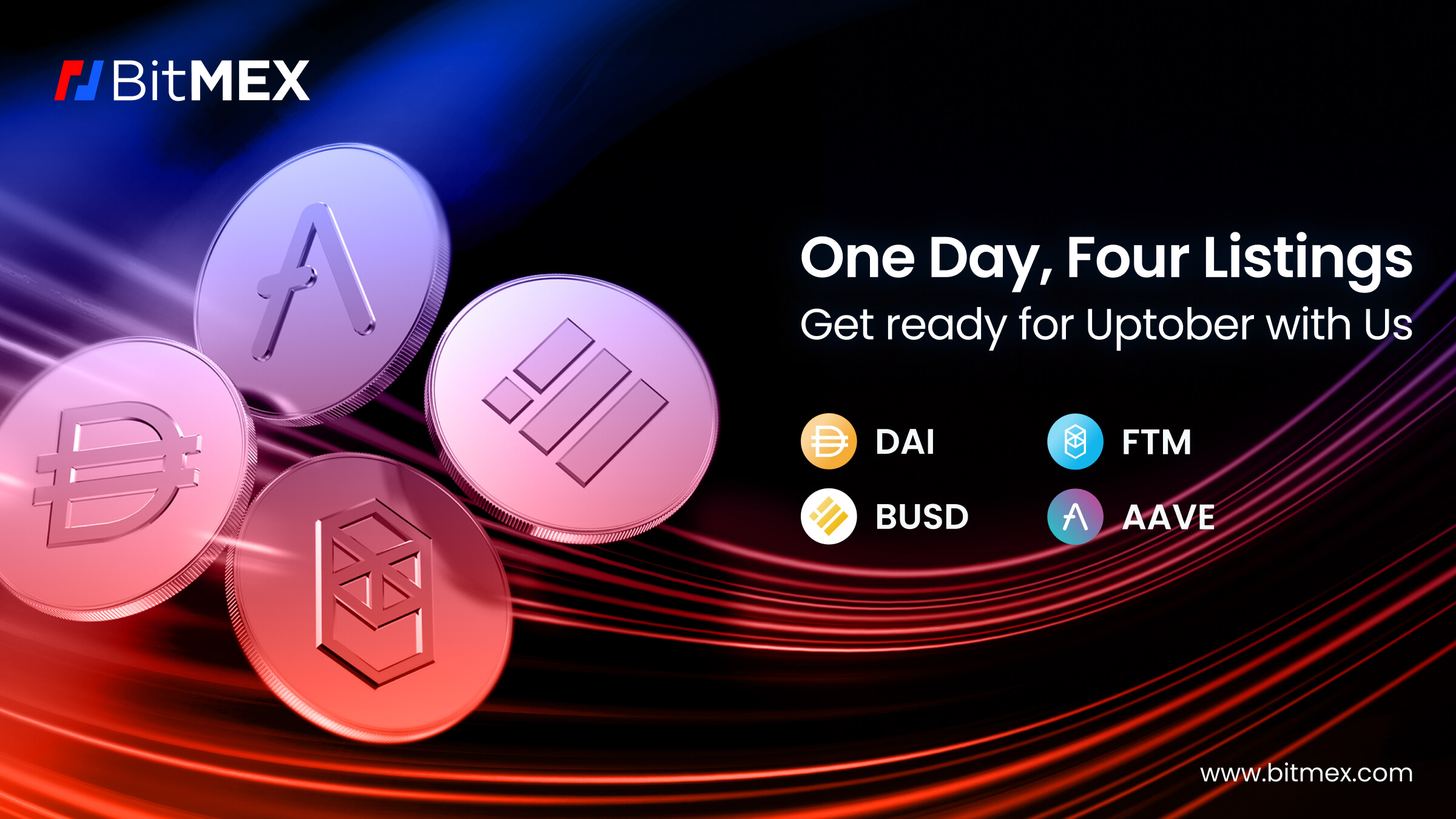 Last month,  we extended the crypto conversion options available on BitMEX – giving users the ability to convert USD Coin (ERC-20) into all of the coins and tokens we support – and vice versa.
Starting tomorrow, we will add support for four additional cryptocurrencies – namely, DAI, AAVE, BUSD, and FTM. As we gear up for Uptober, we'll be adding support for more coins and tokens in the coming weeks, so stay tuned. 

For the 101 on additional token support for crypto conversions on BitMEX, read on.

If you haven't yet created a BitMEX account, you can do so here.
New Crypto Conversion Options Added for USDC
Recently we added support for USDC on BitMEX, giving users the option to buy, deposit, withdraw, and convert USD Coin into Bitcoin or Tether. Fast forward a few weeks, and we have now introduced new options for USDC crypto conversions on BitMEX. It's an addition that means BitMEX Mobile and Web users can now convert USDC (or USDT) into all of the cryptocurrencies supported on BitMEX – and vice versa. 

Coming: Additional Token Support for Crypto Conversions, Deposits, and Withdrawals
Tomorrow, we will add support for four  extra cryptocurrencies: DAI, AAVE, BUSD, and FTM. This means that users will soon be able to:
Convert USDC (or USDT) into 15+ cryptocurrencies

– and vice versa – with no hidden fees. All

crypto conversions

on our platform happen instantly, so there's no need to worry about slippage. 

This new addition means users can quickly and easily convert a wider range of cryptocurrencies into Tether, Ether, and Bitcoin, freeing up time to focus on trading XBT-, ETH-, or USDT-margined crypto derivatives and/or access spot trading pairs. 

Deposit and withdraw DAI, AAVE, BUSD, and FTM

via their

BitMEX Wallet

(on top of XBT, ETH, UNI, SUSHI, AXS, LINK, MATIC, APE, TRX, SOL, USDT, and USDC). 

These additional deposit and withdrawal options will give users the chance to HODL a wider range of coins and tokens.

The minimum amount users will be able to withdraw/deposit is 10 DAI, 0.3 AAVE, 10 BUSD, and 40 FTM.
What is DAI?
Created by MakerDAO (MKR), DAI is a decentralised, collateral-backed stablecoin that is soft-pegged to the US dollar. DAI tokens are ERC-20-based, and all DAI transactions are publicly viewable on the Ethereum blockchain.
What is AAVE?
AAVE tokens are primarily used to govern Aave, a decentralised protocol that lets people lend and borrow crypto, as well as real-world assets. As the AAVE token is tied to the Aave protocol, AAVE is one of the largest DeFi coins by market cap.
What is BUSD?
BUSD – a.k.a Binance USD – is Binance's stablecoin project, created in partnership with Paxos. For every unit of BUSD, there is one USD dollar held in reserve.
What is FTM?
FTM is primarily used for securing Fantom – a decentralised, open-source smart contract platform for dApps and digital assets. The FTM token is also used for payments, on-chain governance, and network fees (e.g. transaction fees).
Coming Soon: More
Crypto Conversion
Options, Derivatives Listings, and Spot Pairs
In the coming weeks, more cryptocurrencies – such as SHIB, MANA, and SAND – will arrive on our platform. New spot trading pairs (e.g. ETH/XBT) and a new type of crypto derivative are also on their way, so stay tuned. 

Download the BitMEX Mobile app to trade your favourite crypto derivatives contracts and spot trading pairs on the go, and connect with us on Discord, Telegram, and Twitter to be the first to know about our new listings and giveaways. 
In the meantime, if you have any questions please contact Support.