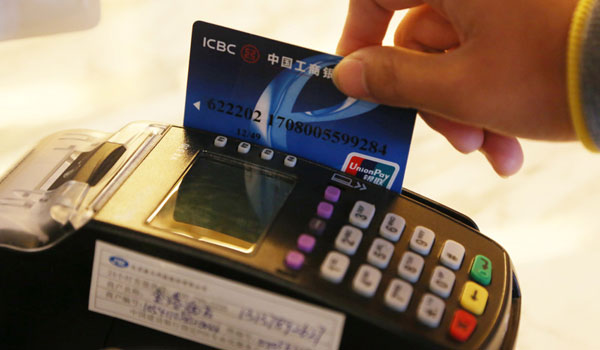 The phenomenon of Chinese money fleeing China is causing asset prices around the globe to skyrocket. The most preferred asset is foreign property. A recent statistic said that Chinese buyers accounted for a third of all residential home purchases in Vancouver.
Massive capital flight is a big problem for the Beijing. The war chest of foreign reserves is being depleted quickly, and the PBOC will need all the firepower it can muster to soften the blow from rising non-performing loans (NPLs) held by the banking sector. To stem the outflows, various measures were introduced.
Previously a popular evasion method was to buy insurance policies in Hong Kong with China UnionPay cards. Bus loads of mainlanders arrived in Hong Kong and formed long queues outside of Prudential and AIA. Health and travel insurance policies were favoured because comrades could purchase policies exceeding the $50,000 yearly FX limit legally.
To stop the bad behaviour a limit of $5,000 per transaction was instituted on overseas UnionPay transactions. What do you do when you have a million dollar policy but have a low transaction limit? You continuously swipe your UnionPay card until you pay the policy's premium.
Bloomberg sheds more light on the swipe happy Chinese:
A Chinese firm that brokers insurance policies, Henan-based Hong Kong Easiness Wealth Management, is offering travel to Hong Kong, including free airfare and accommodation, for mainland Chinese to buy insurance products. Those buying policies valued at more than 500,000 yuan ($77,000) get a first-class ticket plus two nights in a five-star hotel. Such a purchase would require at least 15 card swipes. A first group of four couples was to arrive in Hong Kong on Tuesday to buy critical illness insurance with a 100,000 first-year premium from AIA, while a higher-spending trip was scheduled for May, said Li Yida, the company's owner.

"We will guide them through the whole process and swipe cards with them," he said. "We've told them to bring more than one credit card, as they will be able to try more cards if one of them is not working."
Other family members of Ng's client who purchased the HK$28 million in policies traveled to Hong Kong during the weekend after the electronic transfer ban to purchase their own policies worth HK$10 million, requiring an additional 200 swipes of their credit cards, Ng said. The swiping process for the family took about two days each time, he said.
Earlier this year, the State Administration of Foreign Exchange (SAFE) stopped reporting certain monetary statistics that allowed for analysts to understand if reserves were growing or shrinking accurately. Many analysts believe China's reserves decline by $100 billion per month due to capital outflows. The same analysts believe that once the reserves dip below $2.7 trillion, China is in trouble. This is due to cash pledged for various projects and initiatives. China's FX reserves were $3.3 trillion at the end of 2015. At the current burn rate, China will be short on cash by the summer of this year.
When governments stop producing certain economic figures, they usually have something to hide. Whether it's swiping a UnionPay card 200 times to buy gigantic insurance policies, faking import invoices, or buying foreign assets at any price, Chinese individuals and companies are shedding CNY at a record clip.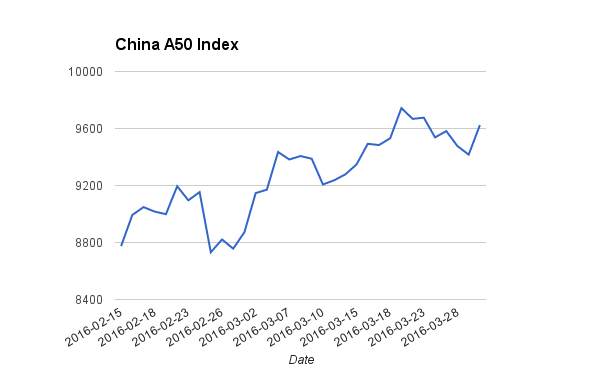 The China A50 Index (index members are the largest 50 China A share stocks) is up almost 10% since mid-February. BitMEX's China A50 Futures contract gives investors the ability to go both long and short China with 25x leverage by using Bitcoin. China still has a few months before cracks could start appearing once more. To ride the bullish momentum, buy the April China A50 contract, A50J16. For bears, A50J16 represents one of the only ways go short China with leverage.