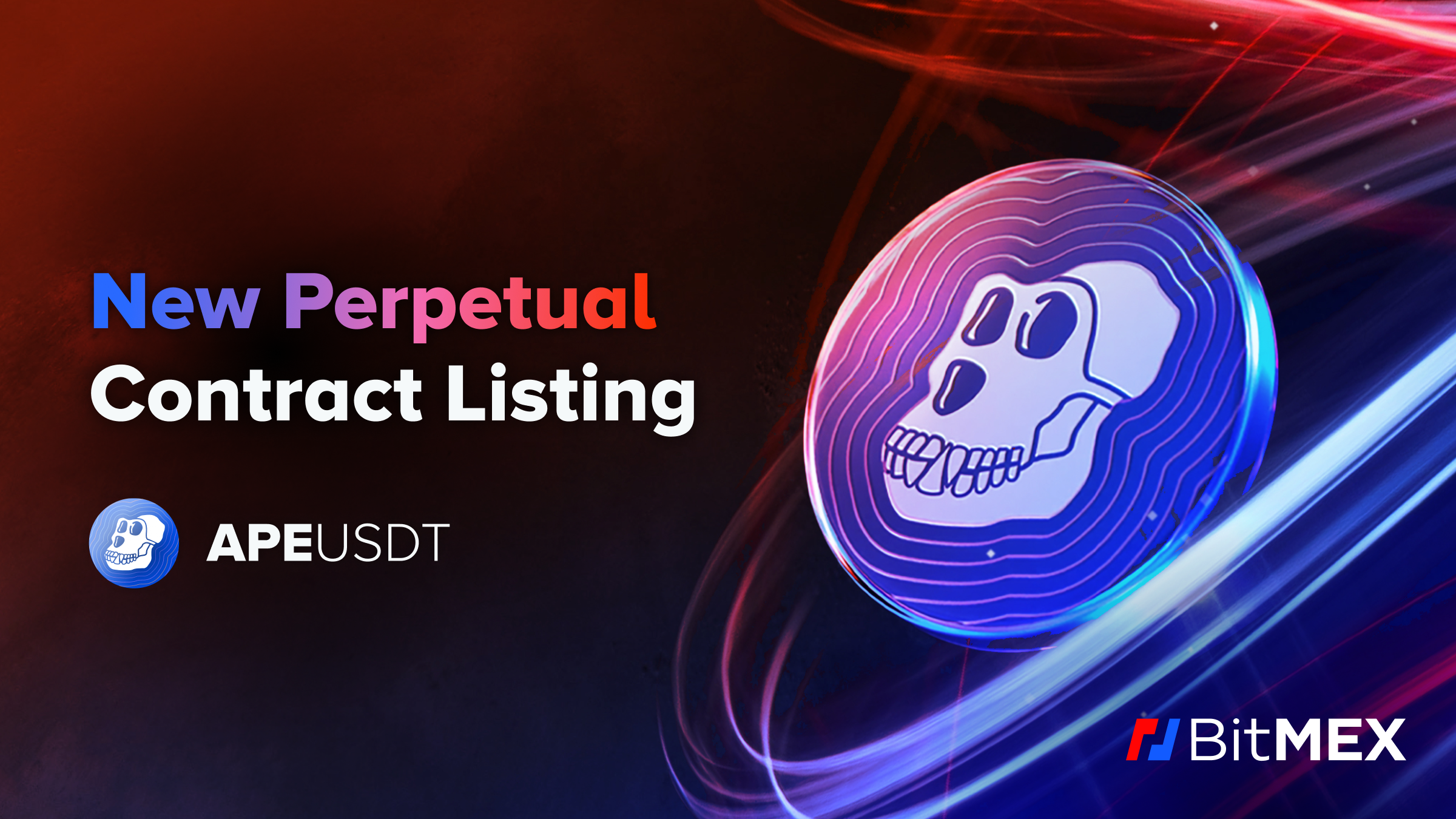 Fans of the Bored Ape Yacht Club – look no further. ApeCoin (APE) has arrived to the BitMEX ecosystem. 
Our USDT-margined APE perpetual contract is now live and available for trading. Users will be able to select up to 33x leverage – one of the highest offered on ApeCoin in the derivatives space.

APE in with us here, or read on to learn more.
APEUSDT Perpetual Contract Specs
Our new APEUSDT contract is now available for trading. The contract specs are as follows:
Contract size:

0.001 APE (Currently *** USDT) (USDT Multiplier is 1,000)

Contract type:

This is a perpetual contract, meaning it does not settle. Note: This contract is subject to early settlement.

Launch date and time:

22 March at 04:00 UTC

Lot size:

1,000

Initial margin:

3.00% + Entry Taker Fee + Exit Taker Fee

Maximum leverage:

33x

Maximum order quantity:

1,000,000,000

Maintenance margin:

1.50% + Exit Taker Fee

Minimum trade amount:

1 APE

Settlement: Settled and quoted in USDT (ERC-20)

Further Reading

What is ApeCoin (APE)
ApeCoin is an ERC-20 governance and utility token for culture, gaming, and commerce. Owned and operated by the ApeCoin DAO, the token is used within the APE ecosystem to empower a decentralised community at the forefront of web 3.0. Yuga Labs, the creators of the Bored Ape Yacht Club (BAYC), will adopt APE as its primary token across all new projects.
APE Token Allocation
ApeCoin's total supply is permanently fixed at one billion APE. The APE token will be distributed among four main groups:
62% will be allocated to the ecosystem fund, which includes BAYC and Mutant Ape Yacht Club (MAYC) NFT holders and treasury/resources.

16% will be allocated to Yuga Labs and the Jane Goodall Legacy Foundation.

14% will be allocated to launch contributors. 

8% will be allocated to the four founders of Yuga Labs and BAYC.

Are You Ready to APE in?
Start trading APEUSDT and enjoy up to 33x leverage, or sign up for BitMEX today.

To be the first to know about our latest contracts and product launches, join us on Discord, Telegram, and Twitter.

If you have any questions in the meantime, please contact Support.