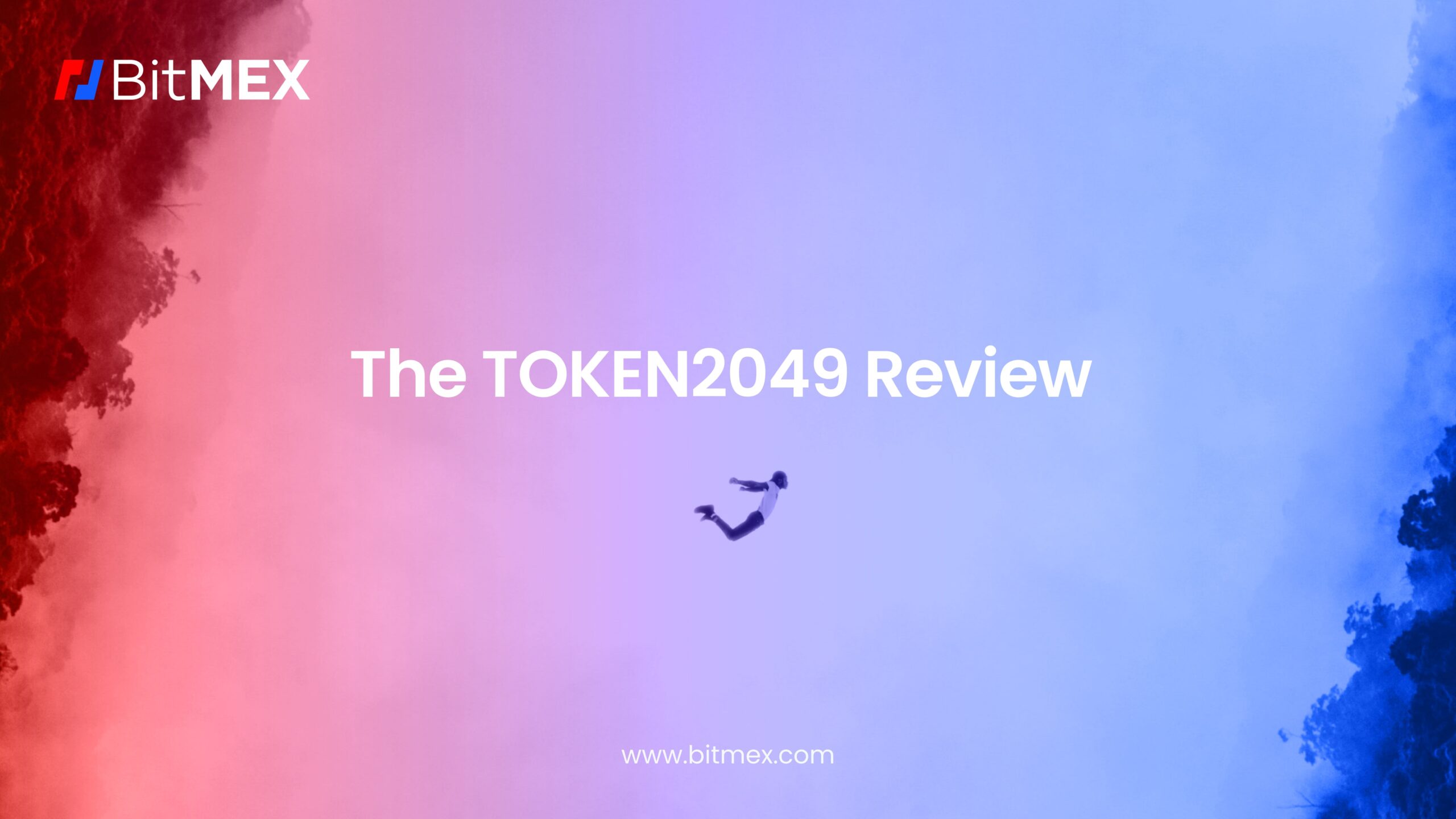 Last week in Singapore wasn't just a diary note for Asia's most vibrant crypto congregation – it marked a moment where true believers and the resilient assembled. Sure, it might have felt like a bear market in Europe and the United States, but it wasn't the case in Asia, where over 10,000 attendees packed the Marina Bay Sands Convention Centre, and hustled to hundreds of side events across the city. 
Signalling nothing close to a bear market, this was a forum for those who've been building, to share what's in the works, just rolled out, or about to be.  Which is why, we're splitting this year's recap into what was hot at TOKEN2049, and what – in our team's humble opinion – was most certainly not. 
So, What was Hot at TOKEN2049? 
Building. The community has been building, with a renewed focus on specialising and improving infrastructure. We noticed that while we've doubled down on crypto derivatives, others have been honing in on what differentiates them, and where they can contribute to what felt like a crowded space a year ago.
You could say, we focused so much on derivatives that we decided to launch a unique breed of one, right from the floor of TOKEN2049. Now live, Prediction Markets allow our traders to call the outcome of real-world events across multiple industries. We also added a new perp for Filecoin, a project given a shoutout – dare we say 'shill'? – by our Co-Founder Arthur during his keynote.
Off stage, our team engaged and gathered feedback on how, what and where we can do better. It was also through these conversations, that we noticed what others have been building. Honourable shoutouts to DWF Labs, Nansen, Gravity Team, and Talos Trading. 
DeFi and TradFi merging. It's becoming ever clearer that the decentralised and centralised can and will coexist – collectively doing better by leveraging the other. A real world example? The tokenisation of real world assets, which when delivered, will combine the best of both.
Knowledge sharing. Because if one wins, the collective wins. We witnessed seasoned individuals, not holding their cards close, but sharing insight with the wider audience. Case in point? Our CEO Stephan's panel alongside other leaders from Huobi, Deribit, Phemex, and Wachsman, where the focus was on managing in a time of upheaval.  The point being that specialisation is the way forward for crypto exchanges. For BitMEX, it's about customer service and again, digging deep on where you and your team are skilled.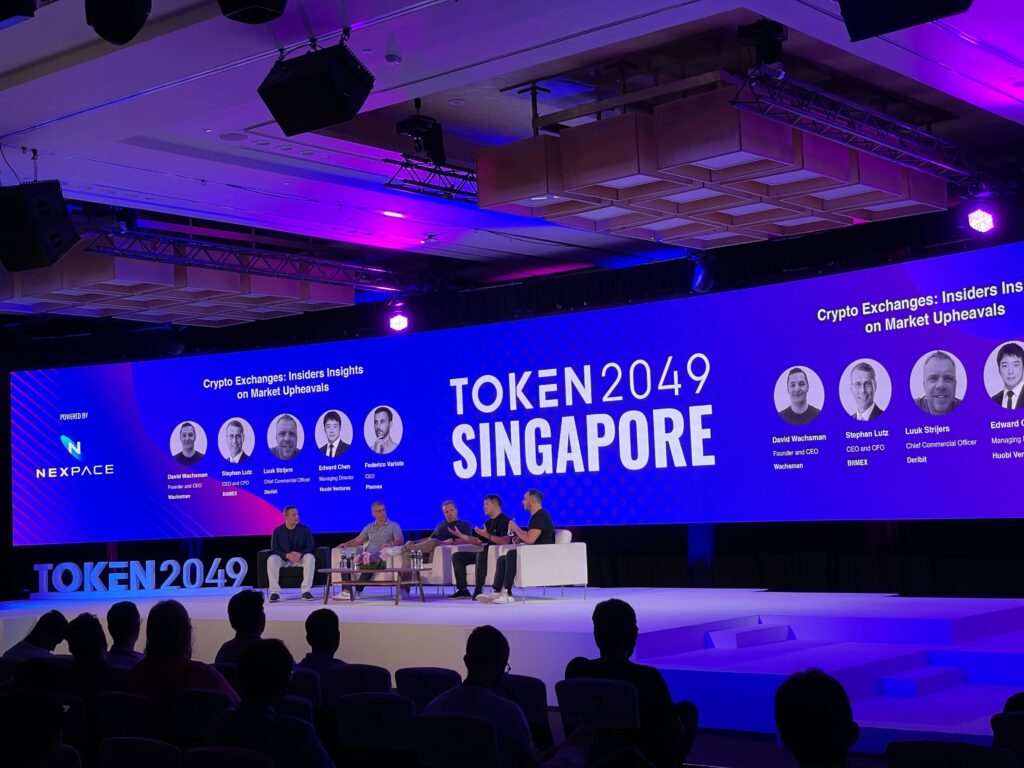 AI integration. Inside and outside of the industry, artificial intelligence has been the theme of 2023, but how will it interact with crypto and the markets? It's the question Arthur addressed in his keynote – a presentation that drew TOKEN2049's largest crowd. Using current macroeconomic conditions, particularly rising interest rates, as logical reasoning, he detailed his theory that Bitcoin will be AI's choice of currency. It was a further elaboration from his AI summer series of Crypto Trader Digest, here and here.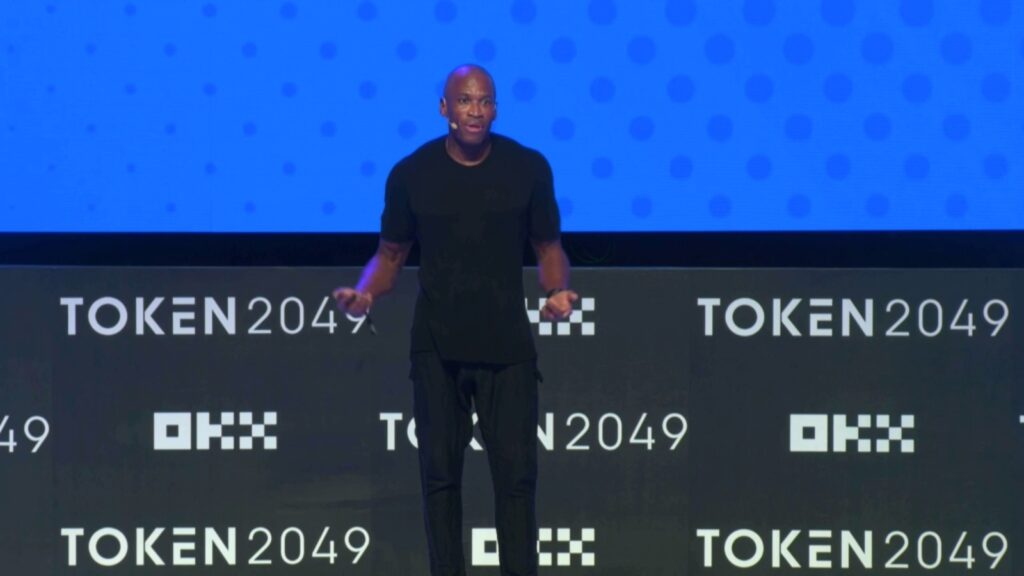 Off stage and Arthur's reasoning aside, AI-focused projects including Worldcoin gained attention. So too the notion that AI's convergence with Web3 will contribute to wider DeFI adoption and a new generation of users will come via accelerated trading, on-chain identity, data analytics, and more. 
Regulatory clarity. It's no longer a question of whether regulation is coming – but where. Talks this year were more focused on which jurisdictions are making advances for digital assets, and how those that do – such as Hong Kong, Singapore, the UAE, and Europe – will win. 
Bitcoin ETFs. Perhaps the most dominant topic was about a decentralised product resembling a traditional one. With many agreeing it's the next pivotal step for the broader industry when it comes to regulatory clarity. 
Stablecoin projects and on-ramps. Countless stablecoin projects and fiat-to-crypto services including Ondo Finance and XBTO were spotted. Regardless of their backing, many noted it is their core role to strenghten infrastructure, and these projects will serve as another road for the next wave of users. 
What Was Not? 
Macro gossip. Bitcoin ETFs weren't just the talk of the town, interest rates were too, with surges of skepticism served concerning the Fed continuing to hike. With many believing that if the global financial situation 'worsens', so will digital assets. Not true and not worth the gossip according to Arthur, who believes Bitcoin and the Fed policy will have a positive convex relationship (read more here). 
NFTs. It seems this year, much fewer NFT projects were present and the topic itself less prominent in discussions and on stage. Perhaps the way that NFTs started off as 'expensive JPEGs' gave it a weak head start. Time will tell. 
Pump and dump shops. We've seen them before and we were shocked to see some of them again. Long gone are the days of chasing unbelievably high yields and returns. It's time for the industry to fully pivot to create a market with long-term integrity vs. short-term volumes. 
Fibbing about insurance funds. Derivatives trading is all about choosing the right platform with the right safety practice and protocols in place, like insurance funds. One particular exchange claimed their insurance fund was at USD 300 million – making it the second highest in the industry – a gentle reminder that you should really DYOR.
A fun fact ? The BitMEX Insurance Fund currently offers more than USD 1 billion worth of protection for our traders (details here). 
Promotional costumes. Can we collectively agree that costumes – especially those that verge on the tiny – have no place in an evolving industry? Enough said. And what about the mimes?  If you've got nothing to say, you shouldn't be at TOKEN2049.
What Else Went Down at TOKEN2049 in Singapore?
We kicked off our week with TOKEN2049 EVE, where 250+ members of our community of partners, traders and crypto Twitter influencers assembled for an evening of fresh swag, cold drinks and sliders. A big thank you to all who swung by.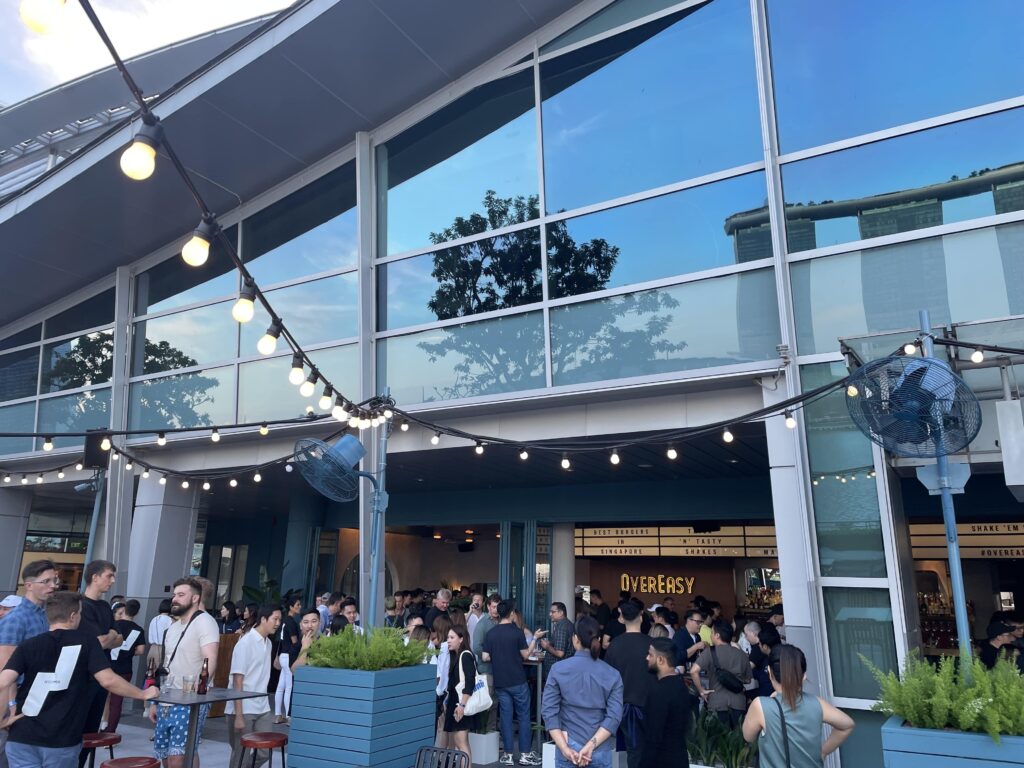 Another shout out to those select clients and top traders, who joined our senior leadership at Nouri, for an intimate dinner featuring seasonal fare and wines from both the old and new worlds. It was a night away from the pace of meetings and rather for connecting and listening to our top users on what and where we can improve. 
Looking and Working Forward
The surge of energy and enthusiasm at TOKEN2049 was unmatched – the post summer/return to Q4 hype many needed, with the classic "Bear markets are for building" approach solidified through a display of infrastructure improvements and specialisation. 
Internally, the BitMEX team walked out with a mountain of valuable insights – both on what we've done well, and what we can improve. We heard you, and we're working on it. Expect more futures contracts prior to a token's spot listing, further improvements to our UI/UX for our customer base, and more unique derivatives products, just like Prediction Markets. 
To be the first to know about our new listings, product launches, giveaways and more, we invite you to join one of our online communities and connect with other traders. For the absolute latest, you can also follow us on Twitter, or read our blog and site announcements. 
In the meantime, if you have any questions please contact Support who are available 24/7.