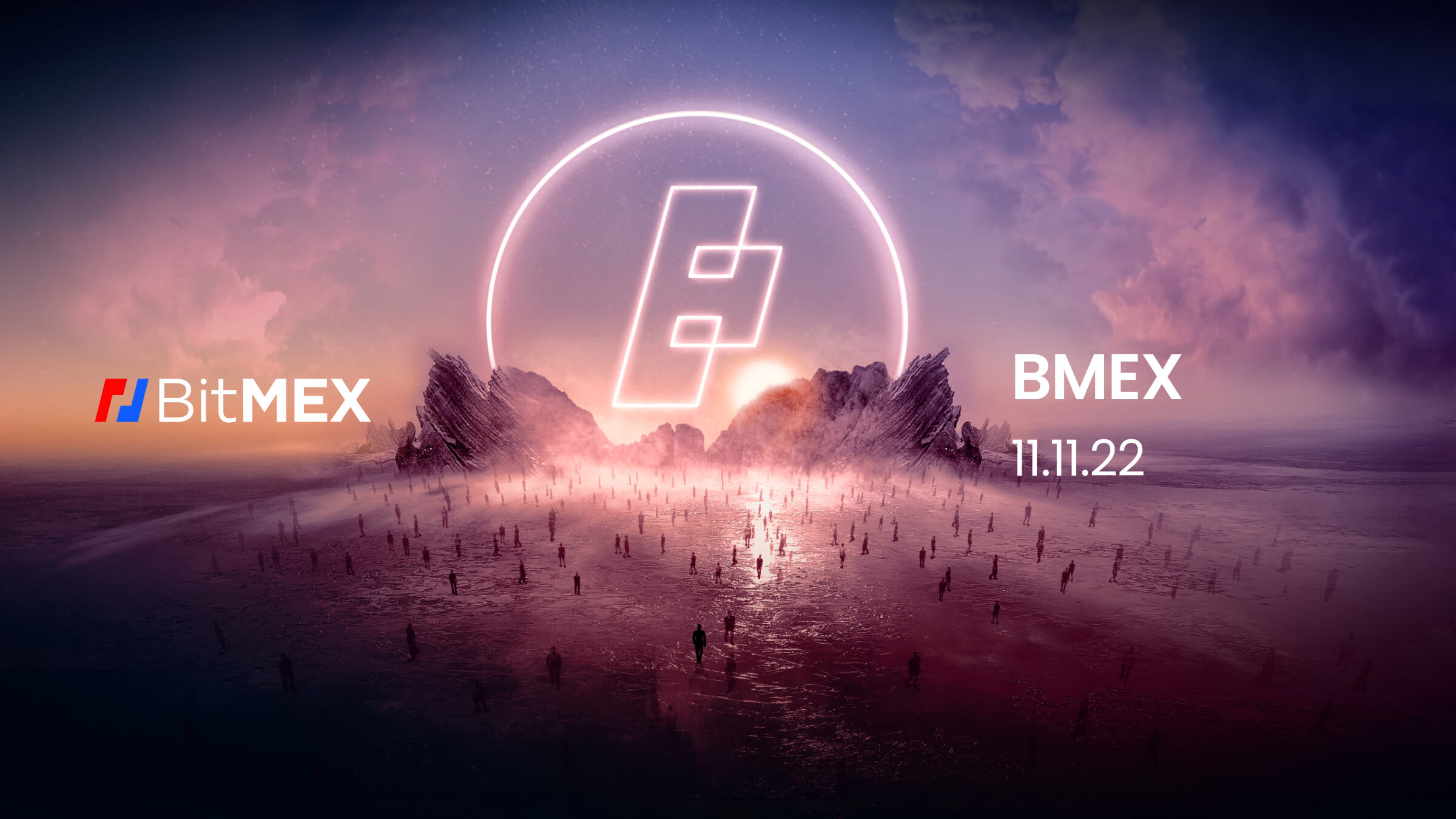 Boom 💥. BMEX – the token that fuels the BitMEX ecosystem – is now listed and trading on BitMEX.
The launch of BMEX unlocks new trading opportunities for our users – including the ability to trade the BMEX/USDT pair on our spot exchange. What's more, two new perpetual swaps – BMEXUSD and BMEXUSDT – will drop on BitMEX in a few hours' time…along with a site announcement, you'll know when that happens via our socials.

To celebrate the start of BMEX trading, we're giving the first 500 users who buy BMEX and/or trade our perp listings 50 BMEX each. Other ways to earn BMEX can be found here. 

For the 101 on what you can now do with BMEX Tokens, read on.

If you haven't got a BitMEX account, you can register for one here 
Trade BMEX
From today at 00:00 UTC, users can trade BMEX against USDT on BitMEX Spot, on top of SOL/USDT, TRX/USDT, XBT/USDT, ETH/USDT, APE/USDT, UNI/USDT, MATIC/USDT, LINK/USDT, and AXS/USDT.

…and get ready: two new BMEX perps will start trading from today at 04:00 UTC. It's an addition that will allow users to trade the BMEX Token – via our Bitcoin-margined BMEXUSD and Tether-margined BMEXUSDT listings – with up to 50x leverage. 
BMEX/USDT Spot Pair Specs
Symbol: BMEX_USDT

Underlying currency: BMEX

Quote currency: USDT

Lot size: 1,000,000

Tick size: 0.001

Maker fee: 0.001

Taker fee: 0.001

Max price: 100,000

Max order quantity: 1,000,000,000,000
You can start trading BMEX/USDT here.
BMEXUSD Quanto Perp Specs
Symbol: BMEXUSD

Margin currency: XBT

Bitcoin Multiplier: 0.00001 XBT (100,000 Satoshis)

XBT Contract Value: BMEXUSD Price * Bitcoin Multiplier (1,000 Sat / 1 USD)

Underlying:

.BBMEX

Max Leverage: 50x

Maker Fee: -0.01%

Taker Fee: 0.075%

Base Initial Margin: 2.00%

Base Maintenance Margin: 1.00%
BMEXUSD will be tradable from 11 November at 04:00 UTC here, and you can view the full contract specs here.
BMEXUSDT Linear Perp Specs
Symbol: BMEXUSDT

Margin currency: USDT

Contract Size: 0.001 BMEX

Lot Size: 1000

Minimum Trade Amount: 1 BMEX

Underlying:

.BBMEXT

Max Leverage: 33.33x

Maker Fee: -0.01%

Taker Fee: 0.075%

Base Initial Margin: 3.00% 

Base Maintenance Margin: 1.50%
BMEXUSDT will be tradable from 11 November at 04:00 UTC here, and you can view the full contract specs here.
Convert BMEX
Users can also quickly convert between BMEX and XBT or USDT – with no hidden fees. There's also no need to worry about slippage, as all crypto converter transactions on our platform happen instantly, and at the conversion price shown.
Stake BMEX

BMEX supercharges your experience within the BitMEX ecosystem, and brings a range of unique benefits to those who stake the token.

The below table summarises all of the BMEX staking benefits that are available on our platform today, and we will continue to introduce new token utilities and benefits over the coming months: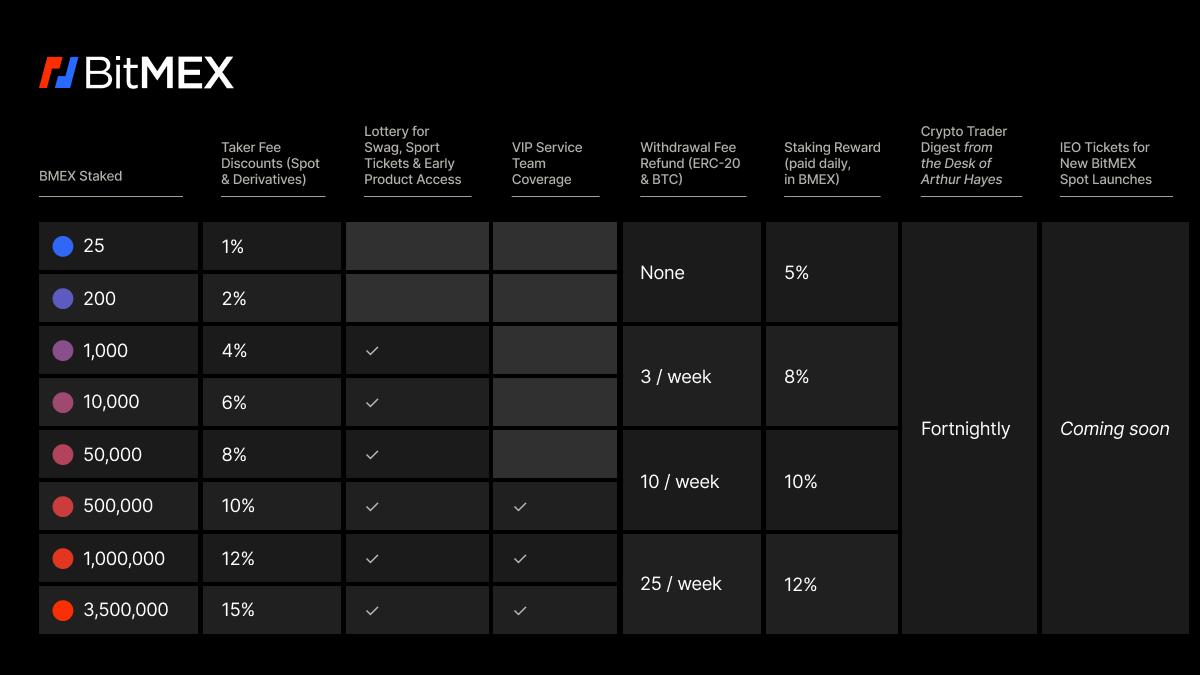 Note: To enjoy BMEX staking benefits, you'll first need to stake your tokens via your BitMEX Wallet. For an in-depth guide on how to stake BMEX, read this blog.
Earn More BMEX
We want to continue rewarding our users, both existing and new, with BMEX Tokens for doing what they do best – trading. From today at 01:00 UTC, users can earn up to 80 BMEX via our new and ongoing BMEX Token Promotions.

New Celebratory Offer: The first 500 users who buy BMEX or trade our perp listings will receive 50 BMEX each. T&Cs are here.
Ongoing Welcome Offer:

Newly KYC'd users are eligible to receive up to 80 BMEX Tokens. The specifics of our Welcome Offer are detailed

here

. 
Note: Our BMEX offers are updated frequently and in accordance with our current projects and initiatives. For the latest, visit our Token Promotions page.
Deposit and Withdraw BMEX
To start depositing or withdrawing BMEX, simply go to your Wallet, click the 'Deposit' or 'Withdraw' button and select BMEX. 
Note: The minimum amount you can withdraw/deposit is 10 BMEX Tokens.

More About the BitMEX Token (BMEX)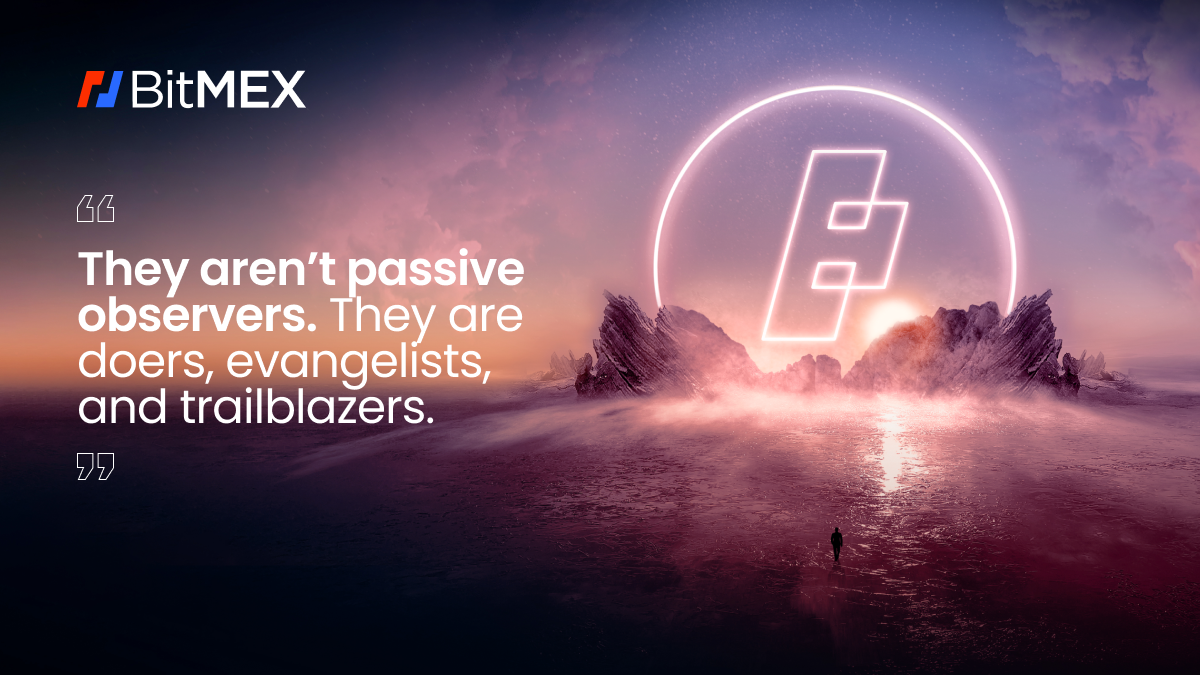 As the world moves from analogue to digital, crypto is at the core of this new era. And we're building BitMEX to be a cornerstone of the crypto economy's infrastructure. The launch of BMEX marks a new chapter for us and our users – the true believers in this new future.
Key Features
The BitMEX Token (BMEX) is an ERC-20 token with a maximum supply of 450 million – many of which will be used to reward new and existing BitMEX users – as well as incentivise participation within our ecosystem. 
The tokens are locked in a 5-year vesting contract, and we intend to burn BMEX on a monthly basis to create a continuous utility environment for token holders. Further details on our tokenomics – including the BMEX Token vesting schedule and allocation – can be found in our Litepaper.

To be the first to know about new BMEX Token Promotions, listings, and giveaways, connect with us on Discord, Telegram, and Twitter.
If you have any questions in the meantime, please contact Support.