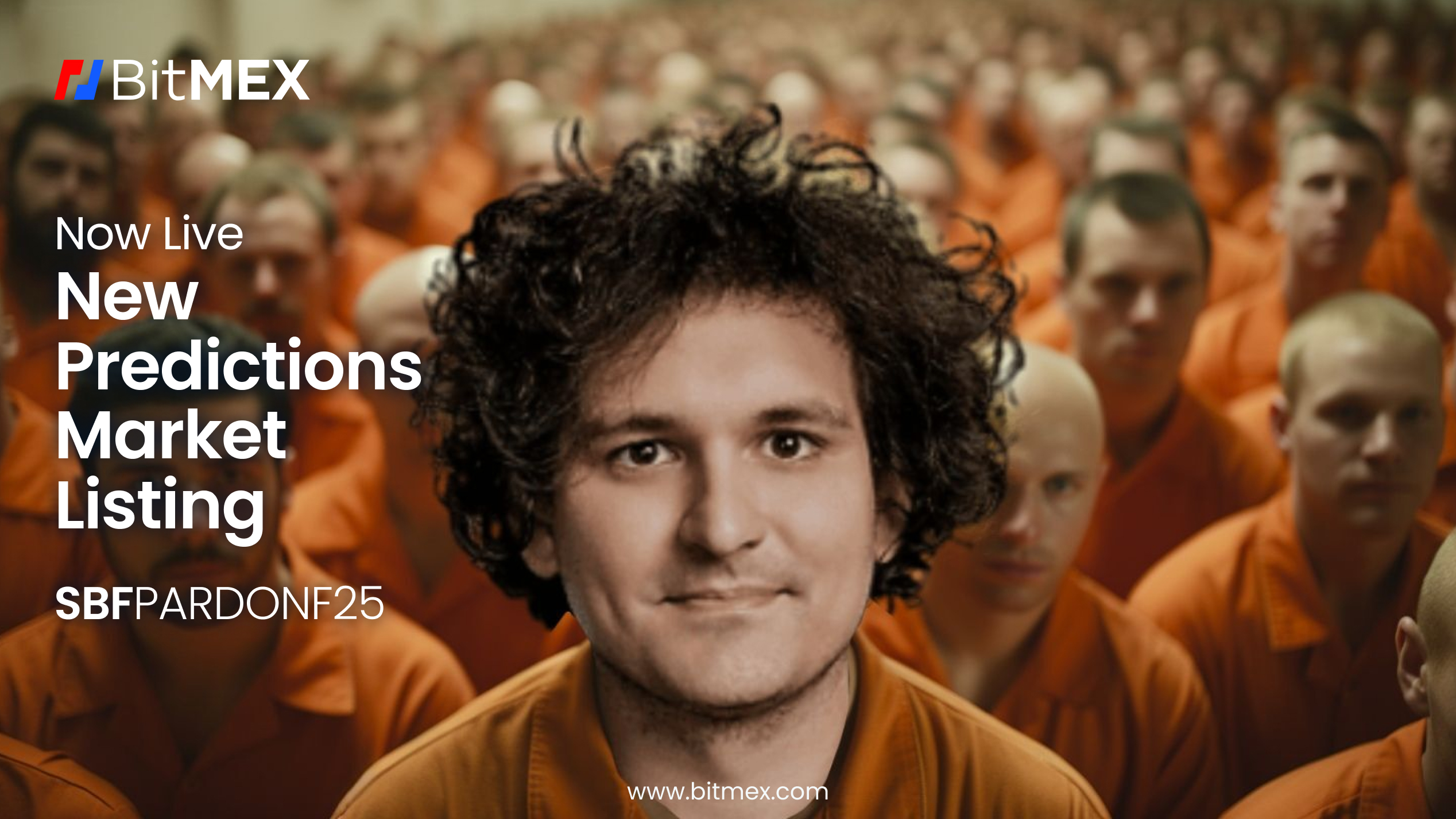 SBFPARDONF25  – a new Prediction Markets listing
– is now available to trade on BitMEX.  This new listing allows our traders to predict and take positions on the event of President Joe Biden granting  a pardon for Sam Bankman-Fried (SBF).
For the lowdown on this new Prediction Markets listing, read on. 
If you haven't signed up for a BitMEX account yet, we're currently offering up to $5,000 in BMEX Tokens for verified users- you can register here.
SBFPARDONF25 Contract Specs
Key contract details for our SBFPARDONF25 token listing:
Settlement Event

: The contract will settle on the event of President Joe Biden granting a pardon for SBF before the end of his current presidential term (full terms are

here

). 

Index Value

: The contract will settle at 0% if the Settlement Event have not occurred, or 100% if the event has occurred

Expiry

: 31 Janurary 2025 at 12:00 UTC.
How Do Prediction Markets Work at BitMEX? 
Prediction Markets work the same as all futures contracts on BitMEX, with a few differences as listed below:
The price of the contracts will be marked as Last Price*. 

No leverage is granted. 

Margin and settlement in Tether (USDT).

Payouts will be based on a bounded price from 0 to 100. 

Maker fees are set at 0.00% and Taker fees are set at 0.25%.

Early settlement will take place if the outcome or event occurs before the contract expiry date. 

The product suite will not be available to users in particular jurisdictions. 
*Last Price is used as an external price index is not required to mark the price of a contract, as long as a price is available to settle. 
Each contract has a value between zero and one USD, but is quoted in percentage terms.
The new listing is a speculative contract that is marked on Last Price. Users should adjust their risk tolerance accordingly when trading the products. 
You can trade the SBFPARDON Prediction Markets contract here, or refer to the full contract specs here.
You can take a wider look at Prediction Markets at BitMEX, here. 
To be the first to know about our new listings, product launches, giveaways and more, we invite you to join one of our online communities and connect with other traders.  For the absolute latest, you can also follow us on Twitter, or read our blog and site announcements for the absolute latest. 
In the meantime, if you have any questions please contact Support who are available 24/7.