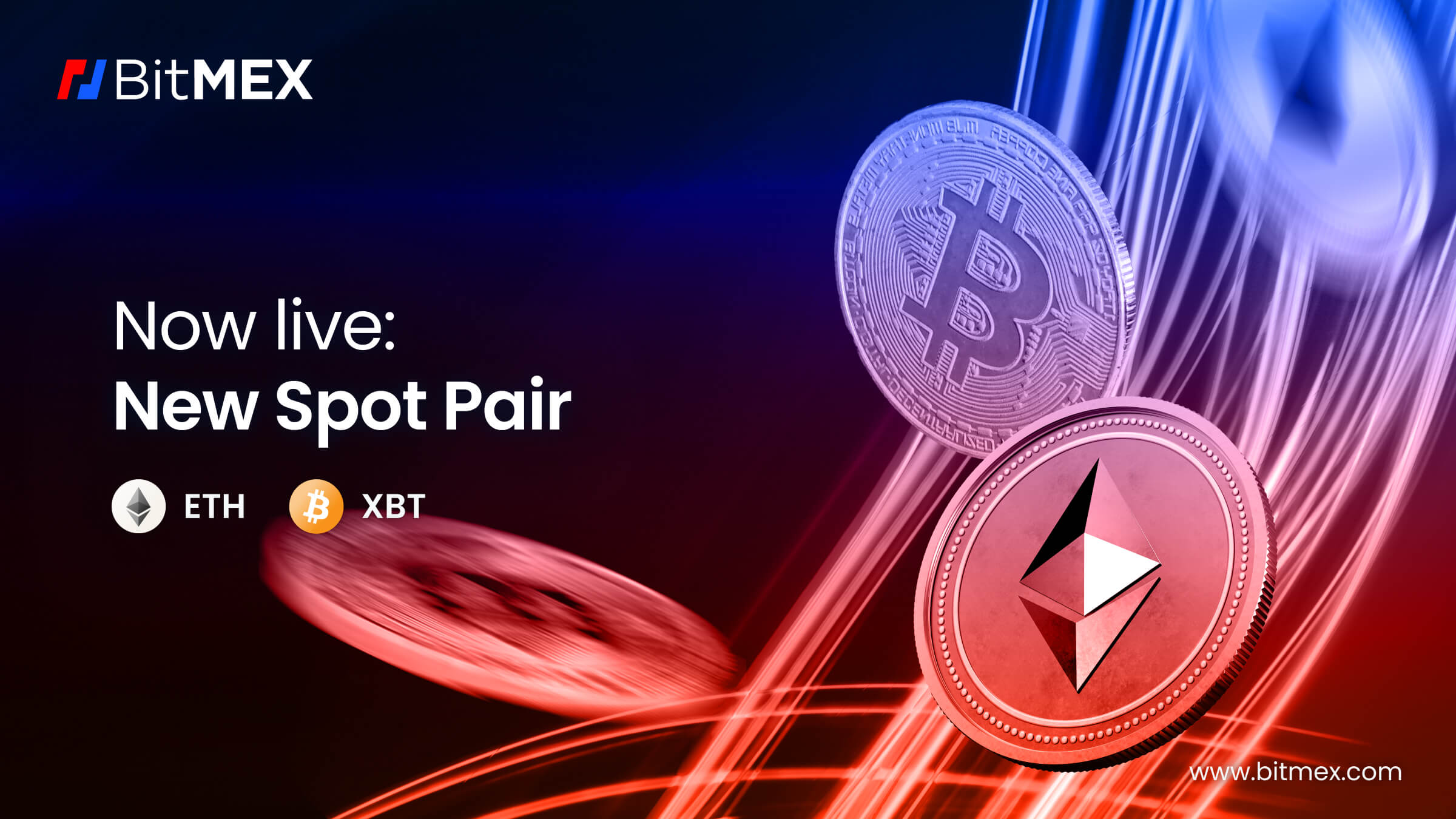 Since May 2022, users have had the option of trading portfolio staples like XBT and ETH, rising stars like APE and AXS, and DeFi performers like UNI – all paired against USDT. However, that changes today, with the launch of the ETH/XBT spot trading pair.
It's an addition that means BitMEX Mobile and Web users can now trade ETH against XBT on BitMEX Spot. This allows users to easily switch between their ETH and XBT holdings to access deep liquidity across our Ether- and Bitcoin-margined quanto and linear contracts.

And that's not all. Users can now also convert ETH into XBT (on top of USDT and USDC) – and vice versa – with no hidden fees.

For the 101 on our new ETH/XBT spot pair – or to brush up on your spot trading knowledge – read on.

If you haven't yet created a BitMEX account, you can do so here.
The 101 on Our New ETH/XBT Spot Trading Pair
Our spot exchange now supports the ETH/XBT spot trading pair – which allows users to buy Ether with Bitcoin, or sell Ether for Bitcoin.

The ETH/XBT spot pair is often seen as the most versatile trading pair, as ETH and XBT are tradeable on most crypto exchanges. When it comes to crypto derivatives trading, ETH and XBT are also some of the most popular margin currency options.
ETH/XBT Spot Pair Specs
symbol: ETH_XBT

rootSymbol: ETH

underlying: ETH

quoteCurrency: XBT

lotSize: 1000000

tickSize: 0.0000001

makerFee: 0.001

takerFee: 0.001

maxPrice: 10

maxOrderQty: 100000000000
How to Trade ETH/XBT on BitMEX Spot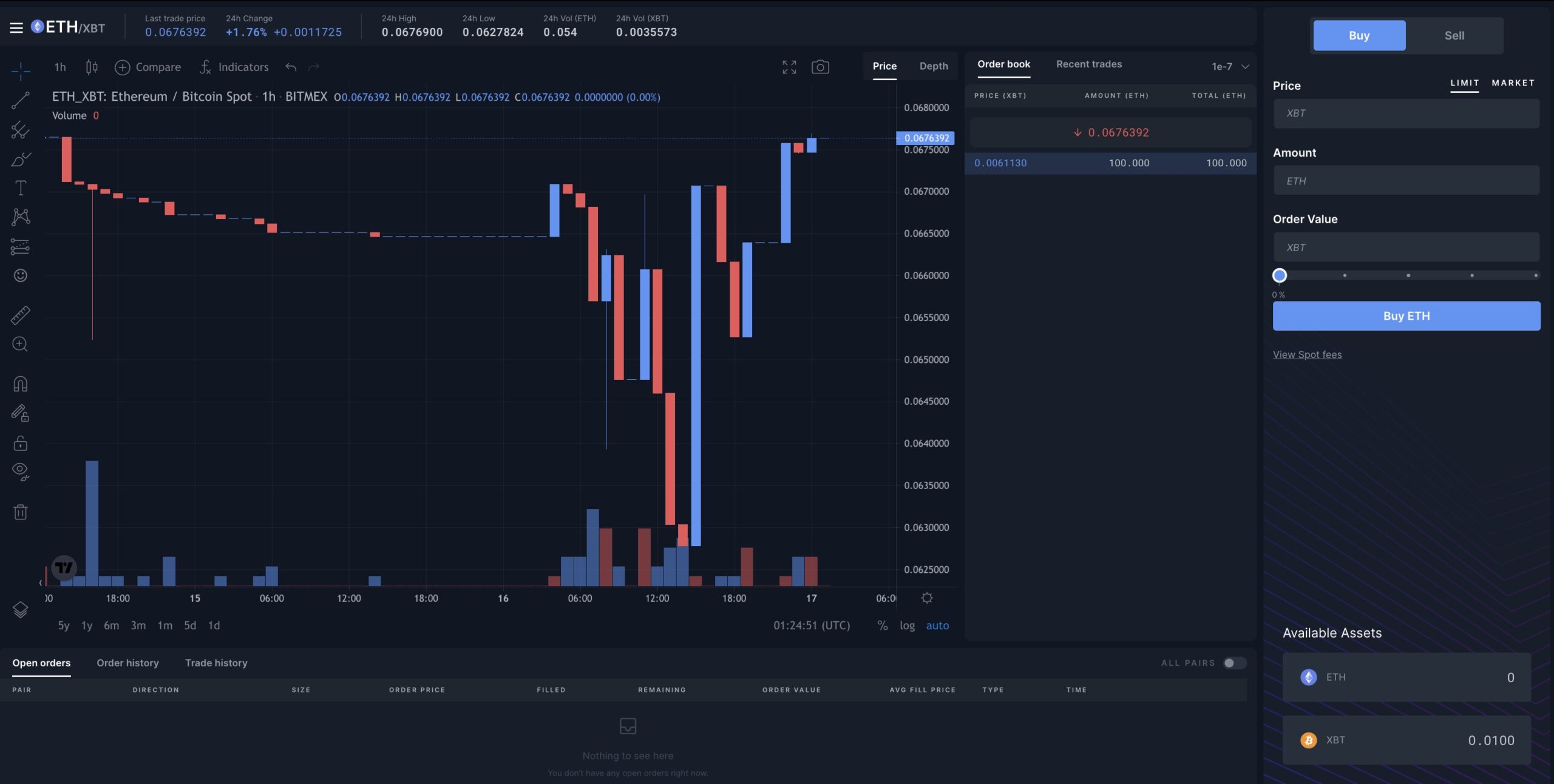 Here's a quick walkthrough of how to trade ETH/XBT via a limit and market order on our spot exchange:
Limit order: This order type lets users prepare spot trades in advance. Placing a limit order allows traders to set their own price to buy or sell crypto. If the market reaches the limit price, the trader's order will be executed.

Example: If the current market price for 1 ETH is 0.068 XBT, and you want to buy 10 ETH when the price drops to 0.048 XBT, you can place a limit order.

Instructions: Select 'LIMIT', enter 0.048 in the 'Price' field, and enter 10 in the 'Amount' field. Click the 'BUY ETH' button to place the limit order.
Market order: A market order is an order that is executed immediately at best available market prices. Traders use this order type when they want to complete their order as quickly as possible. Traders who create market orders will not need to enter in a price.

Example: If 1 ETH costs 0.068 XBT, and you wish to buy 1 ETH immediately, you can place a market order.

Instructions: Select 'MARKET', enter 1 in the 'Amount' field, review the approximated XBT amount presented in the 'Order Value' field, and then click 'Buy ETH' to place your market order.
What is Spot Trading?
The term "spot trading" refers to the buying and selling of tokens and coins with immediate delivery of the underlying asset. Spot trading is different to crypto derivatives trading, as you need to own the underlying asset to place a buy or sell order.
What are Spot Trading Pairs?
The term "trading pair" describes the asset pair being traded. In the crypto space, there are two main types of trading pairs: fiat-to-crypto pairs (e.g. XBT/USD) and crypto-to-crypto pairs (e.g. ETH/XBT). Crypto-to-crypto pairs allow each asset in the pair to be valued without the need to use fiat currency, and are an essential part of the crypto ecosystem and liquidity.
How to Read Spot Trading Pairs
Trading pairs are valued in terms of their "base pair" – a.k.a. the currency against which an exchange rate is quoted. In the ETH/XBT trading pair – which references the price of ETH in terms of XBT – the base currency would be ETH, and the quote currency would be XBT. From a real-world perspective, ETH/XBT was trading around 0.067729 on October 9, 2022. This means that a trader would receive 1 ETH for about 0.067729 XBT, as Bitcoin is the quote currency for the spot trading pair. 
On the Way: More Cryptocurrencies and Derivatives Listings
In the coming weeks, we will be dropping more tokens (e.g. ADA) and a new type of crypto derivative on BitMEX. Watch this space for the latest updates. 
Download the BitMEX Mobile app to trade your favourite crypto derivatives contracts and spot trading pairs on the go, and connect with us on Discord, Telegram, and Twitter to be the first to know about our new listings and giveaways.

In the meantime, if you have any questions please contact Support.