To encourage efficient trading strategies and incentivise behaviours that improve the executable liquidity of the market, BitMEX will be gradually introducing a number of trading rules for the platform. These rules are specifically designed to improve the quality of the exchange offering for users and are the result of a large amount of research over the past few months. This concept is nothing new and indeed most traditional venues employ similar rules.
You can read more about the first Trading Rule to be introduced in our API Announcement on the Quote Fill Ratio Threshold. This rule aims to discourage the use of strategies that submit quotes to the market without the intent to trade and therefore further strengthen the quality of liquidity on the platform in addition to freeing resources for other market participants.
We believe the introduction of these rules to be a positive step forward for the industry and we are committed to continuing innovation in the space.
Background
For many years now, BitMEX has been the most liquid market offering cryptocurrency derivatives. A key indicator of the quality of a market is the depth and size of the quotes in the order book: liquidity is often measured by price slippage for a given volume to execute. Sk3w.co offers a visual comparison of the price slippage across various cryptocurrency markets. In the sample below, the implied bid-offer spread for executing 1000 XBT worth of contracts on BitMEX's XBTUSD market fluctuates around 0.5%. Compare this with other venues, where price slippage is roughly 10x higher, ranging from 3% to over 15%.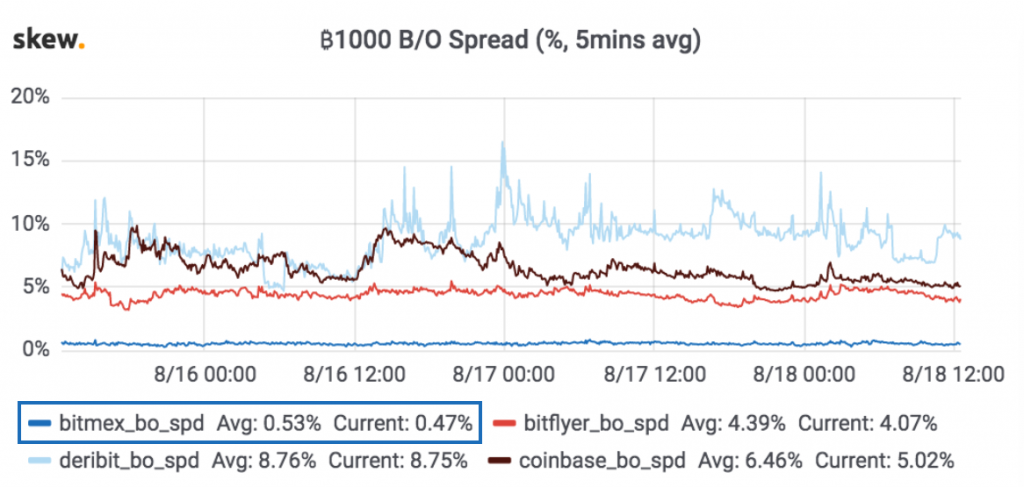 Since day 1, BitMEX has provided unprecedented access to the platform through our industry-leading API. Every action that can be performed on the BitMEX.com website, can also be performed via our API. In fact, the BitMEX.com web interface is just a client of our public API. This open approach has been a key contributor to BitMEX becoming the most liquid market in the industry.
Liquidity is only useful however if it is genuinely executable liquidity. In the month of June, fewer than 2% of active users on BitMEX accounted for over 60% of the order management requests processed, and less than 2% of the volume traded. Users fitting this behaviour profile are incredibly inefficient with their use of the API, submitting a disproportionately high number of orders per contracts traded.
There are a number of explanations for this kind of API usage. We often discover accounts that have signed up to an online automated trading service (or "bot"), entered their API keys, and then forgotten entirely about the account whilst it continues to place/amend/cancel thousands of orders every day. Other times, it could be a misconfigured trading system or client algo, which is quoting too wide and very rarely trades.
This kind of behaviour, whilst not currently against the rules, takes resources away from participants genuinely looking to trade on the platform. We believe that discouraging this kind of behaviour will further strengthen the liquidity of the market and provide a better overall experience for users.
If you have any further questions please contact Support via our contact form: https://www.bitmex.com/app/support/contact.