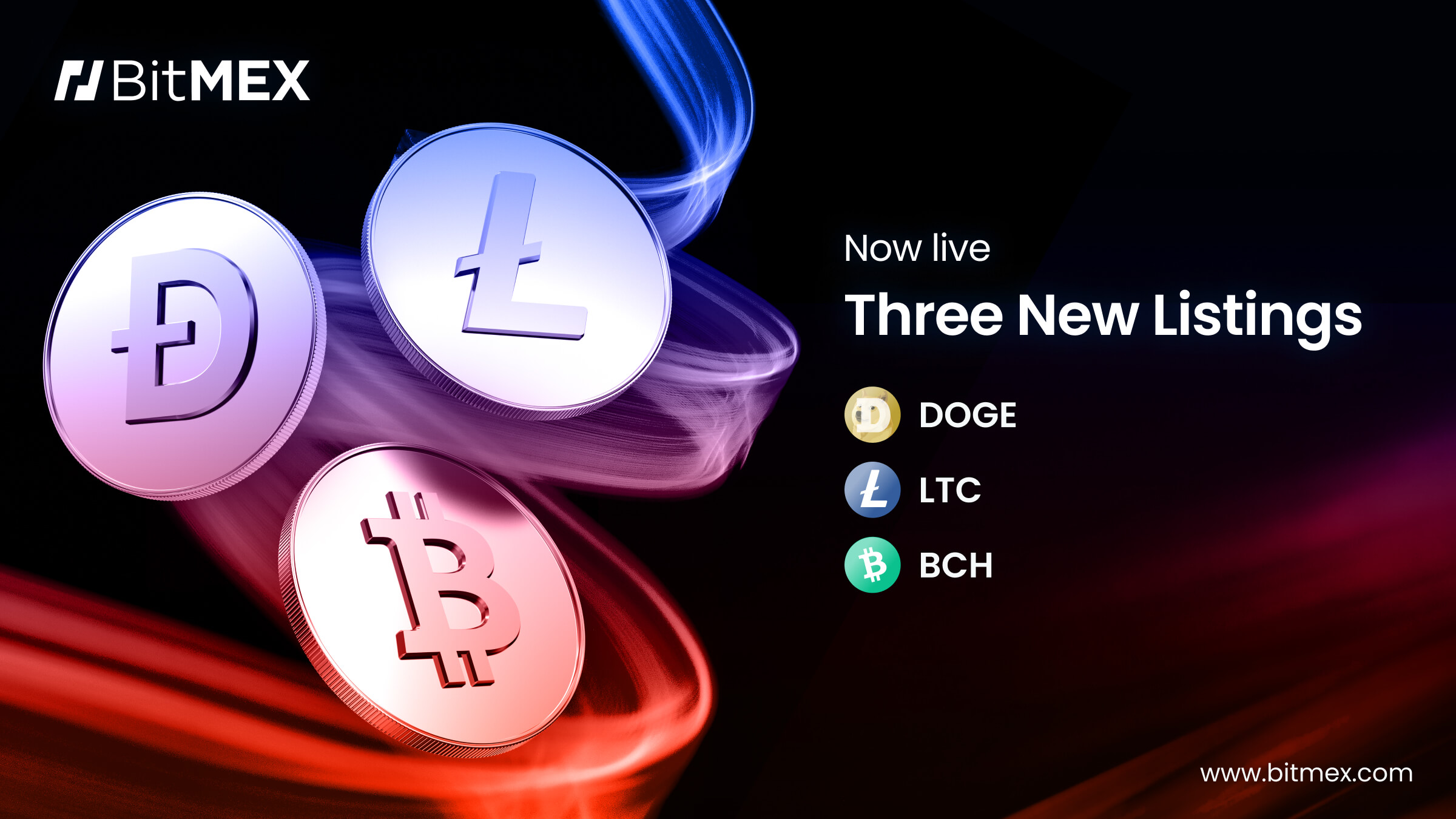 A quick note that we now support Dogecoin (DOGE), Bitcoin Cash (BCH), and Litecoin (LTC), thereby taking the number of cryptocurrencies users can convert, deposit, and withdraw on BitMEX to over 30.
For the 101 on these new listings, and what this means for our users, read on. More coins and tokens – such as XRP and ATOM – are also on the way, so keep an eye out. 
If you haven't yet created a BitMEX account, you can do so here.
Support for DOGE, BCH, and LTC Conversions, Deposits, and Withdrawals

BitMEX Mobile and Web users can now:
Convert USDT into 30+ cryptocurrencies

– and vice versa – with no hidden fees. All crypto conversions on our platform happen instantly, so there's no need to worry about slippage. 

This new addition means users can quickly and easily convert a wider range of cryptocurrencies into Tether, Ether, and Bitcoin, freeing up time to focus on trading XBT-, ETH-, or USDT-margined crypto derivatives and/or access spot trading pairs. 
Deposit and withdraw Dogecoin, Bitcoin Cash, and Litecoin

via their

BitMEX Wallet

– on top of BNB, AVAX, NEAR, SHIB, WBTC, MANA, SAND, CRO, XBT, ETH, UNI, SUSHI, AXS, LINK, MATIC, APE, TRX, SOL, USDT, DAI, AAVE, BUSD, FTM, BMEX, ADA, DOT, XTZ, and USDC. 

These additional deposit and withdrawal options will give users the chance to HODL a wider range of coins and tokens.
The number of networks supported by BitMEX has also grown to include the Dogecoin, Bitcoin Cash, and Litecoin chains. 

What is Dogecoin (DOGE)?
Dogecoin is based on the popular "doge" meme and features a Shiba Inu on its logo. The memecoin was created as a light-hearted, fun alternative to traditional cryptocurrencies like Bitcoin – and was forked from Litecoin in December 2013. 
Dogecoin is primarily used as a tipping system on Reddit and Twitter, allowing users belonging to communities that use the digital currency to reward the creation or sharing of quality content.
What is Bitcoin Cash (BCH)?
Bitcoin Cash (BCH) is a peer-to-peer electronic cash system. It's designed to be a cheaper alternative to Bitcoin. BCH launched on 1 August 2017, through a spin off of the Bitcoin blockchain.

While similar to Bitcoin, a difference between Bitcoin Cash and Bitcoin is their block size limit; the maximum block size of Bitcoin is up to 4MB, whereas the maximum block size of Bitcoin Cash is 32MB.

What is Litecoin (LTC)?
Litecoin (LTC) is widely considered the first altcoin, and was launched on 13 October 2011 with the goal of becoming the "silver to Bitcoin's gold". Created by former Google engineer Charlie Lee, LTC was engineered to be used for fast, secure, and low-cost payments.

LTC shares similar features with Bitcoin, but has a different algorithm. Its goal is to become a medium for daily transactions.
Coming Soon: More
Crypto Conversion
Options and Derivatives Listings
In the coming weeks, more cryptocurrencies – including XRP and ATOM – will arrive at BitMEX. New futures and perpetual swap listings are also on their way, so stay tuned.

Download the BitMEX Mobile app to trade your favourite crypto derivatives contracts and spot trading pairs on the go, and connect with us on Discord, Telegram, and Twitter to be the first to know about our new listings and giveaways. 
In the meantime, if you have any questions please contact Support.