We are pleased to announce we've made a US$50,000 donation to Brink,
a non-profit

organisation that exists to strengthen the Bitcoin protocol and network through fundamental research and development.

Brink is an organisation with a purpose, that aligns well with that our of BitMEX. In the past four years BitMEX has awarded close to US$2 million in funding to support open source Bitcoin development. 

At Brink their team support the Bitcoin developer community through funding, education, and mentoring. In the past they have funded various Bitcoin Core developers and maintainers, such as Fanquake, Gloria Zhao, Hebasto, Larry Rune, Sebastian Falbesoner, Vincenzo Palazzo, Niklas Gögge, Stéphan Vuylsteke and Fabian Jahr. The development work they do is crucial to ensure Bitcoin remains secure and robust.

Commenting on the grant, Brink's Executive Director Mike Schmidt said, "Brink is excited to partner with BitMEX, one of the early pioneers of Bitcoin open source developer grants, on our developer funding initiatives." 
"We applaud BitMEX for their recognition and support of Bitcoin open source as a common good in the space and are very grateful for their donation which will enable our
grantees
to continue their valuable work into the future."
In October 2022, BitMEX Research highlighted some of the contributions of Brink, making this donation a continuance of that.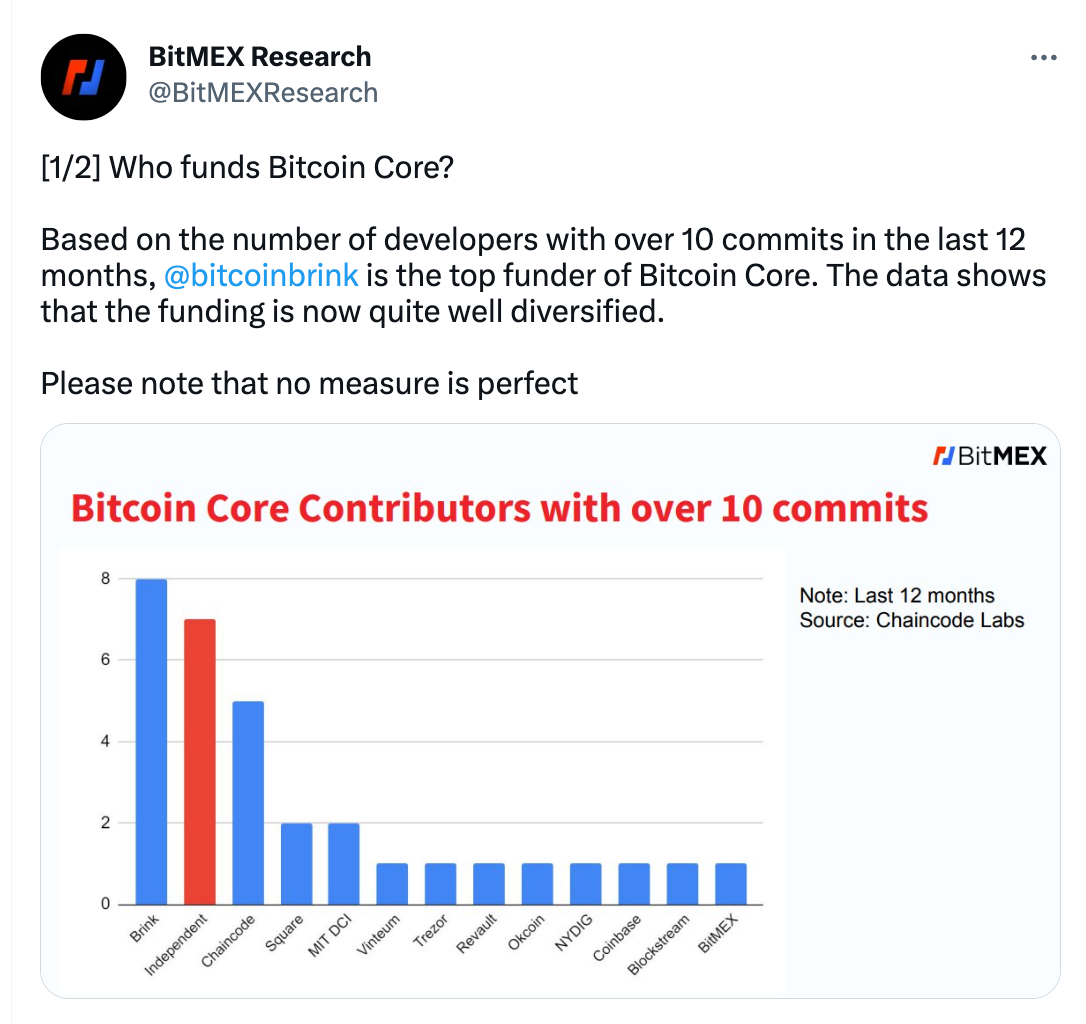 Unlike other cryptocurrencies, Bitcoin did not have a coin offering, meaning that there is no large pool of funds to fuel development. And while the lack of a coin offering helps ensure Bitcoin's monetary integrity, continued open source development is still required to ensure Bitcoin can succeed and prosper. 
As a company upon which the success of Bitcoin is a key contributor to our own success, at BitMEX we firmly believe it is the responsibility of all major stakeholders in the space to foster the ecosystem in which we all exist, if they can. We are pleased we are in a position that we can. 
We encourage you to connect with us on Discord, Telegram, and Twitter to be the first to know about our new listings, partnerships, initiatives and giveaways.

In the meantime, if you have any questions please contact Support.