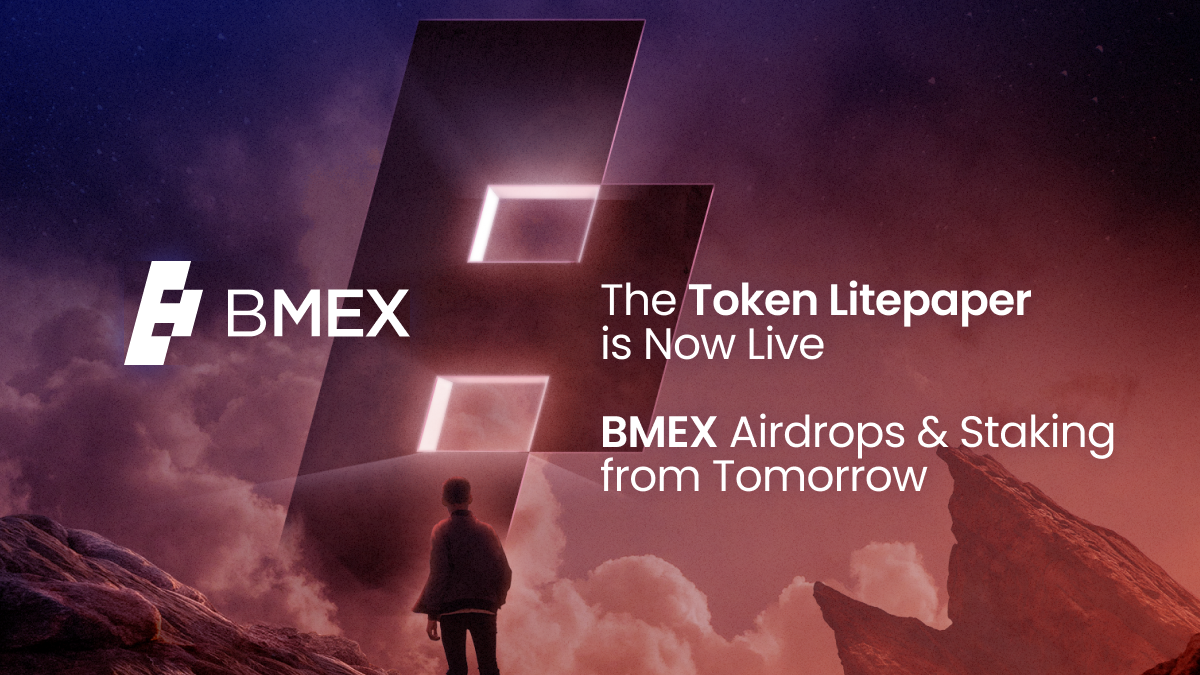 We're happy to announce that our BMEX Token Litepaper is now live. And get ready: we're airdropping over a million BMEX tomorrow. All BitMEX users who are eligible for the airdrop will be able to start staking BMEX from tomorrow at 10:00 UTC onwards.

Since the launch of BMEX, we've received a tremendous amount of interest from our new and existing users, with many eager to learn about our token utilities and roadmap. So here it is: visit our Token page and download our Litepaper, or read on to learn more.
About the BMEX Token Litepaper
Our 10-page Litepaper outlines the vision, key features, benefits, and roadmap of BMEX. Here's an overview of what's covered in our Litepaper.
Vision
As the world moves from analogue to digital, crypto is at the core of this new era. And we're building BitMEX to be a cornerstone of the crypto economy's infrastructure. BMEX is the token for the true believers in this new paradigm, and the fuel we use to expand our ecosystem.
Key Features
BMEX is an ERC-20 token with a maximum supply of 450 million – many of which will be used to reward new and existing BitMEX users. The tokens are locked in a 5-year vesting contract. Further details on the token vesting schedule and allocation can be found here.

Benefits of Holding BMEX
BMEX incentivises participation within the growing BitMEX ecosystem. New and existing users can earn BMEX by meeting the eligibility criteria of our Token offers – and staking BMEX via their BitMEX Wallets*. By holding and staking BMEX, you can enjoy benefits such as:
Trading fee discounts of up to 15%

Exclusive privileges and experiences, such as early product access, BitMEX swag, and VIP tickets to sports events 

VIP services for users who hold 500,000+ BMEX 
*BMEX holders can start staking BMEX from tomorrow at 10:00 UTC onwards. 
As BitMEX grows, BMEX will grow with us – and continue to expand its utility. In the coming weeks and months, BMEX holders can expect:

Exclusive product access and preferential terms for upcoming services 

An increased rate of return on

BitMEX EARN

deposits

Free access to

BitMEX Academy

courses and private community channels

Fee discounts on BitMEX Spot (launching in Q2)
For detailed information on the benefits of holding BMEX, please visit our Token page. 
Token Roadmap
The launch of BMEX comprises two phases:

Phase one – trade and earn BMEX:

New and existing users who qualify for our token offers will be able to earn BMEX. The more you trade and participate in the BitMEX ecosystem, the more BMEX you can earn. Please note that BMEX will not be withdrawable or tradeable during this phase.
Phase two – trade BMEX on BitMEX Spot: Upon the launch of BitMEX Spot in Q2, the BMEX Token will become tradeable on our Spot Exchange.

Ready to Learn More About BMEX?
Visit our Token page today to download our Litepaper and learn more about the BMEX Token. For the latest BMEX Token updates, stay tuned to our Telegram and Twitter channels.