Today we are excited to announce the growth of our ecosystem through our collaboration with Napoleon Group. Napoleon Group has been a pioneer in crypto investments since 2017, and combines quantitative asset management and blockchain expertise to offer new and innovative ways to invest in digital assets, while complying with the highest regulatory standards to address the needs of all investors.
Napoleon Group is also the parent company of Napoleon AM, the first AMF regulated crypto-focused investment firm (AIFM license n°GP-19000015).
The Napoleon Group consists of two offerings:
Napoleon Circle –

Systematic investment strategies on the most liquid cryptos, offered under separately managed accounts to professional and assimilated professional investors. 
Napbots

– A SAAS platform providing a library of proprietary crypto strategies to retail customers via copy trading bots.
Napoleon Group works closely with a wide range of clients, including family offices and large financial institutions, providing proprietary investment strategies to the digital asset ecosystem.
The Napbots platform alone has a community of over 7,000 retail crypto traders who have executed more than 100,000 trades on 20+ highly performing strategies. With Napbots, users can benefit from the Group's 15+ years of quantitative trading experience at Tier 1 financial institutions to execute battle tested strategies and trades. 
Damian Moser, Head of Sales at Napoleon Group, said "We have been happy to use BitMEX as one of our top trading platforms for over 2 years now, given their reliable liquidity and robust API."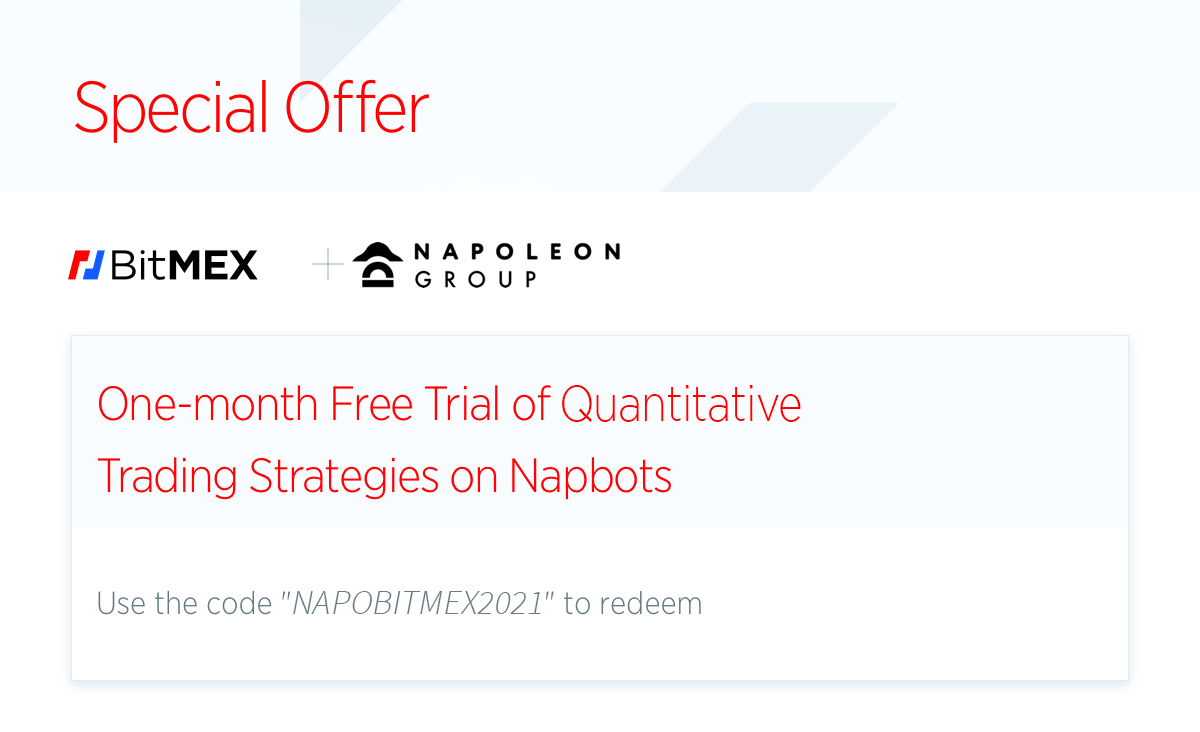 In celebration of our collaboration, Napbots will be offering BitMEX users a one-month free trial of quantitative trading strategies on their platform. Use the code "NAPOBITMEX2021" for free 30 day access to any monthly plan.
Click here to redeem your free trial with Napbots: https://napbots.com/
To sign up and verify as a new user on BitMEX, visit: https://www.bitmex.com/register.
Should you have any questions, please contact Support.