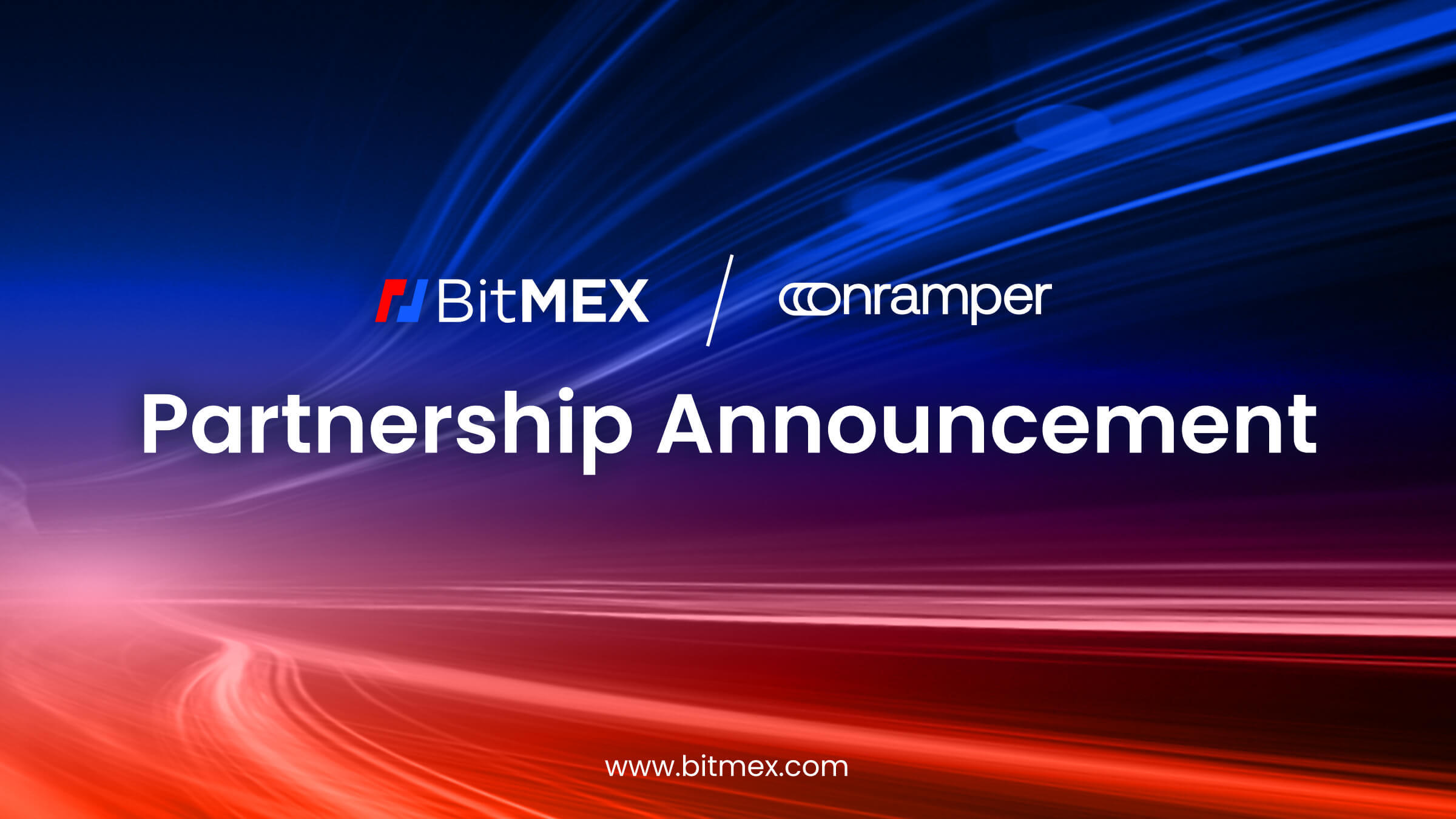 Onramper, a fiat-to-crypto gateway aggregator, is now integrated with BitMEX. It's an integration that means users now have an even faster, more seamless, and secure way to buy crypto with fiat.

By partnering with Onramper, BitMEX now supports the widest possible amount of fiat currencies, payment methods, and cryptocurrencies – all via one single API. What's more, users can swap from fiat to their cryptocurrency of choice in a matter of minutes.

If you haven't yet signed up for a BitMEX account, you can do so here.
More About Onramper
Currently, Onramper supports more than 95 fiat and 240 cryptocurrencies, as well as offering 35 local payment methods in over 190 countries. Onramper works alongside nine major onramps:

Moonpay

– A FinTech company that specialises in building payments infrastructure for crypto. Its suite of on-and-off-ramp products provides a seamless experience for converting between fiat currencies and cryptocurrencies using all major payment methods. 

Wyre

– Serving as a bridge for FinTech companies and projects between the fiat world and blockchain ecosystem via their full suite of APIs, Wyre offers an instant fiat-to-crypto gateway that allows builders to develop financial applications from the ground up. 

Xanpool

– An open finance infrastructure company that makes sending all forms of money across the world faster and cheaper. 

Mercuryo

– A fiat on-ramp and off-ramp company that allows customers to seamlessly buy and sell crypto while supporting dozens of local payment methods and currencies.

Coinify

– A secure online platform that offers an easy way to buy and sell virtual currencies. 

Indacoin

– A pioneer in the authenticated fiat-to-crypto exchange space, enabling users to purchase crypto instantly. 

Utorg

– An EU-based FinTech company that delivers a modern fiat-to-crypto infrastructure. 

Transak

– A Web3 onboarding infrastructure provider that offers simple on-ramp integration. 

Itez

– An Estonia-based company that allows users to buy crypto with their bank card in a fast and secure way. 
Thijs Maas, CEO and Co-Founder of Onramper, said: "Seamless, fast and secure onramp transactions hold the key to growing the crypto ecosystem, and our partnership with BitMEX will surely be a model for the whole ecosystem. The 2023 roadmap for BitMEX is ambitious, and we're excited to be helping one of the leading exchanges in the space grow their user base globally."
Stephan Lutz, Acting CEO & Group CFO of BitMEX, said: "BitMEX has had a transformative year in 2022 as we pivoted our focus back to derivatives trading. As a leading crypto derivatives exchange that has persevered through volatile market cycles, we are constantly looking for new ways to improve the trading experience for our traders. The partnership with Onramper will help us accomplish a smoother onramp and margin provision as we welcome more exciting platform updates in 2023."
Coming Soon: New Listings, Platform Updates, and More
As part of our focus to enhance the accessibility and compatibility of our platform, we will be expanding our derivatives portfolio to include more perpetual swaps and futures listings on trending tokens. So too enhancing the BMEX Token rewards system and delivering the fastest, most reliable platform for traders. 
To be the first to know about our new listings, offers, partners, and giveaways, you can connect with us on Discord, Telegram, and Twitter. We encourage you to also check our blog regularly. 
In the meantime, if you have any questions please contact Support.