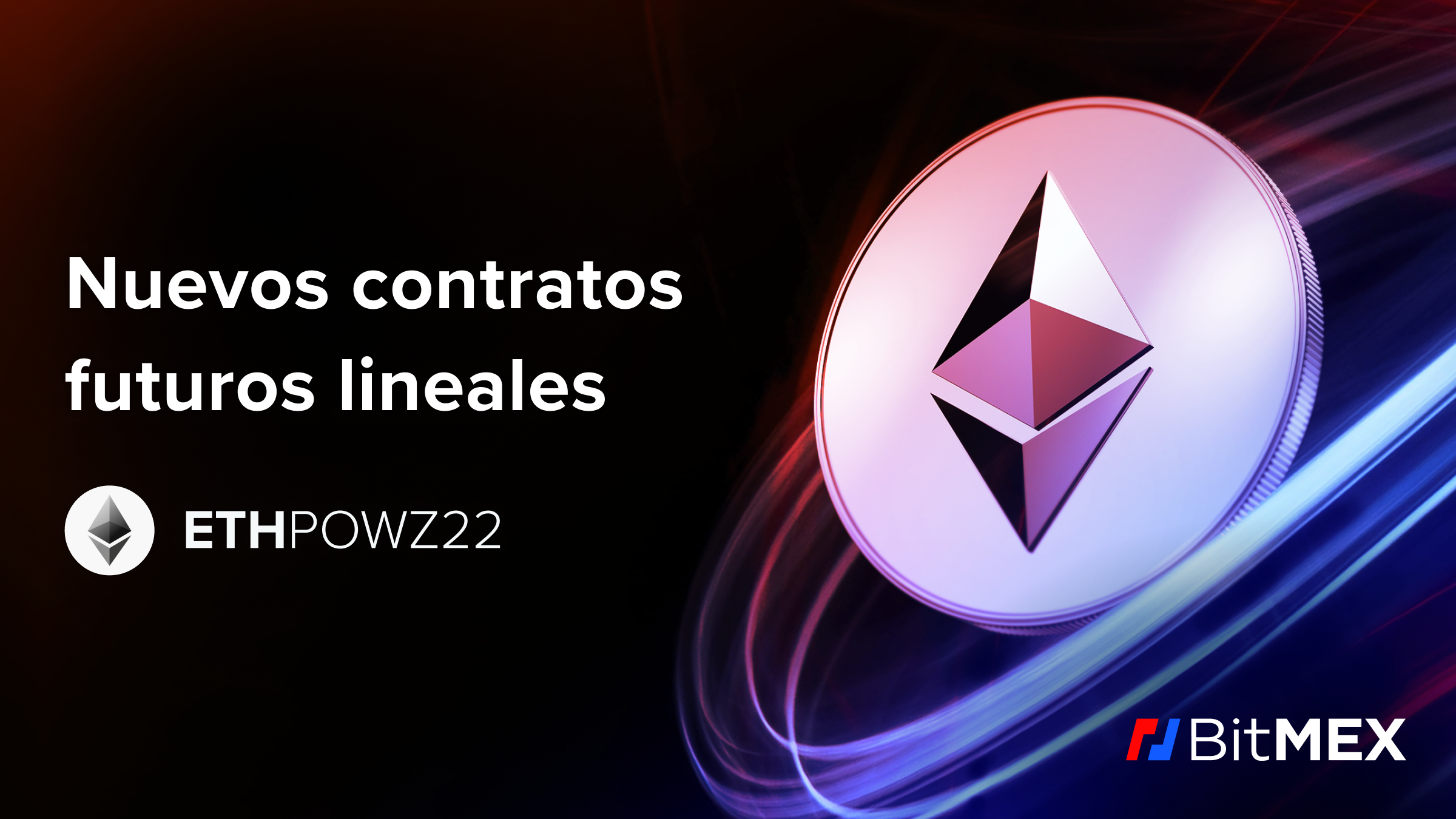 Sadece birkaç gün önce ETHPoW vs ETH2'de BitMEX Araştırma ekibi, Ethereum'da yeni bir ETH İş Kanıtı (PoW) coin ile sonuçlanabilecek bir zincir bölünmesi olasılığını araştırdı.
Birkaç gün ileri sarın ve önümüzdeki hafta yayınlanması planlanan ETHPOWZ22 ile ETHPoW ile ilgili olarak, kullanıcıların ticaret yapması için yeni bir yol olmak üzere.

Bu, Tether- (USDT ERC-20) teminatlı sözleşmemiz yalnızca birkaç gün içinde yayına girdiğinde, kullanıcıların 2 kata kadar kaldıraçla ETHPOW'da alım satım riskine maruz kalabilecekleri anlamına gelecektir.

Şu anda ETHPOWZ22, kullanıcılarımızın Testnet'te keşfetmesi için hazır.

To know more about our new ETHPOW contract, read on.
ETHPoW Lineer Vadeli İşlem Sözleşme Özellikleri
ETHPOW sözleşme detayları:
Sembol: ETHPOWZ22

Son Kullanma Tarihi: 30 Aralık 2022

Marj para birimi: USDT

Sözleşme Boyutu: 0.00001 ETHPOW

Parti Büyüklüğü: 1000

Minimum İşlem Tutarı: 0.01 ETHPOW

Temelde: .

BETHPOW

Maksimum Kaldıraç: 2x

Yapımcı Ücreti: %0,00

Alıcı Ücreti: %0.25

Baz Başlangıç Teminatı: %50,00

Temel Bakım Marjı: %25.00
Diğer vadeli işlem sözleşmelerimizden temel farklar:
İşaretleme Yöntemi – Son Fiyat

Fiyat Limitleri – Limit Yukarı ve Limit Aşağı Saatlik İşaret Fiyatı +/- %20 olarak ayarlanır

Uzlaşma Bedeli – .

BETHPOW30M

Otomatik Kaldıraç Kaldırma – Etkin

Yapımcı Ücreti: %0,00

Alıcı Ücreti: %0.25
Bu oldukça spekülatif bir sözleşmedir (ETHPOW henüz mevcut değildir ve asla var olmayabilir). Bu nedenle, birkaç öğeyi değiştirdik.
ETHPOW için henüz gözlemlenebilir bir fiyat olmadığı için Son Fiyat işaretlemesini kullanıyoruz. Piyasayı manipülasyona karşı korumak için, her saat başı belirlenen Limit Arttırma ve Limit Azaltma fiyatlarını, İşaret Fiyatı +/- %20 olarak kullanacağız. Tüccarlar, Limit Arttırma Fiyatının üzerinde teklif veremez veya Limit Aşağı Fiyatın altında teklif veremez.
.BETHPOW endeksi, BitMEX'in USDT'ye karşı (Proof of Stake zincirinde) ETH Proof of Work Coin'in spot fiyatını temsil eden sağlam bir endeks üretmesi mümkün olduğunda BitMEX tarafından oluşturulacaktır. Böyle bir endeks mevcut olduğunda, BitMEX, İşaretleme Yöntemini Adil Fiyat olarak değiştirmek için kendi takdirini kullanabilir. Böyle bir Endeks oluşturulana kadar .BETHPOW değeri 0 olarak ayarlanacaktır. Vade tarihine kadar herhangi bir endeks oluşturulmamışsa Uzlaşma Değeri 0 olacaktır.
BitMEX'te işlem gören tüm kripto türev sözleşmelerinde olduğu gibi, otomatik olarak kaldıracın kaldırılması olasılığı vardır. Bu sözleşme tamamen spekülatif olduğundan (özellikle ETHPOW henüz ortadan kalkarken), otomatik kaldıraç kaldırma olasılığı normal bir sözleşmeden daha yüksektir.
Bu sözleşmenin ücretlerini de 0 yapıcı indirim ve 25 baz puan alıcı ücreti olarak değiştirdik. Daha çok "normal" bir vadeli işlem sözleşmesi gibi göründüğünde bu ücretleri değiştireceğiz. BMEX alıcı indirimleri yine de geçerli olacaktır.
ETHPOWZ22 vadeli işlem sözleşmesi, tüm sözleşme özellikleri ile  birlikte şimdi Testnet'te yayında.

Yeni listelerimizden, ürün lansmanlarımızdan ve çekilişlerimizden ilk siz haberdar olmak için Discord, Telegram ve Twitter üzerinden bizimle bağlantı kurabilirsiniz. Ayrıca blogumuzu düzenli olarak kontrol etmenizi öneririz.
Bu arada, herhangi bir sorunuz varsa lütfen Destek ile iletişime geçin.